Bioretention was approved over six years ago by the Washington State Department of Ecology for use as a stormwater treatment facility. Yet King County lags behind in accepting it for use.
Bioretention is a versatile stormwater management facility and the only known water quality treatment method to address 6PPD, a pollutant that research has linked to the death of coho salmon. 6PPD is an additive to extend the life of car tires. The toxic pollutant has been discovered within stormwater runoff entering our streams.
Other water quality facilities such as sand filters, grass lined bioswales, and detention ponds have not demonstrated an ability to address 6PPD.
Bioretention consists of an imported soil mix, plants, and mulch installed to create a shallow depression in which stormwater collects. Its purpose is to capture and filter stormwater runoff, resulting in a decrease in the level of pollutants exiting from the system.
King County Executive Dow Constantine takes pro-environment stances, generally speaking, and seeks to be a climate leader and defender of iconic species like Coho and Orca whales. However, on the issue of bioretention, he's let the county fall behind.
As a civil engineer, I have specified bioretention for use throughout numerous jurisdictions in the Puget Sound region since it's a green, eco-friendly way to treat stormwater runoff better suited to protecting the salmon runs compared to conventional stormwater treatment systems. I have used it in Snohomish County, the City of Mill Creek, and in Bellevue.
For a design I prepared in unincorporated King County, I proposed vehicular access to a new house, via a circular drive and a bioretention system within. I was pleased to provide a design that harmonized the functional use of bioretention to capture and and treat stormwater runoff from the proposed driveway, and at the same time providing an aesthetically pleasing landscape feature for the homeowner.
King County chooses to publish its own King County Stormwater Management Manual (KCSWMM). Also, cities within King County can adopt the KCSWMM or use the Washington State Department of Ecology Stormwater Management Manual for Western Washington. The City of Sammamish has adopted the KCSWMM and the City of Bellevue uses the State manual, for example.
The KCSWMM is a design document to ensure that the stormwater runoff from new hardscape surfaces is mitigated by installing approved stormwater management facilities. The manual provides the details and applicability standards for stormwater designs.
Though I have provided several stormwater system designs in King County, the design I submitted in early 2019 was the first time I had proposed a bioretention system for water quality control within unincorporated King County.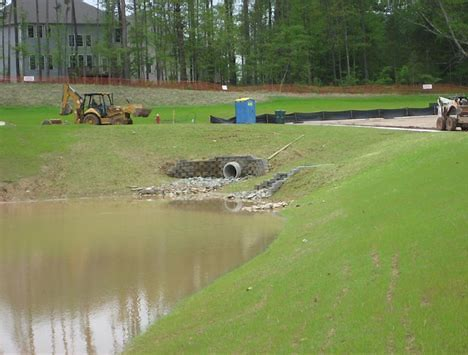 I was surprised when my design was rejected and returned with a comment that bioretention is not allowed for use as a water quality treatment facility in unincorporated King County. Of the over 25 municipalities in which I provide design services for clients, King County is the only jurisdiction I am aware of that does not allow water quality treatment via the use of bioretention.
So, I asked King County staff by what authority they have to prohibit its use. I met with Department of Permitting and Environmental and Review (DPER) staff in 2019 and couldn't get a satisfactory answer. It is a system that has been tested by the Washington State Department of Ecology and found to meet the standards required of the federal Clean Water Act.
Several DPER staff members were surprised to see the verbiage included within the King County manual and said they would ask Water and Land Resource Division staff about this.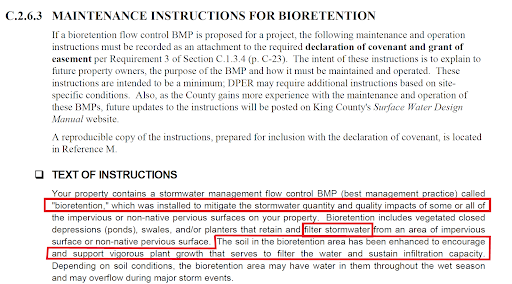 Later in the year 2019, I spoke with John Taylor, King County Department of Local Services, and he disclosed that Water and Land Resource Division (WLRD) staff met in 2014 and vetted among themselves and determined that King County would not allow bioretention to be used within their jurisdiction, which is unincorporated King County.
In May 2022, after the interruption of Covid-19 shutdown, I sought to make headway once more and corresponded with Curt Crawford, Storm Water Service Section Manager at WLRD and WRLD Division Director Josh Baldi. I pointed out the new 6PPD research, and the requirement that all jurisdictions are required to use Washington Stated Department of Ecology (DOE) approved water quality facilities.
The below excerpt comes from the 2019 DOE Stormwater Management Manual and includes an explanation of the Washington State law that requires all jurisdictions to use DOE approved water quality facilities.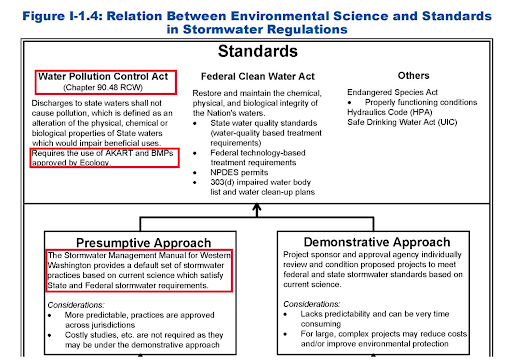 In August, I met with WRLD including Curt Crawford again and despite the pertinent and compelling information discussed, staff held steadfast to their position that they have no intention of reconsidering the use of bioretention facilities for use in King County as a water quality treatment facility. I brought up that the County is legally obligated to accept "all known available reasonable technologies" and that bioretention is uniquely suited to treat 6PPD tire pollution, thereby protecting salmon runs, but it was to no avail.
The position of King County to prohibit bioretention use is illogical, ignores the applicable rule-of-law, and could have devastating effects to salmon runs over the long-term.
Even though King County styles itself as an environmental leader, apparently staff are making their own policy decisions that are inconsistent with those leadership goals.
King County was contacted for comment but did not provide a response prior to publication of this article.
For those interested in participating, ASCE, (American Society of Civil Engineers), Seattle Section committee has an upcoming meeting on September 21 from 12-1:30pm in which this topic will be discussed.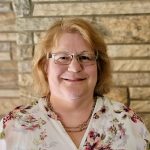 Donna Breske (Guest Contributor)
Donna Breske is a licensed Professional Engineer in the State of Washington. She owns Donna Breske & Associates and with her staff provides land use consulting and civil engineering design for numerous infill projects within multiple jurisdictions in the Puget Sound Area. She has a Bachelor of Science in Civil Engineering from the University of Washington and an MBA from Seattle University. She is married to her husband Fred with whom they share two adult children. She grew up in Seattle and is passionate about eliminating absurd impediments from permitting departments and ensuring consistent and predictable outcomes.