Join them by signing up for Disability Mobility Initiative's Week Without Driving 2022
Next Monday, September 19th, Disability Mobility Initiative will begin its Week Without Driving Challenge, which invites people to refrain from driving themselves in any vehicle, for any activity, for a full week in order to increase awareness of what it's like to navigate the world as a nondriver. For reasons of age, ability, and economics, nearly one quarter of Washington State's population is unable to drive, yet a lot transportation policy and investment continues to prioritize the needs of people in vehicles over those who rely on walking, rolling, and transit to get around.
To spread awareness about the valuable insights that can be gained from participating in Week Without Driving, participants from last year's challenge made a video recounting their experiences.
This year's event has been generating buzz, including receiving an official proclamation from Governor Jay Inslee inviting others to join him in participating.
"Going a week without driving is a great way to understand how we can improve our current transportation system to better meet the needs of Washingtonians and improve and enhance transportation options such as transit, light rail, biking, and walking pathways as key strategies in our decarbonization efforts."

Governor Jay Inslee, Official Week Without Driving Proclamation 2022
Transportation agencies statewide are also encouraging their staff to participate. The Washington State Department of Transportation (WSDOT) has invited all staff to join in the challenge, and Secretary of Transportation Roger Millar has made the pledge.
Fifteen transit agencies have also signed onto a letter that endorses the Week Without Driving challenge and urges their board, staff, and ridership to commit to the challenge. A list of public and elected leaders shared by the Disability Mobility Initiative shows that leadership participating from King County Metro, Intercity Transit, Everett Transit, Pierce Transit, Spokane Transit Authority, and the Whatcom Transit Authority.
Additionally, 59 elected officials and transportation leaders have committed to participating this year so far. The mayors of Bellevue, Bothell, Issaquah, Olympia, Vancouver and Winthrop have all signed on, as have city councilmembers from Anacortes, Bellevue, Everett, Kenmore, Kirkland, Lacey, Liberty Lake, Mountlake Terrace, Millwood, Olympia, Port Angeles, Redmond, Seattle, Sedro-Woolley, Sequim, Tacoma and Yakima, and county councilmembers from King, Pierce, Whatcom, Snohomish and Jefferson counties.
As a whole, registration has already roughly doubled in comparison to last year, and there's still time to sign up. The Disability Mobility Initiative is also encouraging people who participate to share their stories on social media using #WeekWithoutDriving.
Sharing the experience of disabled nondrivers have been major focus of the Disability Mobility Initiative's advocacy through the creation of their Transportation Access for Everyone Storymap which includes stories from people living in urban, suburban, and rural communities statewide. Those stories were used to inform Transportation Access for All: Washington State, a report published last year by Disability Rights Washington, which outlines challenges faced by disabled nondrivers and policy goals that would improve their lives, making the case for the "urgent need for 'radical inclusion' of disabled nondrivers in the planning processes across every level of our transportation systems."
Disability Mobility Initiative is a program of Disability Rights Washington. The Urbanist is a co-sponsor of the Week Without Driving challenge.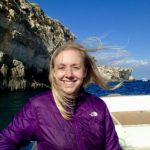 Natalie Bicknell Argerious (she/her) is a reporter and podcast host at The Urbanist. She previously served as managing editor. A passionate urban explorer since childhood, she loves learning how to make cities more inclusive, vibrant, and environmentally resilient. You can often find her wandering around Seattle's Central District and Capitol Hill with her dogs and cat. Email her at natalie [at] theurbanist [dot] org.