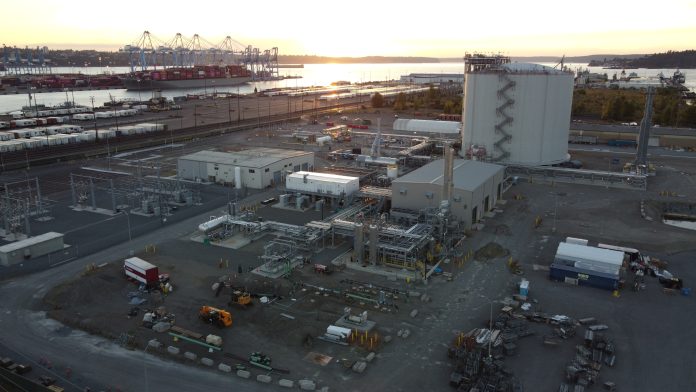 Residential Puget Sound Energy (PSE) customers could see electric bills surge by more than 20% and gas bills by almost 17%. Later this month, the Utilities and Transportation Commission (UTC) will hold a public hearing to determine if this for-profit corporation will be allowed to once again raise rates — a move that would provide funding to harmful fossil fuel infrastructure.
Among the list of incomplete, unnecessary, and controversial infrastructure projects that PSE shareholders want guaranteed profits for is the Tacoma Liquefied Natural Gas (LNG) refinery located at the Port of Tacoma next to the Puyallup Reservation.
LNG is basically the same as the natural gas you might have heating your home, but it has been chilled to -260 degrees fahrenheit in order to turn the gas into a liquefied state that condenses the gas, to be more convenient for transport and storage. Despite the friendly branding, so-called "natural" gas is actually methane, a potent greenhouse gas currently playing a big role in exacerbating the climate crisis. Today, much of the natural gas being extracted comes from fracking -– a harmful process that poisons water tables, causes earthquakes, and is linked to health impacts like cancer, birth defects, heart conditions and neurological disorders. The extraction of fracked gas often takes place on or near Indigenous communities in the United States and Canada. It has been linked to an increase in missing and murdered Indigenous women and the violation of Indigenous sovereignty, often involving violence.
PSE's toxic air pollution facility is adjacent to the Puyallup Reservation, on the Tribe's ancestral tideflats. Built on top of what was once a thriving estuary that fed our people. Our community already experiences poor air quality and health impacts due to existing fossil fuel distribution hubs and heavy industry. This LNG refinery constantly emits toxins, carcinogens and particulate matter.
The Tribe has pushed back against this facility from the beginning. Permitting agency after permitting agency ignored the objections and the requests for health impact assessments and safety modeling in the event of an explosion from the eight million gallon tank. Despite the completion of construction and fracked gas flowing, the fight continues this fall in the court.
PSE began building the dangerous facility two years before having proper permits. Data supplied in permit applications used outdated methane calculations, scenarios the Attorney General called "fictional," and pipelines were installed using sewer permits to avoid proper scrutiny. The company sent out a representative to our vigil across from pipeline construction, taunting me by calling out my name before we'd met and proceeding to tell me we weren't on my land, while we stood on the Reservation. This fossil fuel company's dirty tricks also included sending someone undercover to infiltrate our overnight 30 mile prayer walk.
PSE's tricks are not just aimed at the Puyallup Tribe. They intend to make all their residential gas and electric customers pay for much of the construction costs through a rate hike even though the gas will not be used to heat homes. The company says some of the gas might be used a few days a year when residential energy demand is the highest, but mainly that gas is for them to sell to maritime customers as fuel for large vessels. They falsely assert, though many studies have now widely disproved the claim, that LNG is a climate solution for the shipping industry.
As a father and an uncle, I cannot sit idly by while Puget Sound Energy continues to build out fossil fuel infrastructure instead of investing in renewable energy and energy efficiency like their customers are asking for. We can't ignore the scientists, or the red sun and ashe-filled air we now experience in the summers. We can't ignore the deadly heatwaves and droughts. We can't ignore the absence of fish in our rivers, insects in the air, or species going extinct. We can't ignore the sea level rise coming as glaciers and ice shelves melt.
If we want PSE to stop digging the graves of our children we must speak their language–money.
The Utilities and Transportation Commission can deny this rate increase. Use your voice or your keyboard by September 28th and urge them to reject reimbursement of the LNG refinery and any other fossil fuel infrastructure.
Ancestral Waters: A new documentary on the Puyallup Tribe's fight
A new documentary, "Ancestral Waters," made its debut recently at the Gig Harbor Film Festival. "Ancestral Waters" is the story of the Puyallup Tribe's fight for their treaty, their water, and their way of life, as they stand up against a fracked gas facility on tribal waters, in the midst of unprecedented climate change. For 164 years, since the signing of the Medicine Creek Treaty, they have had to fight for the guarantees implicit in their treaty. Watch the official trailer here.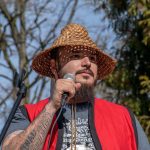 Dakota Case (Guest Contributor)
Dakota Case is Puyallup tribal member, actively involved with environmental issues, social justice and director of youth mentorship program at Native Daily Network.