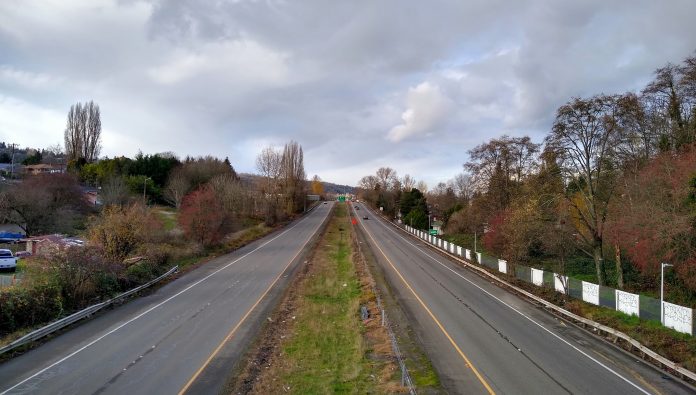 Momentum has been building around Reconnect South Park, a community-led effort to address how SR 99 slices through the neighborhood located near the Duwamish River in southwest Seattle, separating residents from their own community center, library, and elementary school. But one of Washington's highway megaprojects, SR 509 "completion" project, part of the $2.38 billion Puget Sound Gateway could impact Seattle's ability to reassess whether having an urban highway bisecting the South Park urban village is a decision that residents should continue to live with.
The SR 509 project will build a new four-lane highway between I-5 and the current terminus of 509 near SeaTac airport, and expand I-5 south of that new connection with added auxiliary lanes and interchanges. The Gateway also includes an extension of SR 167 in northern Pierce County, connecting that highway with I-5 and the Port of Tacoma. This spring, the Washington State Legislature filled a $433 million budget gap on the project, keeping the projects on track to be fully completed by the end of the decade.

The work on the Puget Sound Gateway projects is proceeding despite the intensification of scrutiny being placed on urban highways, both old and new. The US hit a new milestone this month as Secretary of Transportation Pete Buttigieg awarded a $106 million grant to tear down Interstate 375 in Detroit, part of an effort to transform a neighborhood-dividing highway into a community asset. That award is on top of a $1 billion allocation in 2021's Infrastructure Investment and Jobs Act that will go toward the new Reconnecting Communities grant program, which was created with the sole intention of reassessing the impact of urban highways and taking small steps toward reversing their harms.
In keeping with that trend, the state legislature awarded the City of Seattle $600,000 to start work on determining what an alternative vision for South Park's urban highway could be.
This month, the city opened two Requests for Proposals (RFPs) around the Reconnect South Park project: one will be a contract to create a community vision around the project, and another will be looking at the technical details that could push the project in one direction or another. Materials created by the city for potential project partners outline a number of potential paths the project could take, with a redesign as a slower-speed urban arterial and an underground highway on the list along with a full removal of SR 99 through South Park. But unintended consequences of the SR 509 project may make it more difficult to undertake this work.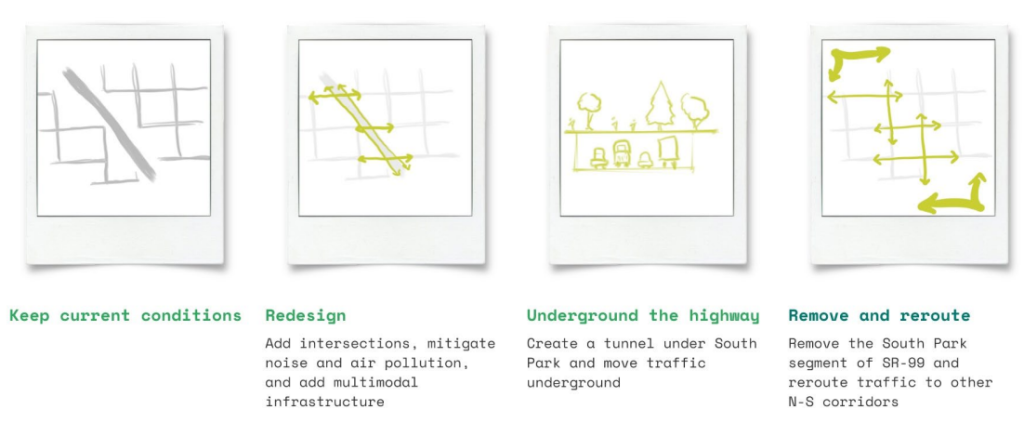 SR 509's extension: vital connection or boondoggle?
In 2016, U.S. PIRG and the Frontier Group, both member organizations of the Public Interest Network, labeled the Puget Sound Gateway program one of its top highway boondoggles, adding it to the list alongside an expansion of I-70 in the Denver area and a brand new 26 mile extension of state highway 249 in Texas. Seattle's Alaskan Way viaduct replacement tunnel had made it onto the U.S. PIRG list just two years earlier in 2014.

"The state is proposing to spend billions of dollars on a highway to relieve congestion in a way that will not do so, in an area where traffic has not grown for more than a decade, and where other pressing needs for transportation funding exist," the 2016 report noted of the Gateway. "Properly directed investment in Washington's transportation system is badly needed, and the billions being proposed for the Puget Sound Gateway would find very productive uses if they were available for other purposes instead."
But WSDOT Secretary Roger Millar, who has been publicly skeptical of the feasibility of continued urban highway expansion in Washington, going so far as to say that the state is reaching a "point of diminishing returns" when it comes to added state highway capacity, has supported the project. Millar has cited the Gateway as a set of projects adding needed "strategic capacity," and in 2020 WSDOT was able to secure a $73.6 million dollar federal INFRA grant, which is intended to fund nationally significant multimodal freight and highway projects, for the Gateway program. But the project long predates Millar's time at the agency, with Governor Jay Inslee signaling strong support for the new highways during his first run for the state's highest office in 2012.
In addition to added freight capacity, the 509 project is also being framed as righting past wrongs as well, even as that argument appears bizarre in the context of building a brand new urban highway. "The unintended south terminus of SR 509 at S. 188th Street transferred the impact of regional traffic onto local arterial streets and into local neighborhoods for forty years," stated the Port of Seattle's grant application for local match funding for the Gateway program, submitted earlier this year. "In some cases, these impacts were concentrated on low income and historically disadvantaged populations, for example, south of [SeaTac] Airport and along S. 200th Street."
Like many of Washington's highway expansion projects, toll facilities are a key piece of the funding strategy for the Gateway projects, with both new segments of SR 509 and 167 slated for automated tolling. But as we've seen around the region, adding toll facilities can significantly impact demand and create system-wide impacts as some motorists seek detours to avoid tolls. That will impact the future of alternative corridors in the area like SR 99. In Downtown Seattle, the new four-billion-dollar SR 99 tunnel is well short of its projections for traffic and thus tolling revenue, which is jeopardizing its financial plan.
The SR 509 toll feasibility study, requested by the legislature in 2010, considered the impact of tolls, calculated to raise the most revenue, set at $1 to $4 depending on direction and time of day, with PM peak tolls in the peak direction being the highest. The study found that tolling will have a substantial impact on future usage. "Traffic analysis indicated that under revenue-focused tolling, traffic demand could decrease by as much as half compared to the toll-free condition," the report noted. Where that traffic would go, however, was an issue largely sidestepped in the report.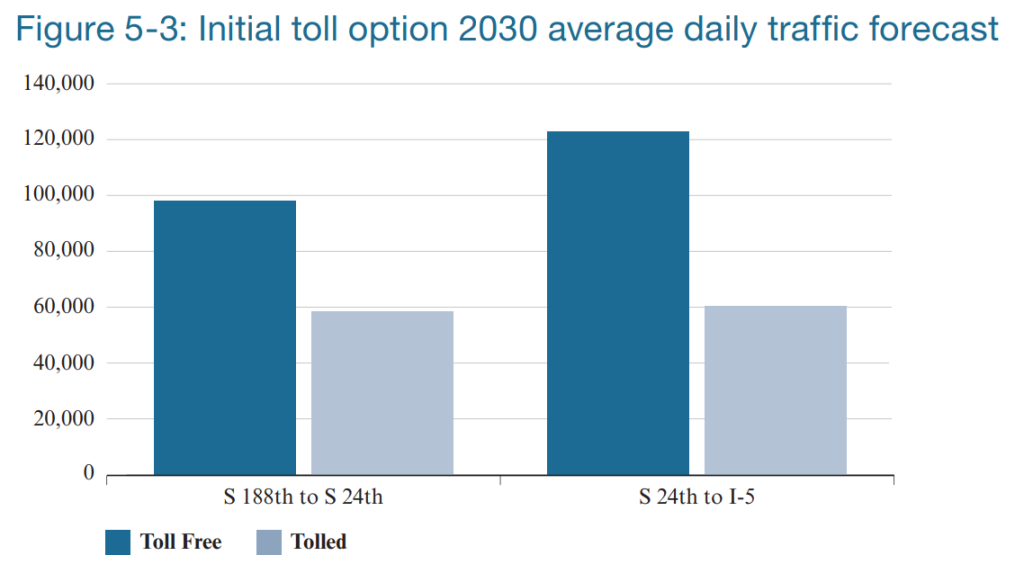 Traffic diverting through South Park could strengthen case for highway removal — or provide a reason for the highway to remain
The dynamics here could push in different directions. Additional volumes projected on SR 99 through Seattle could actually make the case for its removal through South Park stronger: having an easy alternative to 509 could keep diversion levels high. And of course it decreases the impact on residents of South Park, who might have otherwise been forced to deal with a significant increase in traffic on SR 99 when tolling was activated, with all the pollution and traffic noise that it would bring. Right now, traffic volumes on SR 99 are much lower than they are on SR 509, with 2021 average volumes approximately twice as high on 509 as on 99.
But additional traffic elsewhere in the highway system could complicate the conversation around Reconnect South Park. The Port of Seattle's regional transportation manager Geri Poor told the Seattle Times that the public agency is very concerned about retaining redundancy in the region's freight system. "It's incredibly important to us to understand how this concept could move traffic patterns and change traffic patterns," she said. "It's incredibly important to us to understand how this concept could move traffic patterns and change traffic patterns."
The technical analysis that the City of Seattle will oversee over the next few years will answer a lot of the questions that are outstanding right now. "These analyses will include background research and considerations of future impacts on multiple forms of mobility, including a review of how changes to SR99 might impact traffic on other roadways," Office of Planning and Community Development (OPCD) spokesperson Jason Kelly said via email. "Additionally, we will consider the potential impacts to SR99 that result from the future extension of 509, including the impacts of future tolling." Of course, technical work has to stand alongside a community vision, which is the parallel work that will be kicking off soon.
Washington has turned to urban highway expansion to solve many of its mobility challenges over the past decades, and now it appears the state will face the question of whether one highway removal hinges on how it's expanding another. The final consultant's reports on Reconnect South Park are not expected until 2025, which is approximately the same time that tolls are set to be activated on the first phase of the SR 509 extension.
You can read more about Reconnect South Park on OPCD's project page.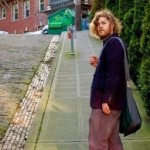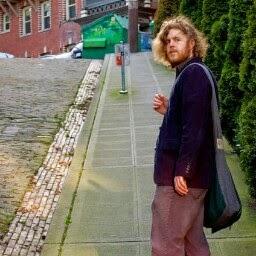 Ryan Packer lives in the Summit Slope neighborhood of Capitol Hill and has been writing for the The Urbanist since 2015. They report on multimodal transportation issues, #VisionZero, preservation, and local politics. They believe in using Seattle's history to help attain the vibrant, diverse city that we all wish to inhabit. Ryan's writing has appeared in Capitol Hill Seattle Blog, Bike Portland, and Seattle Bike Blog, where they also did a four-month stint as temporary editor.