Highway Lids, Design Review Waivers for Affordable Housing, Continuing Streateries, and Easing Food Truck Restrictions
In its final full meeting of 2022, the Seattle City Council passed a series of measures that could go far in making the city more habitable, affordable, and lively. Councilmember Dan Strauss (District 6) received some well earned plaudits from colleagues and speakers for his work marshaling several diverse issues through the council, each appearing to improve deeply technical corners of Seattle's immense land use code. Here is a roundup of the local legislative branch's end-of-year land use moves.
Lids are now part of the comp plan
Highway lids are now clearly a part of the city's blueprint for growth, as the council passed a series of amendments to the city's Comprehensive Plan that commit to expanding their use. As Strauss stated in his opening comments, the facilities "reconnect neighborhoods that were separated with these freeways and provide space for public housing and for-profit developments and amenities."
These platforms crossing major thoroughfares raise the hope that the rolling asphalt scars through the center of the city can be covered with something useful. Indeed, that is already happening with the Convention Center expansion, as was pointed out on Twitter by Councilmember Andrew Lewis (District 7). The amendments passed by an 8-1 vote.
As Natalie Bicknell Argerious wrote last week, "By providing a framework for how Seattle will grow in the next 20 years, the Comprehensive Plan creates a big picture vision for what Seattle's future will be. Including freeway lids as part of that vision means that this infrastructure can be considered, and even prioritized, in future city planning decisions around land use, transportation, and parks."
Councilmember Kshama Sawant voted no to the comprehensive plan amendments due to a completely separate issue of the amendments lacking developer impact fees. Sawant said such fees could "raise tens of millions of dollars in progressive revenue to fund roads, parks, and public transit."
She suggested the revenue could have "funded $40 million in transit expansion or reversed the austerity" that was passed in the city's budget. Developer impact fees require concurrence in the comprehensive plan, so there will be another year before the topic of can be considered again.
At that time, the council will be considering the more extensive state-required update to the Comprehensive Plan. Councilmember Dan Strauss mentioned in his introduction that the list of amendments was very short this year to ask all councilmembers to submit their changes with next year's major update that Ron Davis recently called "unserious" and "Seattle-small." 
Design review waiver continues for affordable homes
With a 9-0 vote, the council passed legislation to allow construction of buildings that include affordable housing to skirt the delay and expense of the city's design review process. Council Bill 120464 extends the exemptions to design review that Council passed during the declared Covid-19 pandemic emergency, and were set to expire at the end of the year following the lapse of the emergency declaration. 
Land use committee chair Strauss, who with Councilmember Teresa Mosqueda (At Large) shepherded the legislation through the committee, took a victory lap in a press statement.
"This legislation speeds delivery and reduces costs of developing affordable housing. We will continue reforming Design Review to improve the program and streamline bureaucratic functions that slow our ability to bring housing online quickly," Mosqueda said.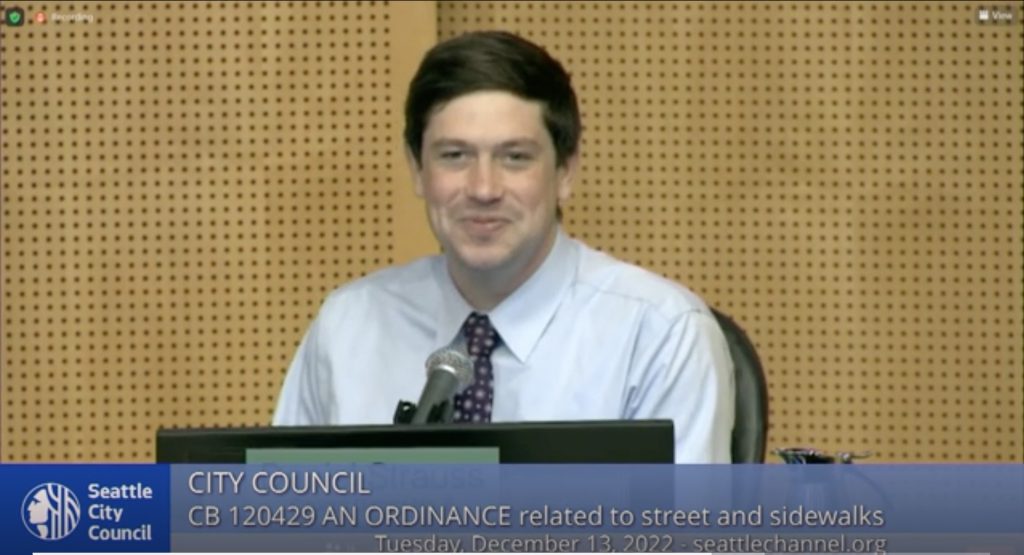 The extended hiatus permits the council time to develop further legislation, including required full State Environmental Policy Act (SEPA) reviews. Besides permanently exempting affordable housing from design review, Strauss and the mayor's office have floated a pair of two-year trials to potentially be included in further legislation.
The first would exempt projects that create units for the Mandatory Housing Affordability (MHA) program on-site. The second would broaden the types of housing projects allowed to skip design review and opt into administrative design review instead. Further details on those pilot programs are yet to be forthcoming.
Popular street cafés will continue
Another pandemic-era accommodation got a reprieve as the city's wildly popular street cafés will be allowed to continue through most, if not all of 2023. Finishing his legislative hat trick, Councilmember Strauss spearheaded the legislated extension, using Ballard Avenue as a testing ground. The unique pergolas developed in the neighborhood allow flexibility on the weekends for the Ballard Farmer's Market, and have seen pavement markings and traffic controls installed in recent weeks.
During the pandemic, fees for restaurants to use parking spaces were waived to allow eateries and shops to expand their footprints into the pubic space to allow for social distancing. Traditionally, Seattle Department of Transportation (SDOT) was instructed to charge fees for these uses that were set based on an estimate of lost parking revenue. The approved legislation extends the waiver for those fees as they are reconsidered and processes put in place for constructing outdoor dining facilities.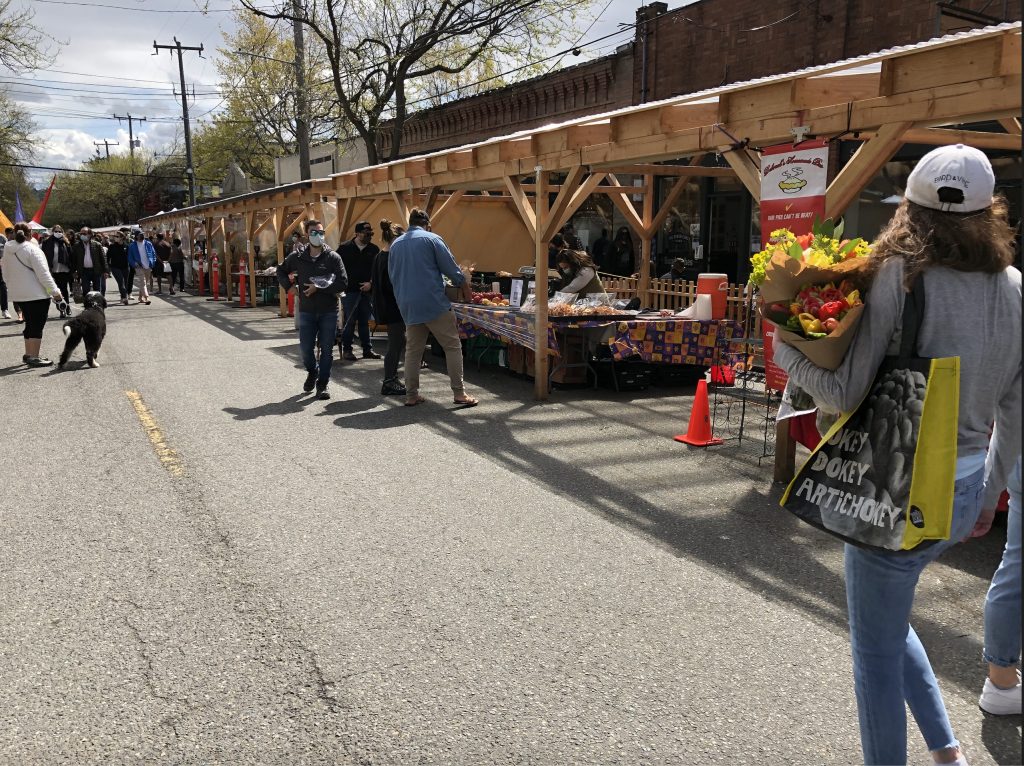 Testifying before the council in support of the legislation, Steve Hooper, President of Ethan Stoll Restaurants and President of the Seattle Restaurant Alliance, expressed extensive support of the restaurant community for making the program permanent.
"The streatery permits have been a critical component in allowing diverse restaurants offer alternative dining options," Hooper said. "It turns out we Seattleites like eating outside." 
The legislation also lessened fees and eased restrictions that have limited opportunities for food trucks in Seattle. Rules had blocked placement of food trucks in many areas of the city, such as near schools, single-family zones, or parks, but SDOT will now have latitude to approve them in more areas, as Ryan Packer detailed.
Impediments to more permanent outdoor cafés, food trucks, and enjoyable streets may include Historic Districts and Councilmember Alex Pedersen (District 4). Prior to adoption, the council added an amendment giving more time for streateries located in historic districts to maintain their outdoor spaces.
Strauss said the amendment was necessary because, "we are developing additional standards to meet both historic standards and the structural integrity required by SDOT." The restrictive and obstructionist nature of historic preservation may encounter the most popular of the city's open streets in the Ballard Historic District.
Pedersen, as chair of the transportation committee that oversees road use, has an odd resistance to non-car street uses, as Doug Trumm noted last week. While he voiced concerns in committee about the loss of parking revenue and the need for further study and floated amendments to that effect, Pedersen ultimately voted for passage of the legislation both in committee and in the full council.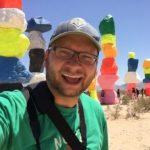 Ray Dubicki is a stay-at-home dad and parent-on-call for taking care of general school and neighborhood tasks around Ballard. This lets him see how urbanism works (or doesn't) during the hours most people are locked in their office. He is an attorney and urbanist by training, with soup-to-nuts planning experience from code enforcement to university development to writing zoning ordinances. He enjoys using PowerPoint, but only because it's no longer a weekly obligation.