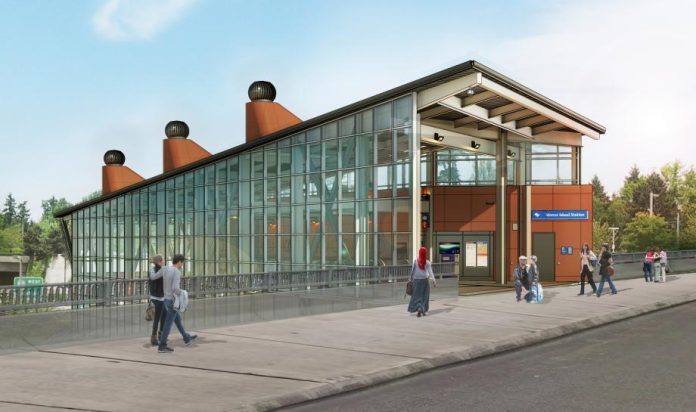 Municipality will pay transit agency $2.1 million and drop claims surrounding East Link extension.
Last week, without public discussion, the Mercer Island City Council approved a settlement agreement with Sound Transit stemming from work the agency is doing to open a light rail station on the island as part of the East Link extension project. The agreement, which the city council had discussed behind closed doors in executive session with officials from the agency, puts to bed a series of years-long disputes between the city of 25,000 and Sound Transit for the time being.
At the heart of those disputes was access to the express lanes on Interstate 90, which Mercer Island residents had direct access to prior to those lanes being shut down and converted to Sound Transit's light rail guideways. Since the late 1980s, Mercer Island residents, no matter how many passengers were traveling in one vehicle, had access to the high-occupancy vehicle express lanes on the highway bridge over Lake Washington. But the Washington State Department of Transportation (WSDOT), following federal guidance, did not extend those special permissions to the new HOV-only lanes it added to the bridge after the closure of the express lanes.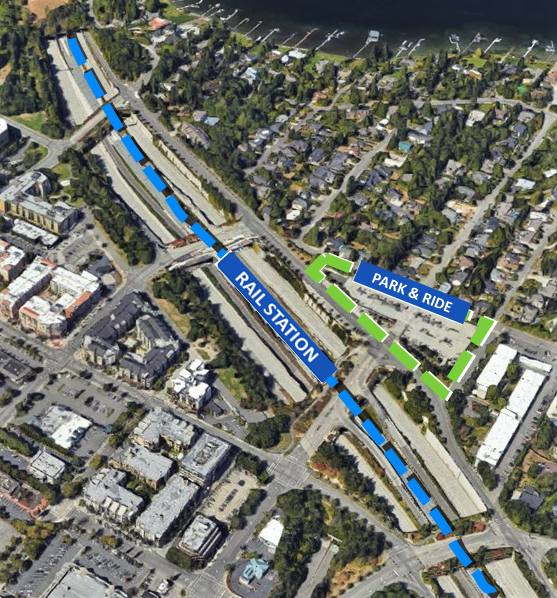 In retaliation, Mercer Island sued both WSDOT and Sound Transit, and declined to vote to approve several key permits that were needed for light rail construction within the city to proceed. In 2017, Mercer Island reached an agreement with the transit agency, with Sound Transit agreeing to fork over more than $10 million to the city to mitigate potential traffic impacts on the island, as well as to add permanent parking spots on Mercer Island to mitigate the temporary closure of the South Bellevue Park and Ride (which is now already open again).
That 2017 agreement included requirements concerning Sound Transit's reconstruction of streets around the planned light rail station to better accommodate bus transfers and layover space, making some streets off-limits for stops and layovers. As design progressed, Mercer Island found some elements of that design, primarily pull-outs for buses on the north side of N Mercer Way, in violation of the agreement.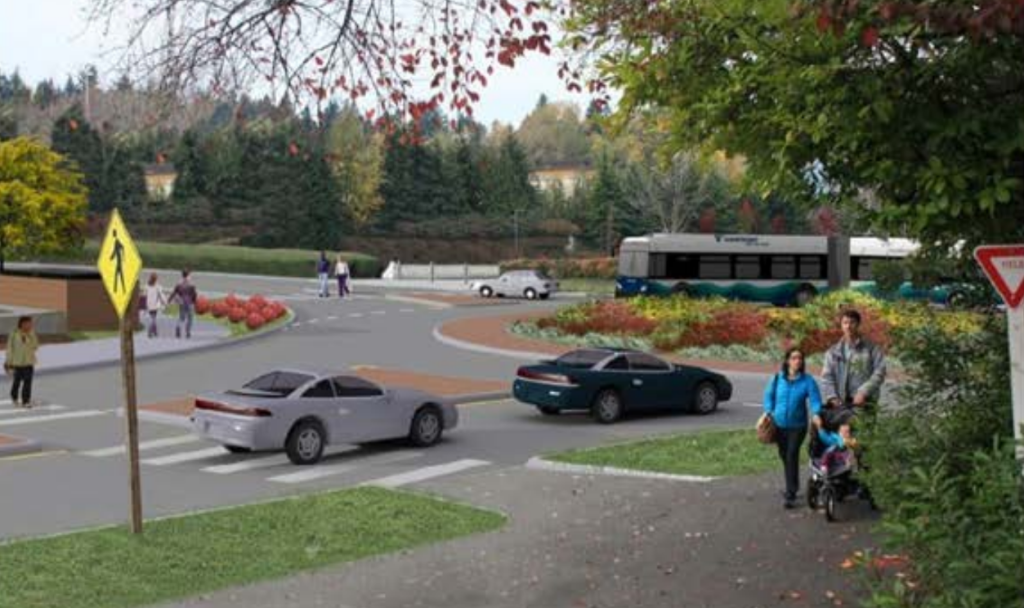 This intergovernmental disagreement occurred in the context of Mercer Island residents raising concerns about traffic and increased crime arising from any form of a bus-rail transfer hub on Mercer Island. Most notably, complaints came from a group calling itself "Moms 4 Safe Mercer Island." Community pushback in the leadup to light rail's arrival has not been unique to the enclave, with concerns over increased crime also being brought up in Bellevue and Lynnwood as service start dates approach. But in this case, the 2017 settlement agreement was a natural conduit for those concerns.
In 2020, Mercer Island again sued Sound Transit, alleging the street changes proposed around the station would impact pedestrian safety. "We have notified Sound Transit numerous times that its current plan, which includes new curb cuts to accommodate bus layovers along North Mercer Way, fails to meet the terms of the Settlement Agreement which explicitly forbade these features," a letter from the city council about the lawsuit noted. "We have also voiced concerns over future operations that this plan enables, including the high volume of bicycles and pedestrians that will be expected to mix with cars and buses adjacent to the busy Park & Ride location once East Link light Rail is operational. Despite the City's reasonable objections and requests for essential information, Sound Transit has repeatedly ignored our concerns and insisted on unilaterally implementing its design plans."
In late 2021, a judge granted Sound Transit's motion to dismiss the suit, holding that Mercer Island did not even have a right to sue, and directly called the city's actions obstructionist. Mercer Island tried to expedite an appeal, and again failed. Now, with the latest settlement agreement, Mercer Island will pay Sound Transit $2.1 million over a two-year period and agree to end all current disputes with the transit agency. In a statement, the city cited "the benefits of ending a dispute between two public entities, which frees up resources to focus on transportation and infrastructure projects and improve collaboration as regional partners." Per the agreement, all prior claims to the previous settlements being violated are waived, but no party agrees to any admission of fault or wrongdoing.
Between lawsuits against Sound Transit, the Mercer Island city council has been preparing for light rail's arrival by keeping in place a building moratorium on a significant portion of the denser Town Center neighborhood close to the station, by exploring ways to add more vehicle parking to Town Center, and by complaining to state lawmakers about new requirements to zone for affordable housing at specific income levels.
The signing of the agreement is an anti-climactic end to one of the most drawn out legal fights around transit in King County, and now Sound Transit can get back to work, trying to open the entirety of East Link as fast as possible after a myriad of delays.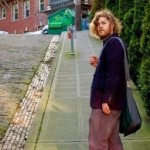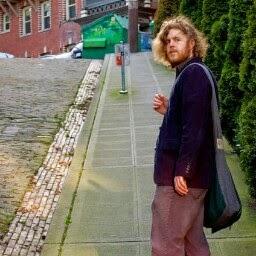 Ryan Packer lives in the Summit Slope neighborhood of Capitol Hill and has been writing for the The Urbanist since 2015. They report on multimodal transportation issues, #VisionZero, preservation, and local politics. They believe in using Seattle's history to help attain the vibrant, diverse city that we all wish to inhabit. Ryan's writing has appeared in Capitol Hill Seattle Blog, Bike Portland, and Seattle Bike Blog, where they also did a four-month stint as temporary editor.