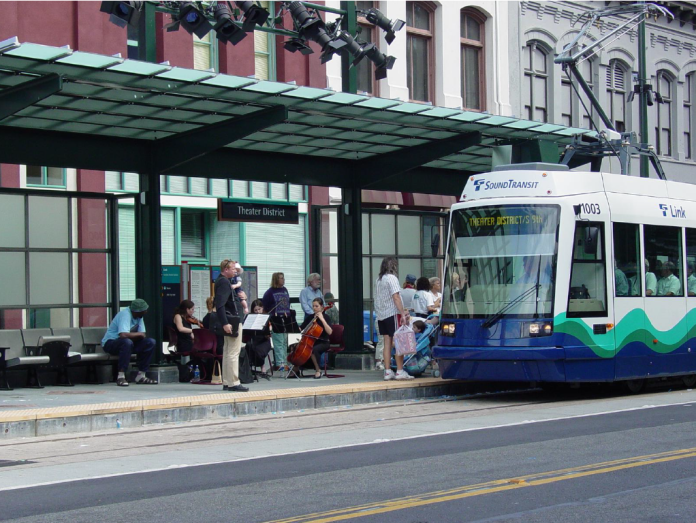 Tacoma has a major extension of Sound Transit's T Line streetcar to look forward to over the coming year: the Hilltop Tacoma Link Extension (HTLE). But this past year saw the loss of a small yet memorable element of the line's history. Monday, August 1st, 2022 marked the start of the T Line's extended shutdown for modernization as part of the HTLE project. Construction crews began demolition of the line's former S 9th St. switch to connect the system's old and new tracks in a continuous double-track configuration. As part of this process, the original Theater District Station (the former northern terminus of the line) was also demolished.
It was a rather quiet retirement; no passengers boarded the train on the last trip, and there was no fanfare or any official event to commemorate the station's nearly 19 years of service to Tacoma residents and commuters. As the last operator to arrive at and depart from Theater District in passenger service, I wanted to take this opportunity to write a short sendoff for what was arguably the T Line's best themed station while also expressing my excitement for the future of what's to come for Tacoma's streetcar.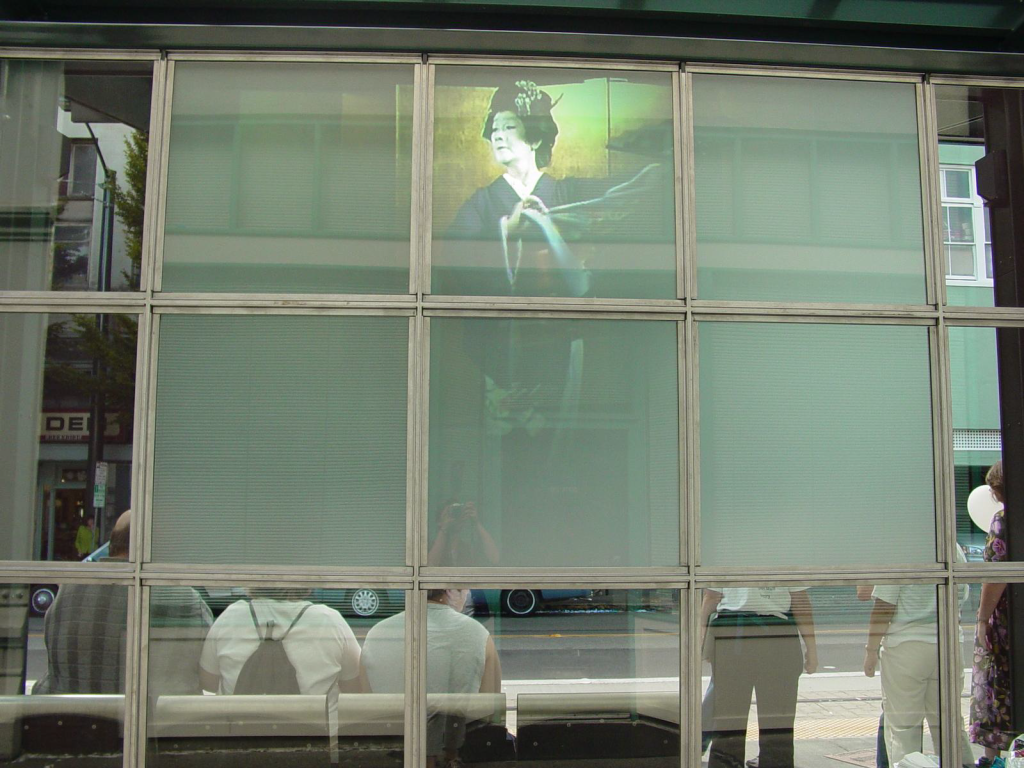 History of the Theater District Station
Theater District was one of the original five stations to open with the T Line (then known as Tacoma Link) on August 22nd, 2003 (which, for chronological purposes, I will call T Line version 1.0). Although Convention Center Station was close to many of Tacoma's major employment destinations, Theater District Station's location at Commerce and S 9th Streets made it slightly closer to Downtown Tacoma's core during T Line 1.0's eight-year run. It opened with a variety of special features that gave a nod to the history of its surroundings, including stone plaques of theatrical posters from the late 1990s and early 2000s; station seating made to resemble fold-up theater seats; theater-style lighting elements; and even a projector that showed a variety of theatrical scenes on the station's frosted back glass. These unique elements were creative references to the station's proximity to the Pantages, the Rialto, and the Theater on the Square.
T Line version 1.1 started service on September 15th, 2011 with the opening of Commerce Street Station, an infill stop just south of the intersection of Commerce and S 11th Streets. This new station was at the heart of Downtown Tacoma, and its convenient location attracted many commuters who worked nearby and students shuffling between the two campuses of the Tacoma School of the Arts. Theater District continued to function as the end of the line, serving not only theatergoers but also an eclectic mix of nearby residents; regular commuters who rode the ST Express buses or Sounder trains toward Seattle; bar hoppers and foodies visiting a host of nearby establishments; gamers headed to Dorky's arcade; and, more recently, hotel goers and 'passport trippers' staying and stamping at the McMenamin's Elks Temple. In this configuration, Theater District Station remained a crucial part of the city's transit landscape for almost eleven more years.
Theater District Station's role as the terminus of the line was probably never intended to be permanent given the long-term vision and aspirations of Tacoma city leadership. Tacoma Link was just one of a host of projects throughout the 1990s and 2000s (such as the Greater Tacoma Convention Center) that was meant to attract reinvestment in Tacoma. While I wasn't able to find much early community outreach or planning documentation to understand all the nuances, the choice of selecting Commerce Street as the route for the T Line north of S 17th Street was almost certainly made to accommodate a future extension of the line to the Stadium District.
However, restoration of the Old City Hall and former Elks Lodge (both added to the National Register of Historic Places in the mid-1970s) was not yet underway when Sound Move was approved in the 1990s. From operating experience, I recognize that the roadway configuration between S 9th and S 7th Streets left little room for dedicated two-way train layover/turnaround tracks in the center of the street; and with in-street running, trains could not have easily completed turnarounds without frequently blocking traffic. Since few short-term factors justified a more future-proof siting at S 7th Street, Theater District's location was likely chosen to prioritize access to major destinations along S 9th Street without precluding further extension of the line to the Stadium District.
New Needs for the Old End of the Line
With the passage of Sound Transit 2 in 2008, the official plan to go beyond Theater District was set in motion. Early input from the community, businesses, and leadership regarding new stations expressed concern about the loss of street parking and a preference for accessible center-platform stations. Reusing the existing Theater District Station would have required building a second side-platform across the street, compromising these community priorities.
Several other factors were also likely at play, including approvals from the Landmarks Preservation Commission regarding McMenamin's purchase and restoration of the old Elks Lodge and the City of Tacoma's purchase of the Old City Hall. By 2014, official Sound Transit documentation began mentioning the potential inclusion of a new station beside Old City Hall as a replacement for the existing Theater District Station. And by late 2016, the plan to remove Theater District Station had been selected for advancement.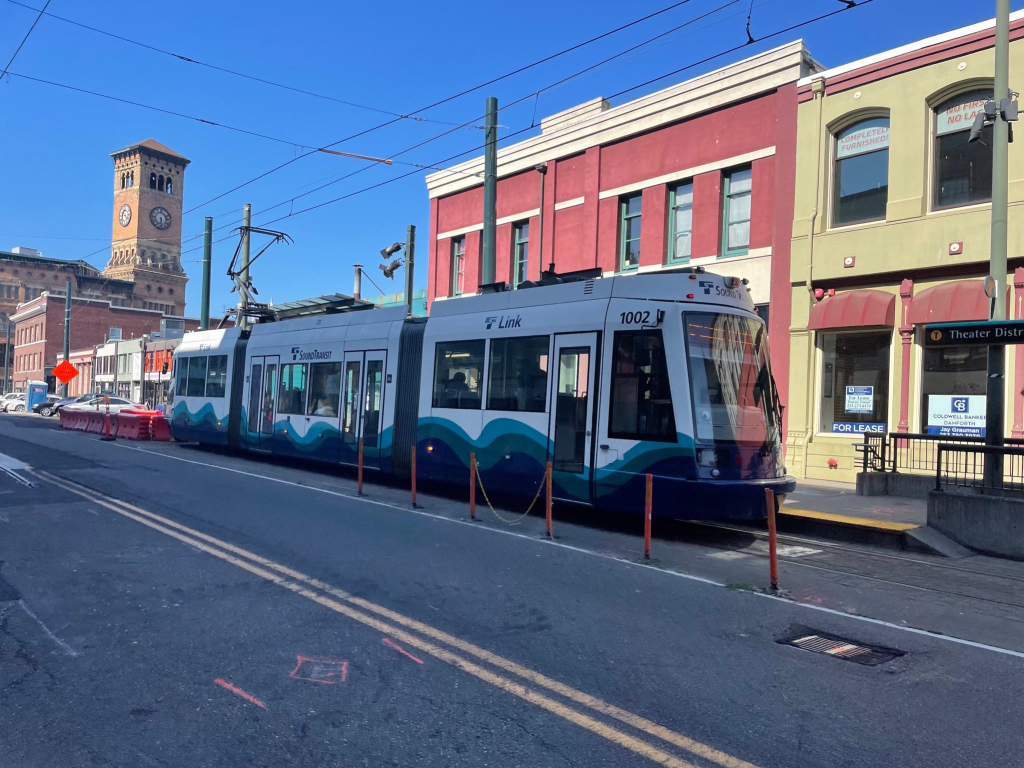 When the last southbound train departed at 6:00 PM on Sunday, July 31st, 2022, T Line version 1.1 officially ended service. With that, the original Theater District Station's service to Tacoma was finished. Demolition work began on the station immediately, with the removal of the S 9th St. switch and the commemorative stone plaques. Throughout the course of the shutdown, the old and new tracks were connected to each other, new traffic signals and pedestrian crosswalk islands were installed, and a new GPS-based automatic signaling system was set up at the S 9th St. and S 7th St. intersections. Within a few short weeks, there was no evidence left of the original station.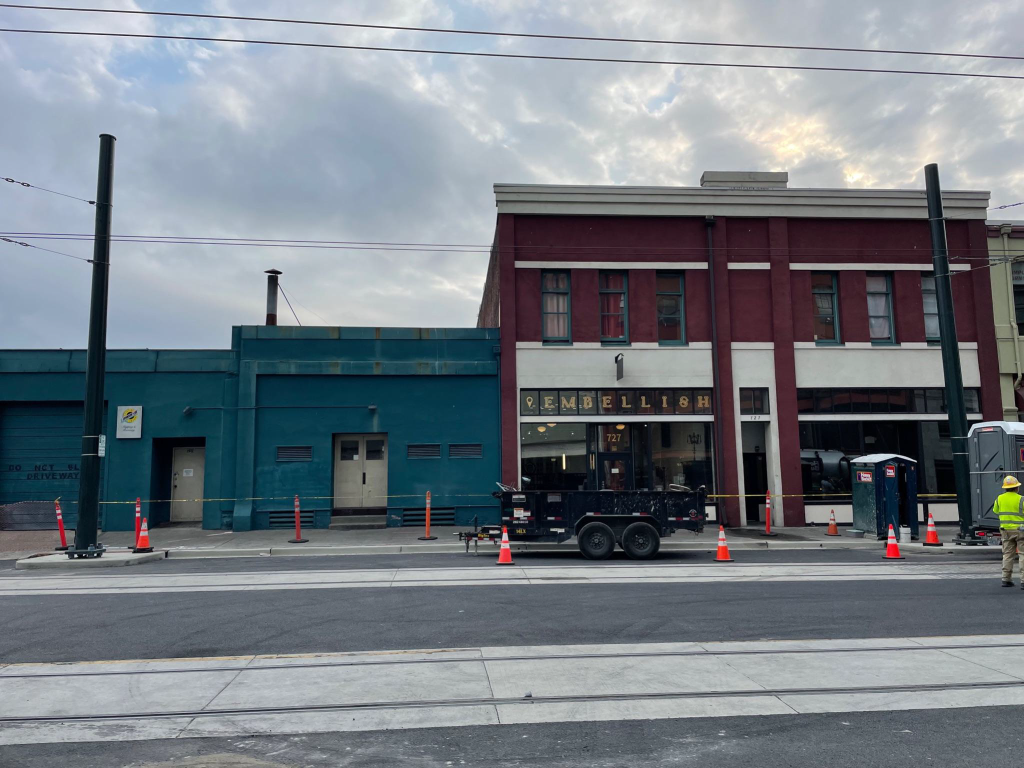 T Line's Future and Theater District's Legacy
After some delays caused by construction challenges, the T Line reopened in its final iteration of service on its original tracks (what I will call T Line version 1.2) on Tuesday, October 11th, 2022. One- and two-train services now bring passengers as far as Commerce Street Station. Trains then proceed out-of-service northbound, change directions at the new crossover switches at the intersection of S 7th and Commerce Streets, and return to service at Commerce Street Station.
Tacoma residents, visitors, and commuters will certainly have to adjust to this temporary lack of service north of S 11th Street; but in the meantime, this setup allows passenger service to continue along the old line while testing and commissioning of the new trains and tracks is being finalized. The T Line will operate in this configuration until the opening of the new tracks for HTLE.
The HTLE project (best described as T Line version 2.0) represents a major expansion of the T Line's service area and its role in the community. Increasing in length from 1.6 to 4.0 miles, the new T Line extension will offer service along S Stadium Way, N 1st Street, Division Avenue, and Martin Luther King Jr. Way with seven new stations, including Theater District Station's replacement beside Old City Hall. Trains will run every 10 to 20 minutes depending on the time of day, and three to five trains will be in service along the line at any given time. New destinations to be served include McMenamin's Elks Temple, Stadium High School, Wright Park, Tacoma General Hospital, the Hilltop District, and St. Joseph Hospital. The extended T Line is expected to open for service later in 2023.
By looking back at the original Theater District Station, I hope our community will appreciate the many thoughtful design elements that helped the station highlight its neighborhood's history and contribute to Tacoma's sense of place. Personally, I'm looking forward to seeing how we will continue to apply such elements to the many new train stations our region will be building over the coming decades, inspired by the fun, place-focused aesthetics of stations like this one. The unique theming of the original Theater District Station will certainly be missed, but the station's legacy will live on elsewhere within the city.
When HTLE opens later this year, Commerce Street Station will be renamed Theater District Station in recognition of its proximity to the Tacoma School of the Arts Theatre and its continued close access to the city's other public theaters along Commerce and S 9th Streets. Old City Hall Station will serve passengers less than two blocks north of the original Theater District Station site. The loss of the old Theater District Station has made room for further investment in Central Tacoma, more frequent train departures, and an exciting extension of the T Line's tracks to open up rail transit services to more riders.

For the final time, Train 1 has departed Theater. Thank you for your 19 years of service to our region's residents, commuters, and visitors. May your humble yet expressive presence be remembered alongside the renaissance of our great city's historic downtown. Train 1 out.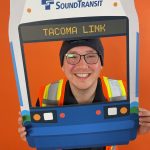 Patrick Carnahan (Guest Contributor)
Patrick Carnahan is a Transportation Safety & Security Specialist with Sound Transit. A former Tacoma Link Light Rail Vehicle Operator and Relief Supervisor, Patrick loves sharing his passion for public transportation through his writing. When not at work, Patrick can be found participating in passenger rail advocacy, researching transit topics, or traveling with his fiancée Bea.