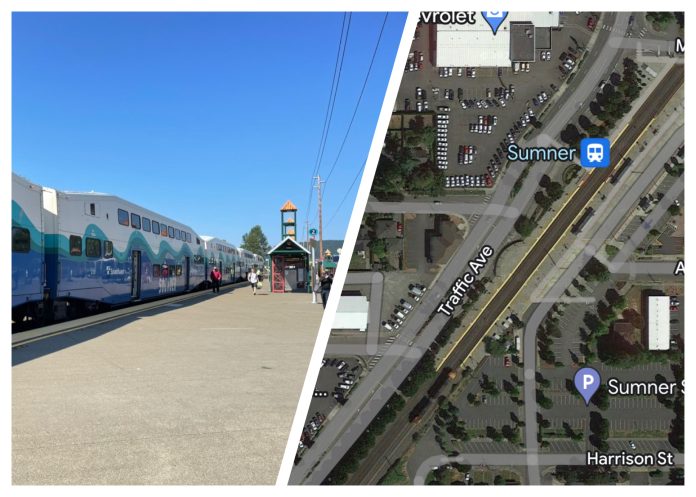 Elected officials have approved another 1,500 car parking stalls at select stations along the Sounder S Line. This capital investment is astronomically expensive for the meager ridership gains that the projects might facilitate. That's why it's worth reconsidering recent project approvals and redirecting funding into higher performing Sounder investments.
We know that the single best way to get people to ride transit is to provide regular local bus service and increase frequencies. Conversely, filling up transit centers with car parking is a fool's errand, no matter the geographic location. The principles of transit frequency apply equally to urban cities and suburban cities. That's why, despite a migration to work-from-home culture by white collar workers, ridership on local bus and Link services in Seattle and nearby suburbs continues to outperform ridership on low-frequency suburban bus routes and Sounder. Cars don't get butts in seats, access to good transit does and that starts right at the doorstep.
Yet, Sound Transit boardmembers have authorized three car parking garage projects in Kent, Auburn, and Sumner to the tune of $359.7 million. That comes out to about $240,000 per car parking space or an annual subsidy of $8,000 per driver amortized over 30 years. That's a colossal waste of scarce transit dollars for about 1,500 drivers one or two days of the week — nearly all riders who drive solo to transit.
The pandemic shook up many things in transit. It brought transit agencies to the brink of financial collapse. It made many transit staff members question the conditions they wanted to work under. It changed people's travel habits globally, particularly with transit by reducing peak-hour demand and shifting travel throughout the day. That's why Sounder, which was designed for peak-hour commuters, has seen ridership tank so dramatically. People want and need all-day service. People want and need better frequent local service. It's then critical that we reexamine pre-pandemic plans that catered primarily to wealthy motorists rather than natural all-day transit ridership of today.
Sound Transit already has a $1 billion Sounder S Line capacity investment program that is planned to be rolled out in parts over the next three decades, but it's already completely out of date with pre-pandemic assumptions. The formal plan was adopted right at the height of the pandemic in April 2020. It doesn't account for the new paradigm. It instead calls for additional coaches on trains, expanding platforms, and more car parking — things we don't need. It also remains focused on allocating any additional Sounder trips to commute hours of white collar workers working 8am to 5pm.
Elected officials don't have to keep making the same wrong transit choices. They can pause and adjust to the times, to the wants of their riders.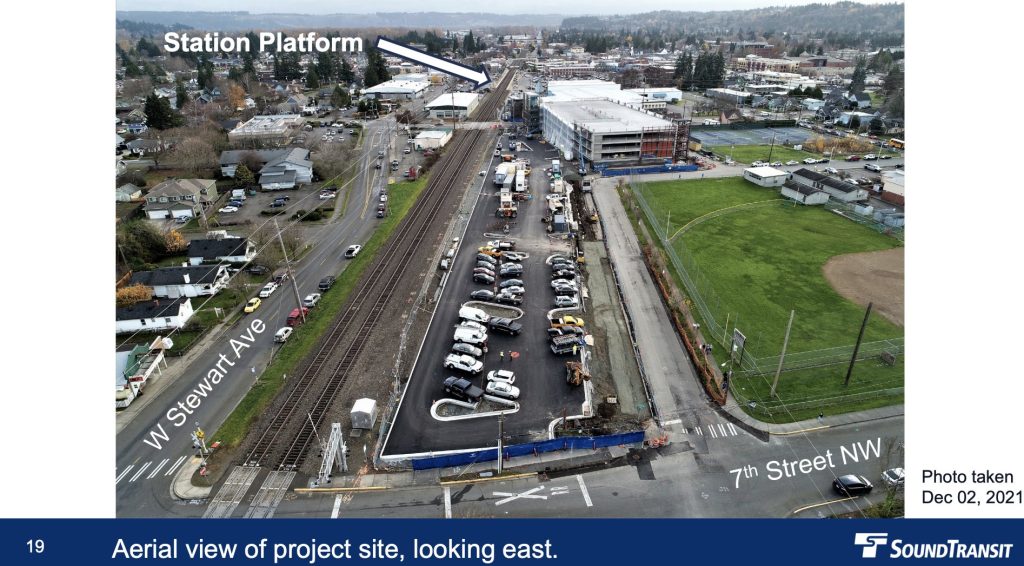 Roger Millar, secretary of the state transportation department, urged a rethink of priorities two years ago. He offered very astute and critical remarks when car parking garages were being debated then, apparently to no avail. "When you look at our station access budget, we are investing more in parking than we are investing in all of the other modes combined," Millar said. "And all of the other modes combined bring 80% of our ridership to our system."
Millar also hit on designing the system we want for the future.
"The other thing I've heard people discuss with this is the reality of the situation today is people need to drive to the station because that's how we designed our communities and we're hoping for a future where we have these walkable urban communities," Millar said. "If we want to get to that future, we should be investing in that future, not investing in the existing paradigm. Because if you continue to invest in the existing paradigm, what you're gonna get is that paradigm."
Mic drop moment if there ever was one.
Millar is absolutely right though. Spending all this money on car parking doesn't really change travel behaviors to the ones we want. It doesn't change our land use patterns. It instead locks in amber our prevailing travel habits and land use patterns, just some people may use transit occasionally as part of their job commuting mix. That doesn't build more resilient and vibrant communities. No, it maintains the status quo and wastes valuable land near these stations that could literally be housing, jobs, and places people want to be outside of commuting hours. And if we actually built up those things, it would justify investing in more Sounder transit service for these stations without having to find ridership 10 or 15 miles away.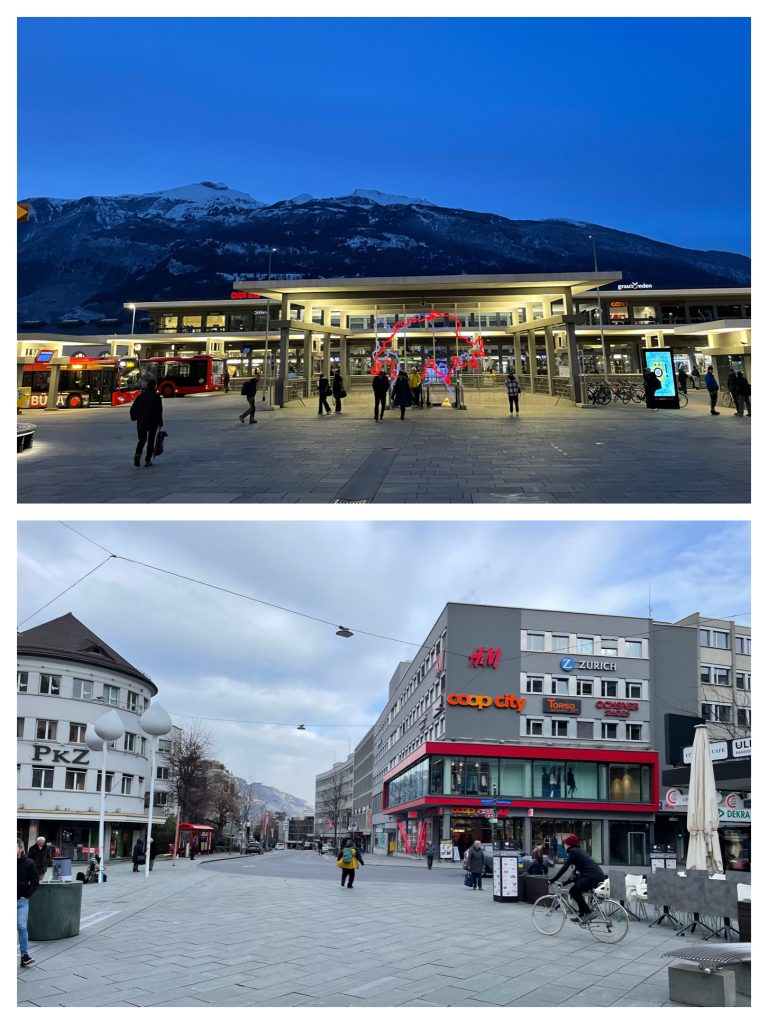 So what about the future?
For the cost of these three stations' parking garages, Sound Transit could buy around another five or so roundtrips on the S Line to fill out its schedule. That's enough capacity for over 12,500 passengers each direction — and far more than extra car parking stalls at these garages will create. The $82.3 million that Sound Transit boardmembers blew on Puyallup Station's car parking expansion also could have bought at least another roundtrip for the S Line.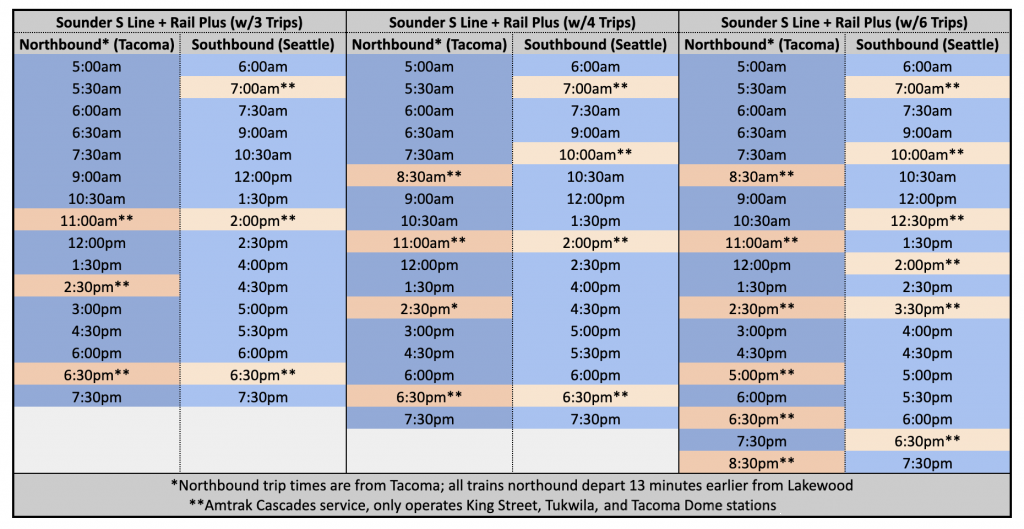 We could look beyond just extra Sounder trips. All this money could be better spread around to add strategic passing tracks, it could otherwise improve tracks, signals, and other equipment for corridor operations, it could be used to start up a Pierce County-focused regional rail network, it could buy local connecting bus service to feed riders to stations instead of focusing on the minority of riders that choose to drive to them.
In fact, the local bus service would be incredibly affordable and could benefit more than just the stations. Using just 40-foot buses, Sound Transit would only have to buy up 35 roundtrips on connecting local bus service to replace the car parking capacity maybe "lost". This could better serve more areas near Sounder stations and further afield with quality transit. But given how much capital is being expended on needless car parking garages, Sound Transit certainly could afford to buy a lot more connecting local bus service to serve all three stations.
Sound Transit could also get creative and probably purchase even more trip slots from the host railroad, BNSF, at a much reduced price. Under federal statute, Amtrak is empowered to contract with regional transit agencies to provide commuter rail service. Amtrak already does this on a limited basis regionally by providing ORCA passholders access to the Rail Plus program, which allows passholders to board Amtrak Cascades trains serving stations between Seattle and Everett. But Sound Transit could specifically contract with Amtrak to be its service provider for Sounder instead of BNSF. This would allow Sound Transit to benefit from several very powerful federal statutes.
Specifically, Sound Transit could benefit from Section 24308 of Title 49 in the United States Code. This section ensures that Amtrak has the right to obtain access to facilities (e.g., tracks) owned by a host railroad, that compensation for use of facilities is reasonable and usual only an incremental cost for using them, that passenger rail has a preference over freight rail transportation, that a host railroad must not be an impediment to on-time performance standards of Amtrak, and that there are specific federal dispute resolution mechanisms.
Given that BNSF has been a very abusive partner by routinely delaying Sounder trains — it operates — and being cagey on additional service, electing to contract with Amtrak as operator could greatly reduce these problems and give Sound Transit a much better negotiating position to obtain additional track use rights that it badly needs. That's a bargaining position that will be critical if we ever hope to have the regional rail that we deserve.
In the end, there will never be enough money to fill transit seats with car parking. There is, however, plenty of money to buy more Sounder and bus service, if we want transit. Now is the time for elected officials to recall and reallocate the Sound Transit board's authorization of the Kent, Auburn, and Sumner car parking garage projects before it's too late.

Stephen is a professional urban planner in Puget Sound with a passion for sustainable, livable, and diverse cities. He is especially interested in how policies, regulations, and programs can promote positive outcomes for communities. With stints in great cities like Bellingham and Cork, Stephen currently lives in Seattle. He primarily covers land use and transportation issues and has been with The Urbanist since 2014.