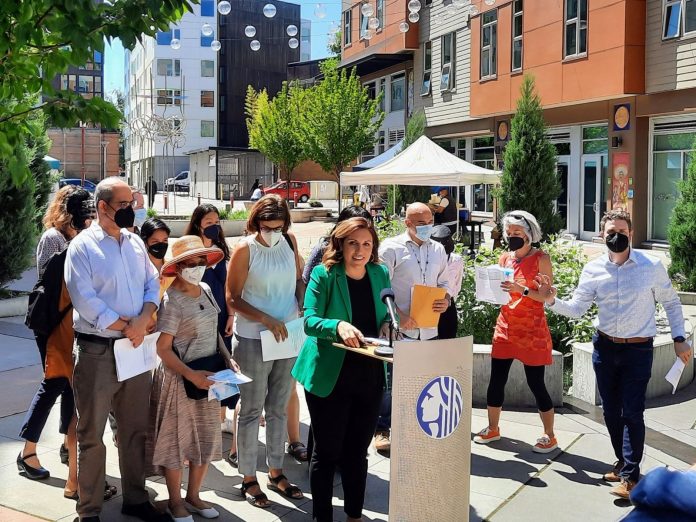 Teresa Mosqueda has made a name for herself in her six years on Seattle City Council, and this year she's seeking to make the jump to King County Council. From shepherding through JumpStart Seattle's nearly $300 million in annual progressive revenue for housing, Green New Deal programs, and saving the City budget from severe pandemic cuts to championing land use reforms and Mandatory Housing Affordability (MHA) rezones, Mosqueda has been on the forefront of Council's biggest initiatives during her tenure.
Her message around her County Council run suggests she plans to continue taking on big policy battles — and winning if she can help it. The campaign rollout last week centered on tackling working family needs and focused on the "pillars" of transit, housing, child care, and health care. Last week we covered the campaign announcement, including a wide array of endorsements. This week we're taking a closer look after following up with Mosqueda in an in-depth interview.
During a phone interview, Mosqueda told me she hoped to create round-the-clock transit service that can meet the needs of working class people around the region, and she lamented that service has languished following the pandemic.
"We're only as successful as a region if people have Rapid Ride transit, Sound Transit access, last mile taken care of, buses that run on time to get to those jobs," Mosqueda said. "This is a regional approach to ensuring that people have good access to good living wage jobs, making sure that people have support for alternatives to using a vehicle and ways to get to their place of employment. That's what the County does with its focus on Metro and Sound Transit obviously."
At this juncture, Mosqueda hasn't turned her vision of accessible, reliable, round-the-clock transit into a specific plan, but she did say that she was open to resurrecting the countywide transportation benefit district ballot measure that the county council has contemplated three years ago before shelving it due to the onset of the pandemic. Such a funding measure could go a long way toward making her vision a reality.

In the last budget cycle, King County Executive Dow Constantine and the County Council focused on electrifying the bus fleet and ratcheting up security over investing to boost transit service. In fact, the existing budget plan only gets King County Metro's bus service to 91% of pre-pandemic service levels by fall 2024. Four years out from the start of the pandemic, bus service will still be down about 10%.
"I'm excited about being able to be part of the quote unquote post-pandemic recovery efforts and having that really be tied to accessible transit options as well," Mosqueda added. "I see that as a pillar or a cornerstone for one of the components that drew me to council, which is working family needs."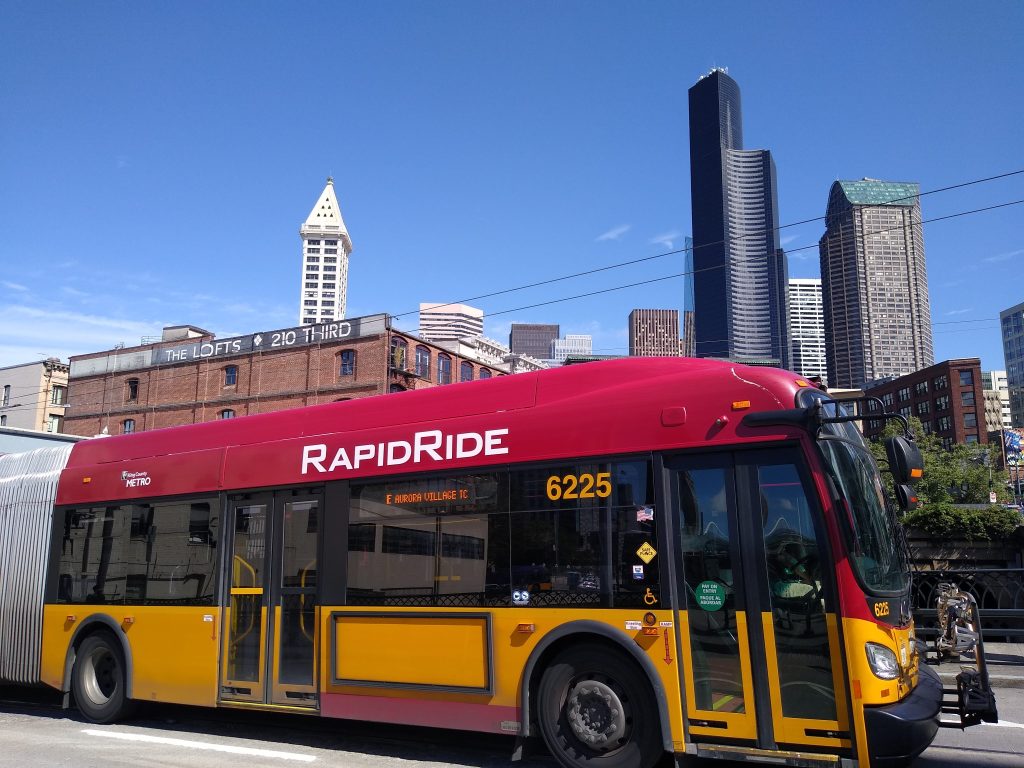 One huge obstacle to increasing transit service is the shortage of bus operators, which is hitting agencies across the region and country. King County Metro has struggled to recruit bus drivers and get its numbers up in a tight labor market, with prospective drivers potentially turning to other fields. Mosqueda noted the labor force issue and the potential of designing career pipelines to address it.
Child care and career pipelines
One area where King County has made more recent progress is on early childhood education, and Mosqueda gave a shoutout to the Best Starts for Kids levy passed in 2021. She also noted the County is poised to have a bigger impact on the issue than the city could, thanks to its wider scope.
"I'm excited to think more about what the county could be doing to support residents across our region, building on the work that I've done in Seattle to support childcare workers, but thinking more regionally about childcare needs, especially as many working families who need access to childcare that are outside of Seattle's limits as well. So I think expanding and building upon Best Starts for Kids and more accessible childcare and actually creating career pipelines," Mosqueda said.
"Career pipelines into childcare, into construction, into being an educator and a healthcare provider, human service provider," she added. "All of these areas we see a decrease in the workforce that is available. And we can't stabilize and house folks if we're not thinking about career pipelines. So the third component within what working families need is improved access to good living wage jobs and treating — whether it's retail or construction or childcare — treating those sectors as good career opportunities and actually paying folks to do the work."
The County also has a greater capacity to deal with the crises around mental health and homelessness, she argued.
"The City does not have purview over behavioral health issues," Mosqueda said. "We do not have purview over public health besides having a few seats on the public health board. We are only going to be successful in our efforts to house folks if we can provide the necessary health services, behavioral health services, the human service workforce to keep folks stably housed."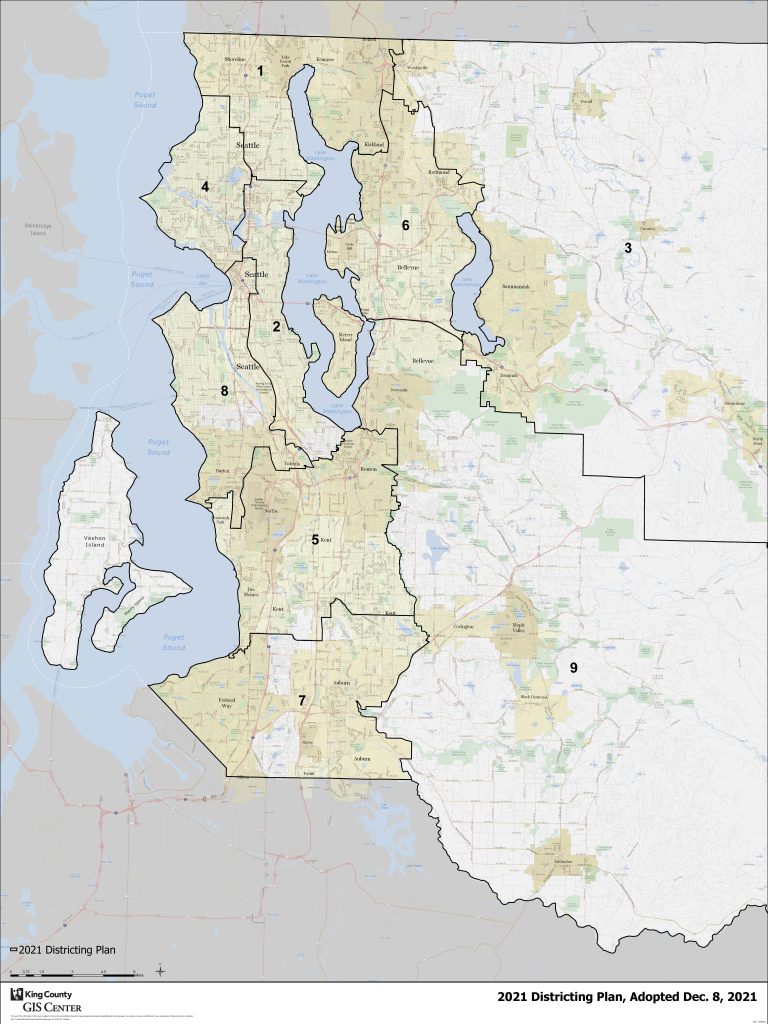 Low pay and poor working conditions for human service workers has certainly been an obstacle to the County's homelessness response, leading to high turnover and vacancies in those positions. Regional Homelessness Authority CEO Marc Dones has pointed out this issue as well.
Housing
The housing affordability crisis certainly expands beyond Seattle's borders, and Mosqueda said the County can be a strong partner in "promoting density, livability, green space."
"The issue of affordable housing is affecting Seattle just as much as it is on Vashon Island and Tukwila, Burien and the CD, and First Hill. We need more workforce housing, affordable housing, housing of all types across our region," Mosqueda said. "So I look forward to building on the Health Through Housing concepts. How to get people into stable housing options, emergency housing, and then get them into more affordable housing across our region. And being a good regional partner in promoting density, livability, and green space. All those things that I've been promoting at the City to be that partner and really working towards that at a regional level to serve the diverse and growing population in our county."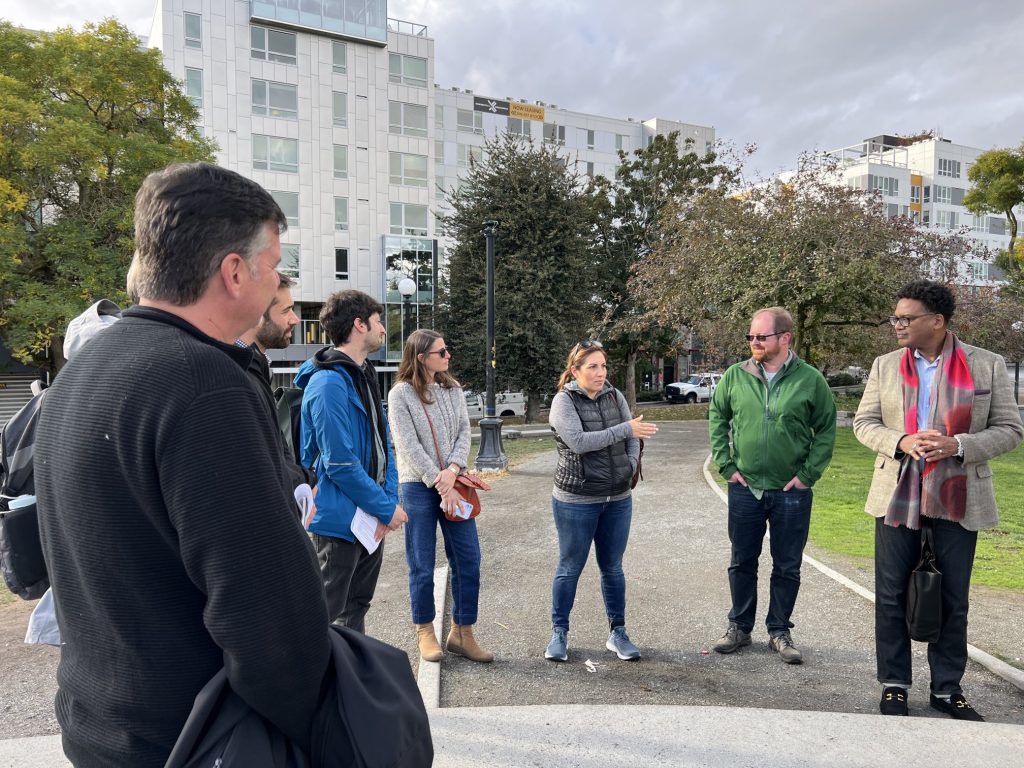 Mosqueda laid out a vision of a 15-minute city by pairing housing growth with transit expansions, park investments, and safe streets upgrades, creating communities were residents can meet all their needs within a short walk or bus ride.
"I live in North Delridge, and I have six bus lines to take me not only in and out of downtown Seattle, but to the waterfront on Alki and access to public beaches, right? I have parks and I have community centers right in my neighborhood, multiple," Mosqueda said. "I have trails for walking and bike lanes for biking. And this is how we can create healthy, greener communities — when people can accessibly get to transit and live in communities that have a 10-minute walkshed to the things that they need. That's what I have, and that's what I really think is possible across our region as well. So it's part of the things that drives me to wanna do this at the county."
The Delridge corridor will also benefit from the opening of the RapidRide H Line next month. Walkable, transit-rich neighborhoods are clearly in demand, and the County has a big role to play in creating more of them.
Even-year elections, democracy vouchers, and other reforms
Mosqueda has expressed interest in pursuing election reform. Asked if that includes an interest in switching municipal elections to even years, she answered in the affirmative.
"Oh, absolutely. I mean, that's just a good civic engagement way to ensure more people are participating for sure," Mosqueda said. "It's actually the first thing that I looked at late last year after I heard that Council Chair Balducci was proposing it. So yeah, the legislature needs to give us permission."
Council Chair Balducci did pass legislation putting a switch for county races to even years on the ballot last year and it passed in a landslide with three quarters of the vote. This means that should Mosqueda win, she will serve a three-year term and be up for reelection in the 2026 mid-term election rather than an odd-year election the following year.
The Washington State Legislature has barred municipalities (but not charter counties) from switching their elections to even years, despite the higher turnout. However, SeaTac Rep. Mia Gregerson did introduce a bill that would allow cities to make the switch to even years, but it didn't make it out of the House last year. Perhaps the effort will fare better this year.
For now, Mosqueda wants to at least more evenly space out councilmember elections. She argued having seven district-based councilmembers up in one year has contributed to high turnover we will see next year.
"I'm gonna look to see what we can do at the city, and I know it sounds pretty common sense," she said. "We should be splitting up the districts and having half of the districts go in one year, half in another. And we should also be splitting up the city wide seats, that each of those seats run in separate elections would make more sense as well."
Additionally, Mosqueda is a big advocate for democracy vouchers and expanding the program statewide, as proposed in Seattle Rep. Darya Farivar's HB 1755.
"We need to get money out of politics, period," Mosqueda said. "And I know that that's a conversation we have to take up at the federal level. But in the meantime, with democracy vouchers I think accomplished three things. One, they get more people to see themselves running for office. You see the numbers play out with the number of people that have put their name forward to run in Seattle since my race in 2017. Do you see a change in the demographics of who's running, right? Think about my race in 2017. There was eight of us who ran in the primary, and seven of the eight of us were either women, people of color, or members of the LGBTQ community."
Beyond inspiring more people to run and changing the gradually demographics of who is in office, democracy vouchers also has positive effects of encouraging more people to participate and to donate, Mosqueda argued.
"So it changes the demographic, and then the last thing that democracy vouchers have done is they've absolutely changed who has given to candidates," Mosqueda said. "They have made it possible for people to have a voice in helping to promote someone who they think will represent them. And you see the change in where the donations have come from across Seattle, more renters, more people of color, more working family, more lower-income folks have been able to donate using democracy vouchers."
That greater participation has a lasting impact, she argued, reaching people otherwise left out of the system and increasing engagement on multiple levels.
"And I think that that sustains people in wanting to be part of the electoral process," Mosqueda said. "And it continues through with them voting, but also I think it's important giving a voice to people who've been left out of our electoral system completely because of a felony, because of past convictions, or because they're undocumented and can't vote."
Election pitch
Mosqueda said what gives her the edge in this race is her coalition building chops, as well as her experience crafting budgets and improving the budgeting process so it is more transparent and easier for people to participate. So far, she's the only candidate in the race, but it may not stay that way for long.
Her lived experience as a women of color is important to add, Mosqueda said. King County is about 50% people of color, but it's long been represented overwhelmingly by County Councilmembers who are White. If she wins, Mosqueda would become just the fifth person of color and the first Latina or Latino to serve on the King County Council in its history and just the fourth person of color currently serving on a county council in the entire state.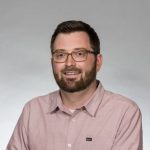 Doug Trumm is publisher of The Urbanist. An Urbanist writer since 2015, he dreams of pedestrianizing streets, blanketing the city in bus lanes, and unleashing a mass timber building spree to end the affordable housing shortage and avert our coming climate catastrophe. He graduated from the Evans School of Public Policy and Governance at the University of Washington in 2019. He lives in East Fremont and loves to explore the city on his bike.