Seattle faces complex questions on how the Ballard Link extension should be delivered. Should a second tunnel be built through downtown? Should stations be deep or shallow? How should surface transit connections interface with stations? And how can construction impacts be addressed? But one question isn't complex: should the Ballard Link extension be served by an International District/Chinatown stop or somewhere else? The clear answer: yes, the line must be served by an International District/Chinatown stop and that boils down to first principles of transit.
Transit is at its best when services converge to allow direct transfers. This builds redundancy, resiliency, and options into a network. Transit is all about connections. That's its DNA.
If you look at any major city worth its salt, it has transit and it specifically has transit that fosters connections at key points. These points usually are where intercity, regional, and city transit services all meet in a grand symphony. What's a primary identifier of this? A central railway station.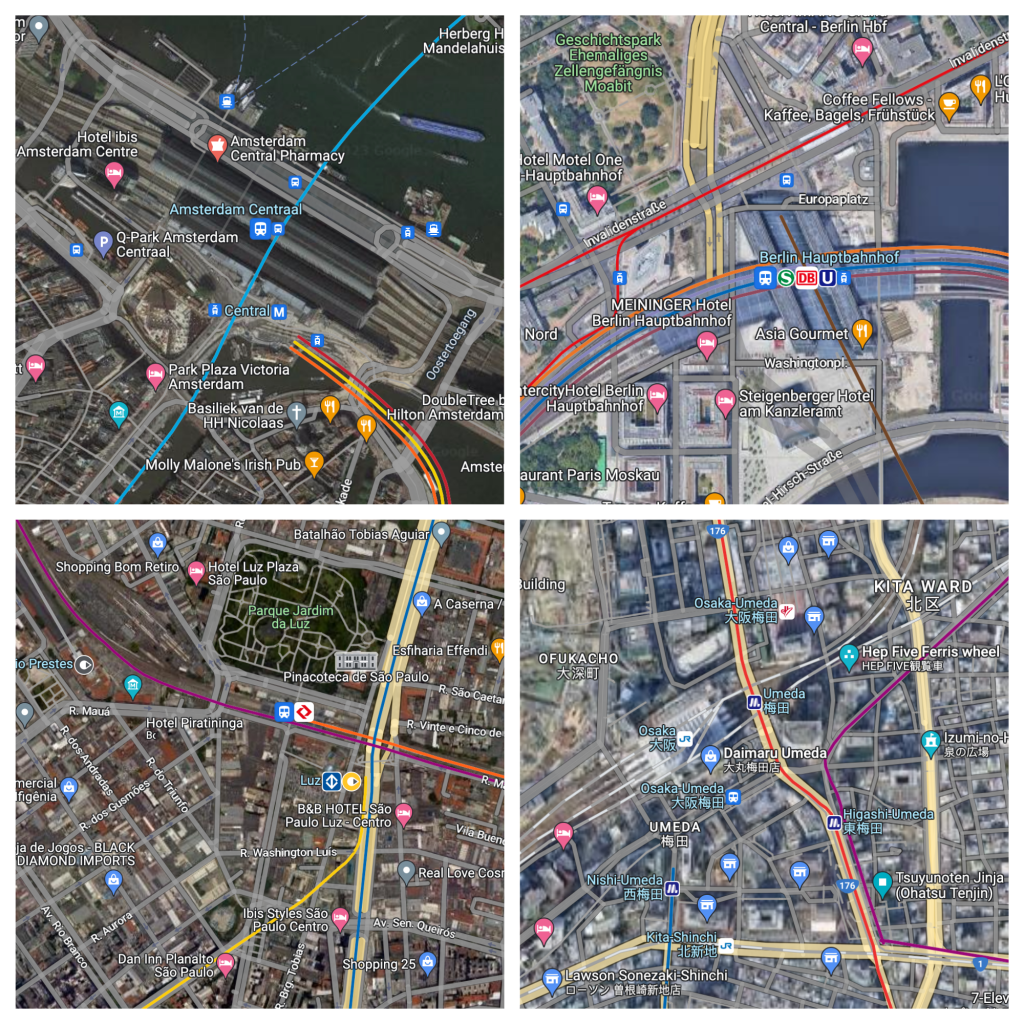 Take Amsterdam, Berlin, São Paulo, and Osaka, for example. These cities all share the same exact transit DNA. They feature major train stations where all passing lines converge on the station complexes and often lines directly originate from them. Lines don't wholesale bypass them without stations serving the station complexes.
Amsterdam Centraal is Amsterdam's principal transit hub featuring a mix of tram, metro, regional rail, and intercity train services in addition to bus and ferry options. The station is home to a dozen frequent rail lines.
Berlin Hauptbahnhof is Berlin's principal transit hub featuring the same kind of transit services as Amsterdam Centraal, minus the ferries. It boasts 19 frequent rail lines.
Estação da Luz is São Paulo's transit hub emulating Berlin Hauptbahnhof's transit services, but minus the trams. Though it's a bit less robust, the station complex still features six frequent rail lines.
And Osaka/Umeda Station is Osaka's transit hub with the same type of services as Estação da Luz. About a dozen frequent lines serve that station complex.
Like these other cities, a Union Station Hub centered at Chinatown-International District and Pioneer Square is at the very heart of Seattle's transit system. It also happens to be the most crucial transit hub in not just the state, but the entire Pacific Northwest. It's where the Link system meets Seattle Streetcar, Sounder, and Amtrak services as well as a long list of local, regional, and intercity bus routes. This transit ensemble is not by mistake.
The Seattle we know was born in Pioneer Square and became the natural point of entry to the city when railroads brought passenger services to the city in 19th Century. Two beloved terminals were eventually built across the street from each other, giving the city connections to destinations across the nation and region. Union Station closed in 1971, but the city clung to its magnificent King Street Station as a passenger rail hub.
King County Metro built out the Downtown Seattle Transit Tunnel in the 1980s and wisely made the choice to serve Pioneer Square and Chinatown with a station at S Jackson Street. Transit planners and policymakers understood how important such a station would be for buses and eventually light rail. In the decades since, that investment has been instrumental in offering excellent transit connections to riders and will soon be connected to Lynnwood, Bellevue, Redmond, and Federal Way by Link. Those added connections will only bolster its importance for transfers.
From the beginning, an International District/Chinatown Station was always the obvious answer in Sound Transit 3. It was never a complex question. And it was never a complex question exactly because, like before them, transit planners, riders, and policymakers intuitively understood that it is and always will be at the heart of the transit system. It's the city's transit DNA, a definitive waypoint for journeys near and far. The debate now circling around can't and won't change that.
A new alternative shows stations north and south of Chinatown but not at Midtown and Chinatown. (Credit: Sound Transit)

A new alternative shows a station north of Chinatown but not at Midtown and Chinatown. (Credit: Sound Transit)

A new alternative shows stations at Midtown and south of Chinatown but not at Chinatown. (Credit: Sound Transit)
Skipping International District/Chinatown Station, however, would be a serious blow to the transit system and forever punish transit riders. Sound Transit's own analysis has been clear that alternative station locations to the north and south would increase travel times for a large proportion of riders looking to make transfers.
Rainier Valley residents wanting to go to Bellevue could face at least an additional six to ten minutes of travel time and potentially much more with some out-of-direction travel and transfer time penalty scenarios. That's similar for Ballard and Uptown residents and workers wanting to catch Sounder and Amtrak at King Street Station or Redmond residents wanting to go to Seattle-Tacoma International Airport. And many of these transfers could require extensive use of Sound Transit's notoriously faulty and poorly maintained escalators and elevators, not to mention boarding three transit vehicles to complete many common trips — and possibly more if buses are used at either end of a journey. That's all a very bitter pill to swallow.
Time is a valuable commodity and at some point increased travel time adds up and reduces the competitiveness of transit. Because of this interplay, we know that the new station location alternatives under consideration will greatly reduce potential Link ridership, all things being equal.
A second International District/Chinatown Station is also the only insurance policy that we could have to deal with crisis situations like the one we had last week. The downtown Link segment was suspended for a whole day due to a ventilation issue at Pioneer Square Station and forced riders to endure chaos and confusion with shuttle buses running between Stadium Station and Westlake Station. That also meant taking a lot of buses off regular service and affecting other riders elsewhere in the transit system.
Had a second International District/Chinatown Station existed and Sound Transit installed proper turn-back/crossover tracks at the existing station, the station complex could have alleviated much of the Link operational challenges that day. The second downtown tunnel could have ferried riders between Westlake Station and International District/Chinatown Station to continue their journeys with minimal delays. That's something alternative stations north and south of the Union Station Hub wouldn't have solved, but they would have assured total system chaos.
Seattle has made so many generational errors around transit. This is an easy one to avoid. But if it's one in which policymakers are intent on making, let's just pack it up and cancel the second downtown tunnel south of Westlake Station. There's no point in throwing away billions of dollars for substandard Link services that don't properly interconnect and benefit riders. We build a grand transit symphony or no second downtown rail tunnel at all.
The Sound Transit Board of Directors will meet today (February 23rd) at noon for a meeting to learn more about the alternatives and hear from the public. You can provide feedback via email at meetingcomments@soundtransit.org or verbally at the meeting in-person or online. To speak in-person, you must sign up and can do so up to 30 minutes before the meeting. To speak virtually online, you must sign up at least five minutes before the meeting. Note that virtual signup opens at 8:00am.

Stephen is a professional urban planner in Puget Sound with a passion for sustainable, livable, and diverse cities. He is especially interested in how policies, regulations, and programs can promote positive outcomes for communities. With stints in great cities like Bellingham and Cork, Stephen currently lives in Seattle. He primarily covers land use and transportation issues and has been with The Urbanist since 2014.