With St. Patrick's Day upon us, it is time to roll out the festivities, including the wearin' of the green, the drinkin' of the beer, and the watchin' of the best Simpsons episode. Besides the stereotypes, there is a significant reason the holiday has both extensive traction and a high blood alcohol content. As seen in the video, Guinness exported the Irish pub as a restaurant concept and diplomatic coup.
In the 1990's, the Irish beer company known for its smooth taste and very long pours found that a lot more beer was sold if folks knew, by look, where to find the distinct stout. So they commodified that look and prepared to export it anywhere. Guinness' official partner is The Irish Pub Company, who designs, manufactures, ships, and fits out the dark wood bar, brass finishings, and stained glass to locations around the world.
We couldn't track down if any of the prefab pubs were sent to Seattle. Some of the better Irish bars around town predate the official Guinness concept. But the Irish Pub Company does list Fado locations as some of its clients. Seattle's downtown Fado location is permanently closed.
It does feel a bit dishonest to shoehorn the distinct architecture that evolved with the country's walkable small communities into any newly popped up megamall. And pubs as patrimony is a clever bit of marketing, more so given Guinness is now owned by British multinational corporation Diageo and exists under the same umbrella as Johnnie Walker, Don Julio, and Smirnoff. It is unclear if we will ever see Brand Russia exported as part of a Pravda Reading Room design to sell the company's vodka, but wholly expect them to play Fox News if they do.
Admittedly, lot of corporate shenanigans can be forgiven for Guinness' touching and comforting early pandemic we'll be back soon ad. And given 10% of Americans claim some Irish descent and every major city has a St. Patrick's Day parade, it didn't take much to push the country into St. Patrick's Day reverie. Enjoy the festivities in an establishment of your choice, hopefully among friends.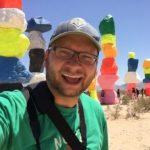 Ray Dubicki is a stay-at-home dad and parent-on-call for taking care of general school and neighborhood tasks around Ballard. This lets him see how urbanism works (or doesn't) during the hours most people are locked in their office. He is an attorney and urbanist by training, with soup-to-nuts planning experience from code enforcement to university development to writing zoning ordinances. He enjoys using PowerPoint, but only because it's no longer a weekly obligation.