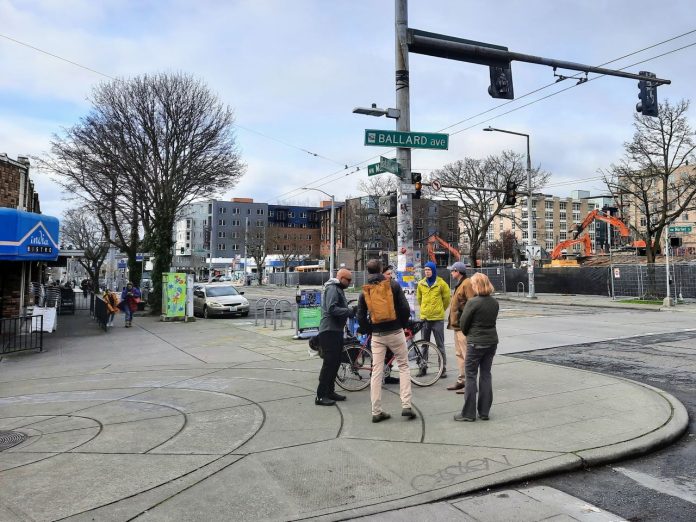 Councilmember Dan Strauss sent a letter to Mayor Bruce Harrell and his colleagues on Friday seeking to break the gridlock in the three-decade-long saga of closing the Missing Link of the Burke-Gilman Trail. With his proposal for an alternate route on Leary Avenue NW, Strauss is seeking to end the impasse and finally provide a safe biking connection between Ballard and the rest of the city.
The City of Seattle's goal has long been to build the Missing Link of the trail on the south side of Shilshole Avenue NW. An extensive environmental study showed overwhelmingly support for South Shilshole in public comments. A series of legal appeals funded primarily by the owner of Ballard Sand and Gravel has delayed and forced the scaling back of a shovel-ready design the City has had since 2017, and squashed a supposed compromise that had appeared to clear the way. Once the Missing Link is completed, the Burke-Gilman Trail will stretch all the way from Golden Gardens to Bothell.
"During these 29 years, the City has been engaged in litigation regarding the 1.2 miles of trail that is left unbuilt, and there are no further opportunities to piecemeal closing this gap," Strauss wrote in his letter. "By developing this route, we have an opportunity to officially complete the trail and conclude the ongoing litigation."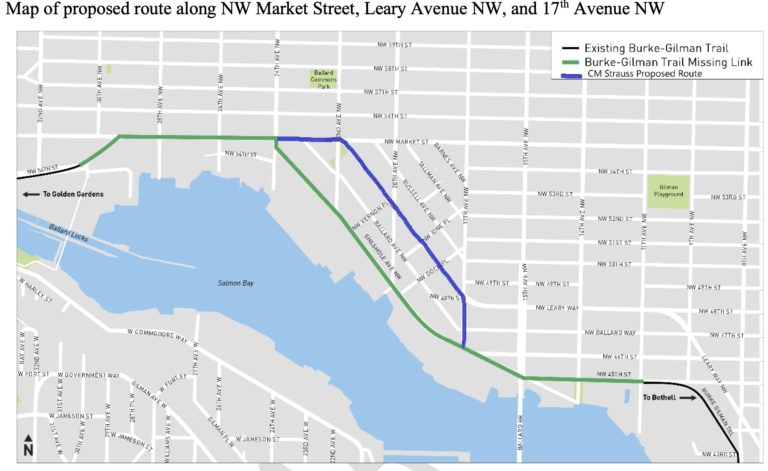 However, safe streets advocates are leery of abandoning the South Shilshole route they've fought long and hard to bring about, and they don't necessarily see Leary Avenue as a replacement, but rather a supplement. Cascade Bicycle Club executive director Lee Lambert made this point at the stakeholder meetings Strauss held in January and reiterated it again this week in a phone interview.
"We don't want this route to cause any unnecessary delays to the Shilshole option to close Missing Link," Lambert said. "There's a need for more than one safe route through Ballard by bike."
Lambert said he appreciated the thorough stakeholder work that Strauss has been undertaking, which included meeting with safe streets advocates, commercial businesses, and industrial leaders in three roundtable meetings held separately with each constituency in January. That outreach has shown making Leary safer is clearly a goal shared in the bike advocacy community even if giving up on Shilshole isn't on the table.
On the other hand, freight advocates, including the very same ones opposing the Missing Link, have also vocally opposed city plans to reallocate street space on Leary Avenue as well. The Route 40 "Transit-Plus Multimodal Corridor" project, which would rechannelize one section of Leary and add bus lanes to another, has met stiff opposition from industrial groups. It appears unlikely that opposition would lessen were even more street space taken away for a trail, which would need to be designed to accommodate bus stops.
Strauss has asked the Seattle Department of Transportation (SDOT) to complete outreach and initial design on the Leary Avenue route on a fairly rapid schedule for agency standards.
"My request is to have the same level of design for the Market Street, Leary Avenue, 17th Avenue route as the Shilshole route currently has designed," Strauss said in an email to his colleagues. "The first step to accomplish this is for SDOT to complete meaningful outreach and 30% design. My request is to have this outreach and design work completed in the next 6 month[s]."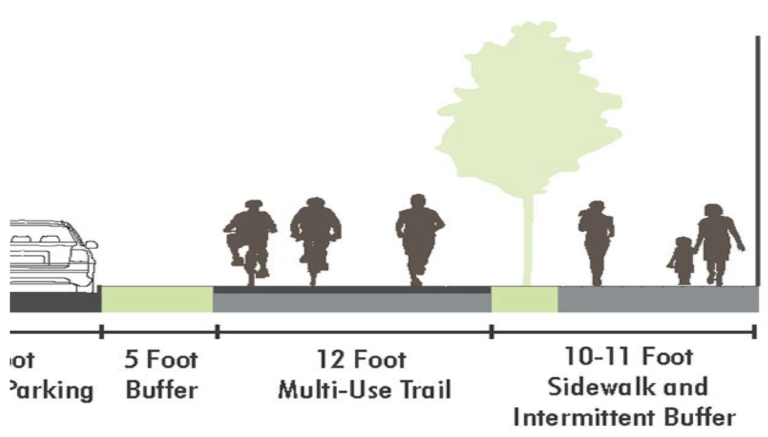 Recently, Strauss has spoken up about his past near-death experience as he was run over by a car going 35 miles per hour while he was biking in Ballard — forced to take a parallel route by the Missing Link's absence. "I shouldn't be alive today, statistically speaking," Strauss reminded colleagues as the council grappled with slow progress on the City's Vision Zero safety efforts to end road deaths and serious injuries by 2030. Pedestrians and cyclists in crashes with cars going 35mph usually don't survive, but Strauss did — though he lives with chronic pain now. His story is all too common citywide, especially in crash hotspots like the Missing Link.
Strauss argued that Ballard (which is in his District 6) couldn't afford to wait and the benefits would go beyond safety, citing economic studies that showed multi-use trail facilities boost businesses along them.
"Litigation aside, we are at a turning point in Ballard with increased density, increased use of electric bikes and scooters, and a bustling community. We cannot afford to miss the opportunity to connect the Burke-Gilman Trail to our commercial and residential core," Strauss wrote.
This position in favor of Leary is not substantially different than the one Strauss held during his 2019 campaign for office. "I want the record to clearly reflect in 1994, when the original proposal was put forward, the only politically viable way to get bike infrastructure in the city was rails-to-trails. That was it. And so that's why it was the correct route then. At this point we see economic benefits from having trails come through commercial cores," he told Erica C. Barnett during the campaign. His opponent in the general election, Heidi Wills, also opposed the Shilshole Route, suggesting a pie-in-the-sky elevated trail.
To pay for design and potentially construction work if successful, Strauss's idea might end up cannibalizing funding set aside for the Shilshole alternative and waiting for a clear legal path to start construction on the shovel-ready project. However, because of an unfavorable ruling the Shoreline Hearing Board has announced it will be delivering by June, Shilshole continues to be mired in the courts. This opens up the possibility that Missing Link's pot of Move Seattle Levy funding could be repurposed and Shilshole route added to the next levy due in 2024 without delaying its implementation more than legal machinations already have.
Writing in Seattle Bike Blog, Tom Fucoloro indicated openness to Strauss' idea. "Leary absolutely needs a safe streets update because it is a very wide and fast street through what has become a dense neighborhood," Fucoloro wrote, while also acknowledging that many hurdles remained, including the specter of business opposition and lawsuits remained for Leary Avenue.
If it turns out a trail along Leary Avenue and Market Street is buildable on a faster timeline than Shilshole, that could be very enticing, even to people who've long fought for Shilshole South.
"At this point, I think anything that is genuinely good and has momentum is worth considering," Fucoloro concluded. "I think it makes sense for city leaders and bike advocates to wait for ongoing legal decisions to be finalized, assess the feasibility of the options, then move forward with something that can actually get done."
While facing litigation delaying Shilshole, the City of Seattle is also under a legal settlement requiring safety improvements along the railroad track crossings the Burke-Gilman Trail has as it approaches Shilshole Avenue. SDOT recently reconfigured the track crossing and has further revisions planned later in the year.
For people using the Burke-Gilman Trail, it has been a slow drip of tweaks rather than a safety makeover that's been on the table. But one day that may finally change.
Read Strauss's entire letter to the Harrell administration.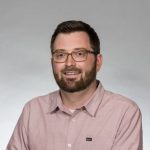 Doug Trumm is the executive director of The Urbanist. An Urbanist writer since 2015, he dreams of pedestrianizing streets, blanketing the city in bus lanes, and unleashing a mass timber building spree to end the affordable housing shortage and avert our coming climate catastrophe. He graduated from the Evans School of Public Policy and Governance at the University of Washington. He lives in East Fremont and loves to explore the city on his bike.