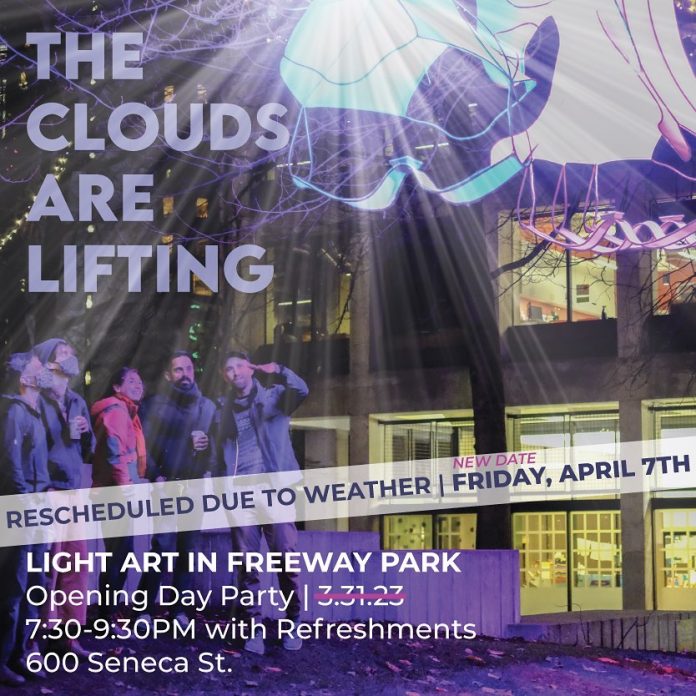 The opening event for The Clouds Are Lifting: Illuminated Art in Freeway Park will take place April 7th, 7:30-10pm.
In recent weeks, spring's arrival has become more apparent in Seattle with the days growing longer and crocuses and flowering trees beginning to bloom. To celebrate this shift into a season of light, the Freeway Park Association has organized The Clouds Are Lifting: Illuminated Art in Freeway Park, a collection of installations intended to embrace the coming of spring and the natural reset it provides. The opening event, which will include performances, will take place on April 7th, 7:30pm to 10pm. Prior to that, three illuminated art pieces will be on view beginning March 31st, and the exhibit will run until April 10th.
The art installations will be best viewed between dusk and dawn. Riisa Conklin, Executive Director of the Freeway Park Association, is enthusiastic about using the arts to entice more people to visit Freeway Park and the support for the effort that has come from the City of Seattle.
"This year we are prioritizing arts programming in the park with funding from the Department of Neighborhoods. More than ever, our communities need opportunities to safely gather out-of-doors, celebrate and support the arts, and bring life back to our shared public spaces," she said. "With this grant we are able to fund artists' work, make art accessible to all, and bring people together for community connection in a safe and accessible space."
Jim Ellis Freeway Park is downtown Seattle's largest public park, occupying 5.2 acres. It opened in 1976 after years organizing work by community leaders like its namesake, who wished to restore the connection between the First Hill and downtown neighborhoods that was severed during the construction of Interstate 5.
Designed by the famous landscape architecture firm Lawrence Halprin and Associates, Freeway Park has been widely recognized as a unique public space, earning attention from local in and national audiences. It was featured in a PBS documentary as one of the ten parks that changed America in 2016, and since then it has gone on to be added to the National Historic register (2020) and to receive landmark status from the City of Seattle (2022).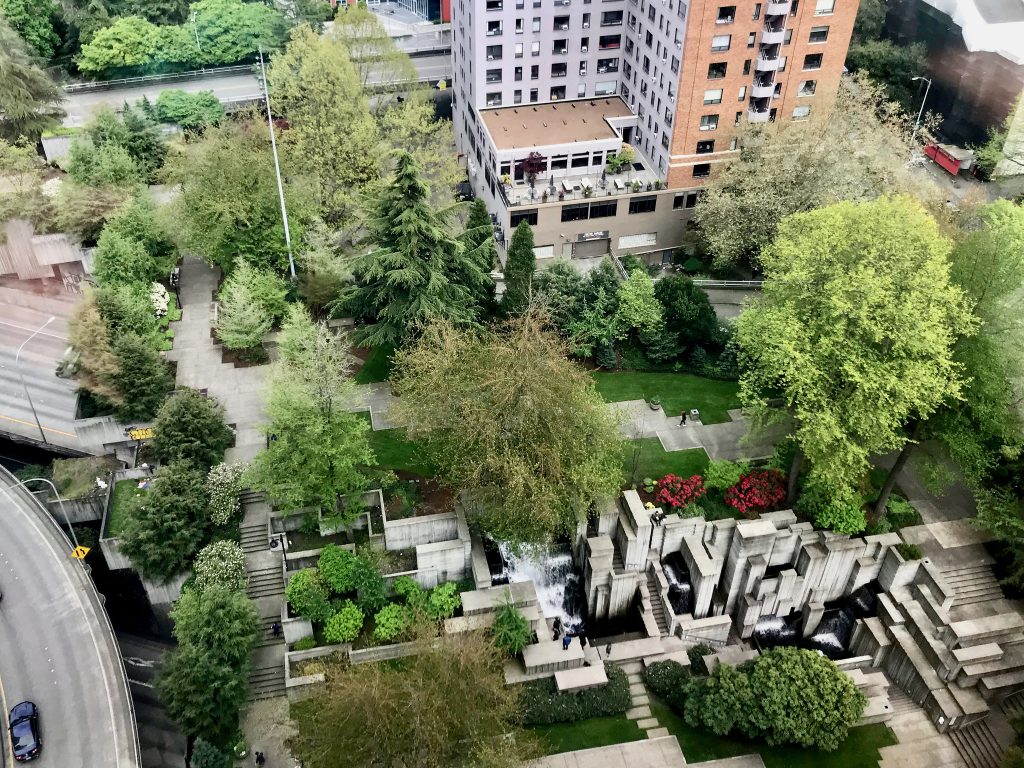 But Freeway Park has encountered problems as well over the decades. The park's unique design has led to it often going unnoticed by people moving through the surrounding neighborhoods. While its Brutalist concrete maze elements have led to it being named as one of the world's top seven parkour locations, those same features can make it feel unsafe to visit at times for people unfamiliar with the park.
"For The Cloud's are Lifting, we invited artists from all disciplines, including performance and dance, to think about how light can be used to create both a sense of wonder and a sense of safety in Freeway Park which at times can feel confusing or dark to first-time visitors," Conklin said.
Artists whose installations and performances will be featured include:
Artists whose work was selected for the exhibit were chosen based on a variety of criteria. "In all our calls for art, we give special consideration to artists who live and/or work in Seattle's center city neighborhoods, artists who have or want to develop a relationship with Freeway Park and artists who are members of BIPOC communities," she explained.
The Freeway Park Association offers a variety of events like community meals, summer movies in the park, and Brews and Tunes throughout the year.
As part of the Community Package Coalition, which received funding tied to the Seattle Convention Center expansion, Freeway Park was awarded $10 million for park activation and capital improvements. In 2020, The Urbanist reporter Shaun Kuo wrote about concepts for improving the park. Current improvements in the works include replacing and increasing lighting and upgrading landscaping.
Even with other changes underway, it has been the events and the people they attract to the park that are making this distinctive public space come alive. The Clouds Are Lifting: Illuminated Art in Freeway Park promises to offer yet another unique way to experience one of Seattle's signature places.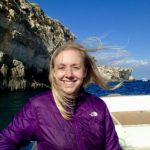 Natalie Bicknell Argerious (she/her) is a reporter and podcast host at The Urbanist. She previously served as managing editor. A passionate urban explorer since childhood, she loves learning how to make cities more inclusive, vibrant, and environmentally resilient. You can often find her wandering around Seattle's Central District and Capitol Hill with her dogs and cat. Email her at natalie [at] theurbanist [dot] org.