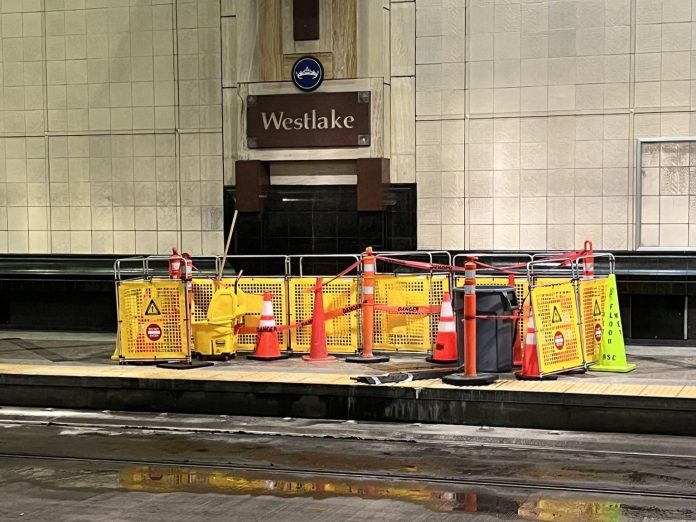 A street-level construction mishap above Westlake Station has unexpectedly disrupted the entire Link 1 Line light rail system, leading to chaos for riders. Allegedly, a construction crew doing work on a Ben Bridge post clock caused substantial damage to the station tunnel roof, forcing Sound Transit to significantly curtail service. During an expected two weeks (or more) of assessment and repair work, the agency originally implemented single-tracking through the Stadium to Capitol Hill section with a shuttle train operating at 32-minute frequencies. The operating strategy has changed subsequently though to ease the pain a bit.
The agency imposed the service changes just hours after the agency's Thursday afternoon board meeting where Sound Transit CEO Julie Timm mentioned leaks and damage at the station.
Since damage has affected the northbound tracks and platform at Westlake Station, Sound Transit has taken extraordinary measures to fully close the northbound tracks between Capitol Hill and Stadium Stations to assess and address the damage. This greatly reduces operational flexibility and service levels on the 1 Line.
As of Friday evening, Sound Transit is still using a single-track operations between Westlake and Stadium Stations. The system is effectively running as a two-line service with mandatory transfers at Pioneer Square Station for continuing journeys north or south. Trains are operating about every 15 to 20 minutes on the 1 Line and trains are holding at Pioneer Square Station for about three to five minutes to facilitate platform transfers at the station. Boarding and alighting from trains at Westlake, University Street, and International District/Chinatown Stations is limited to one platform. For most riders, this operating strategy is generally much better than the earlier versions.
Originally, Sound Transit was only operating a shuttle train service through the Downtown Seattle Transit Tunnel (DSTT), confined for both directions to what are normally the southbound tracks. Service along the line was also effectively broken into three parts with trains operating between Capitol Hill and Northgate Stations and between Stadium and Angle Lake Stations every 12 minutes. As a result, riders were also forced to transfer at Capitol Hill and Stadium Stations onto the DSTT shuttle, which again was announced at 30-minute headways between those stations.
In a rider alert, Sound Transit said that the service disruption is expected to last at least two weeks. To assist riders, agency staff will be dispatched to stations to help guide riders through the service detour. The agency has pledged to provide as much service as possible under the circumstances.
Any unplanned service disruption is unfortunate, but the timing of this one is particularly awkward since tens of thousands of Amazon employees have been called back to the office at least three days a week. That starts on May 1st and could put an even bigger pinch on what has been a comparably reliable part of the transit system. Additionally, the Seattle Kraken's NHL playoff run has also increased travel demand during home games.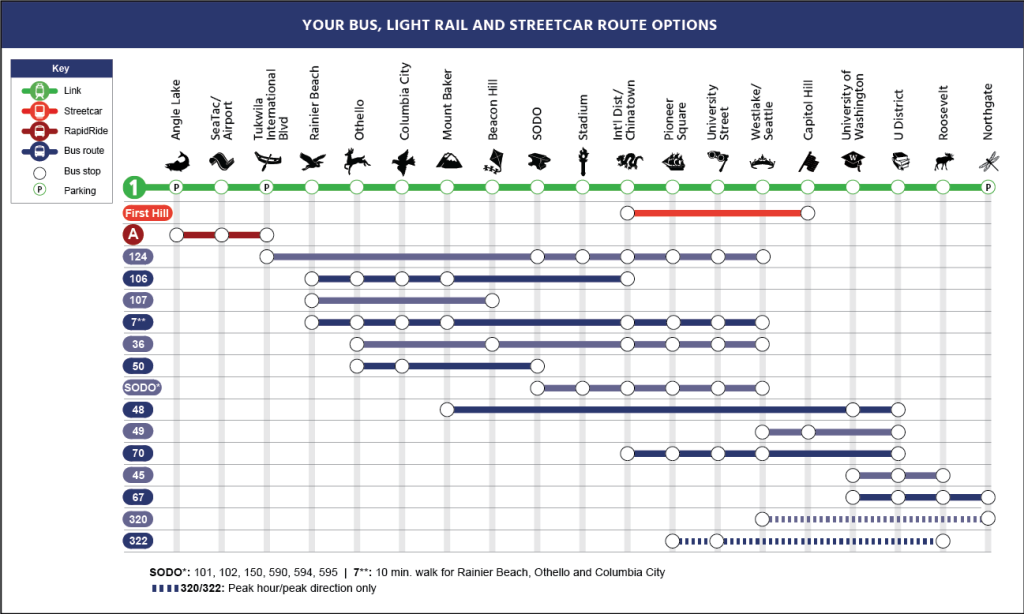 For many transit riders, this service disruption could tip the scales toward bus trips instead. Dozens of bus routes cover overlapping destination pairs of the 1 Line and may be more time-competitive than facing low light rail frequencies and more forced transfers.
David Lawson, a former Seattle Transit Blog reporter, suggested some transit alternatives on Twitter, such as the Route 7 between the Rainier Valley and Downtown Seattle and Route 124 between Tukwila International Boulevard Station and Downtown Seattle.
However, King County Metro has routinely been cancelling hundreds of regular bus trips each weekday due to severe staff shortages affecting both bus operators and maintenance staff. Paired with increasing delays from traffic gridlock, this has gravely affected the reliability of scheduled service.
In a press release, Sound Transit blamed the damage on attempted removal of a post clock by construction crews, which resulted in breach of the concrete roof. Subsequent reports have cast doubt on the certainty of that narrative. It appears that it may have been the installation of a new clock that caused the breach rather than a clock removal.
Damage to Westlake Station is centered on the eastern end of the tunnel roof, right above the northbound platform. On Twitter, Carl (@Subzidion) shared images with The Urbanist showing braced plywood boards just above station crossbeam spans and an area on the northbound platform that was already closed off. The whole northbound platform is now closed.
Sound Transit said that the issue arose from construction activities last Tuesday. No one was injured in the event and the agency didn't immediately move to curtail service. However, it became apparent that the damage was more serious that initially observed.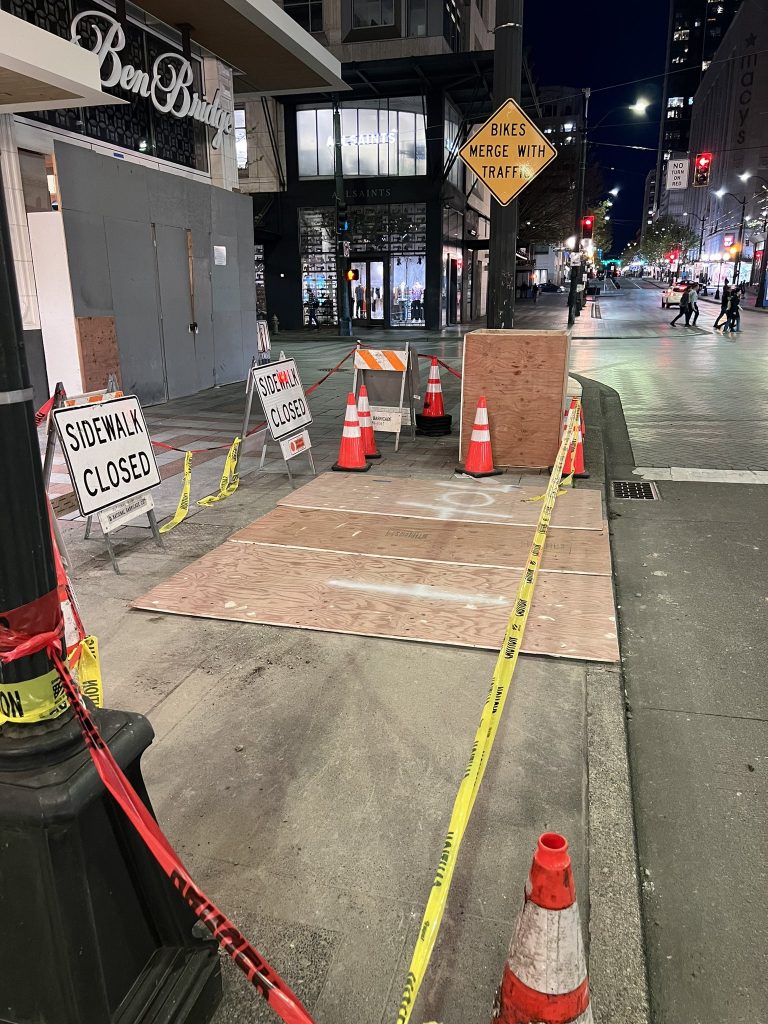 Clock installation being the culprit is a real possibility given that a post clock was removed at the corner of Pine Street and 5th Avenue sometime between July and November last year, not last week. Ben Bridge, a jewelry company, is moving their flagship store to the vacant storefront on that corner and could have a hand in this. The company had a stylized post clock on Pike Street several years ago when it was located a block to the southwest, so it may be their clock that was being installed in front of the Pine Street flagship store.
Regardless, Sound Transit said it intends to fully assess the damage and determine next steps. Depending upon the severity of the damage, repairs might not come so quickly and easily.
Perhaps a mitigation strategy that the agency could use to increase frequencies and capacity is temporary installation of strategic crossover tracks, often referred to as "California switches." These are portable track platforms that taper into existing rails so that trains can switch between tracks if needed. These temporary tracks are commonly employed in Europe during track and systems construction, even on electrified systems.
Sound Transit also has maintenance projects lined up for the DSTT, such as replacement of bond boxes and track replacement between University Street and Westlake Stations, over the next year. This track closure could present an opportunity closure to accomplish some of those, but Sound Transit spokesperson John Gallagher was cautious. "Because this was an unplanned disruption, it's way too soon to know what impact this has on other maintenance projects," he said in an email.
Ultimately, the next few weeks are going to be painful for riders and the agency will have its hands full with another crisis it didn't need.

Stephen is a professional urban planner in Puget Sound with a passion for sustainable, livable, and diverse cities. He is especially interested in how policies, regulations, and programs can promote positive outcomes for communities. With stints in great cities like Bellingham and Cork, Stephen currently lives in Seattle. He primarily covers land use and transportation issues and has been with The Urbanist since 2014.