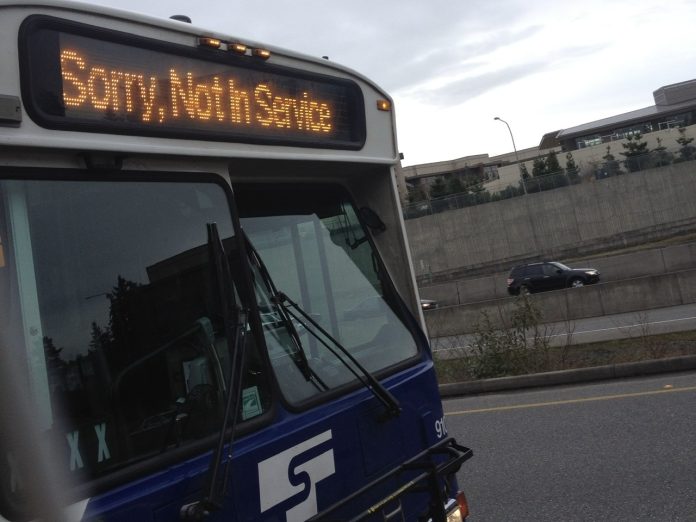 Local transit agencies in Puget Sound have begun to release their fall service change details. Service is being slashed on a wide range of routes because transit agencies are hemorrhaging operations staff at an alarming pace, which should be raising alarm bells in the minds of elected officials. With no end in sight, those agencies are cutting back service to reflect staffing levels that they do have — despite being very flush with equipment and cash to support much higher levels of service. The cuts are hitting bus operations especially hard.
For months, we've been documenting the changing staffing levels at local transit agencies to gauge where things are headed. The general trend has been fewer and fewer bus operators, but this has been particularly problematic at King County Metro — far and away the largest transit operator in the region. That has meant increasing unreliability on Metro and Sound Transit bus routes. Adding to the pain is the occasional shutdown of Link service where special shuttle buses have had to be pulled into service by Metro to bridge the gaps.
Despite our intrepid reporting, local elected officials at Sound Transit and King County have eschewed any public discussion about declining service levels and the operator crisis at hand. In fact, beyond passing mention by agency staff of ongoing operator shortages, there hasn't been a single discussion of how to address this problem at Sound Transit board meetings this summer and King County officials have repeatedly cancelled transit-related committee meetings over the past couple of months and are apparently cancelling another one this month. It beggars belief that a growing regional crisis of this magnitude could go on without critical attention by elected officials, but here we are.
Earlier this summer, the wonky think-tank TransitCenter issued an extensive policy brief aptly entitled "Bus Operators in Crisis". The policy brief details the many challenges that bus operators are facing in America as the country emerges from the pandemic. Pay and benefits are certainly factors that the policy brief notes are worth addressing — after all, inflation has been skyrocketing — but they are not the only ones. The policy brief highlights many other fundamental personnel policies and services that transit agencies should be implementing to entice new hires and retain existing staff. While some of these are things that transit agency administrators can implement on their own, many invariably require the support and guidance of elected governing bodies.
Some of the suggested strategies that TransitCenter offers, include:
Improving employee facilities and working conditions (e.g., providing restroom access and break spaces);
Improving hiring practices and online job boards and removing barriers to employment;
Supporting operator safety on the job;
Providing flexibility in scheduling;
Offering competitive compensation and incentives; and
Supporting staff in their careers.
Now is a critical time to deal with the myriad reasons that the bus operations profession is languishing. But it remains to be seen if elected officials will take that on.
For now, Metro, Sound Transit, Pierce Transit, and Community Transit have all published their plans for the fall 2022 service change. Metro's and Sound Transit's service changes start rolling out on September 17th and Pierce Transit's and Community Transit's start on September 18th. The changes shake out as follows:
Ultimately, the service changes mean that bus riders will face longer waits and — barring any change in staffing trajectory — will eventually begin dealing with the specter of unexpected but routine cancellations again in the months ahead. That also means riders will have plenty of extra time on their hands at the bus stop to hope or pray to the Almighty that things get better.

Stephen is a professional urban planner in Puget Sound with a passion for sustainable, livable, and diverse cities. He is especially interested in how policies, regulations, and programs can promote positive outcomes for communities. With stints in great cities like Bellingham and Cork, Stephen currently lives in Seattle. He primarily covers land use and transportation issues and has been with The Urbanist since 2014.