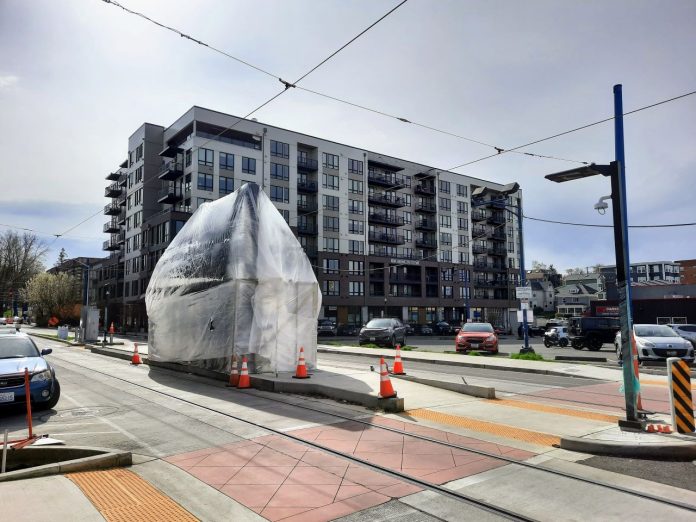 Sound Transit has announced a "celebration" marking the opening of the Tacoma Link Hilltop Extension for September 16th. The agency does not stipulate that the 16th is the official opening of the line, stating only that the extension is opening "very soon."
Wilbert Santos, a Sound Transit representative, tells The Urbanist that the agency is very close to completing the requisite 21-day "fault-free simulated service." Simulated service was announced on July 13, 2023. Once this simulated service run is completed, the agency can announce an official opening date.
Sound Transit expects to start service on the extension near the time of the celebration.
The Tacoma Link Extension adds six stations to the current line, doubling its length: Old City Hall on Commerce Street between S 7th and I-705 ramp; S 4th Street at S Stadium Way; Stadium District at N 1st and N G Street; Tacoma General, on M.L.K. Jr. Way in front of Tacoma General; 6th Avenue, at 6th and M.L.K.; Hilltop District, at S 11th and M.L.K.; and St. Joseph, on M.L.K. between S. 16th Street and S. 17th Street.
Construction on the extension began in 2018, after a two-year planning and design phase. Originally scheduled to open in 2022, this late-summer 2023 opening comes after delays related to track geometry as well as pandemic-related issues. Delays have also been blamed on overruns, incorrect city records, agency policies regarding bidding, and general contractor-agency relations.
Riding the existing T Line has been free since it began running in 2003. Once the extension opens, fares will be $2 for all adult (19-64) riders, $1 for riders who participate in the ORCA LIFT reduced fare program and/or those aged 65 or older or living with a disability. Youth (18 and under) ride free on all Sound Transit services.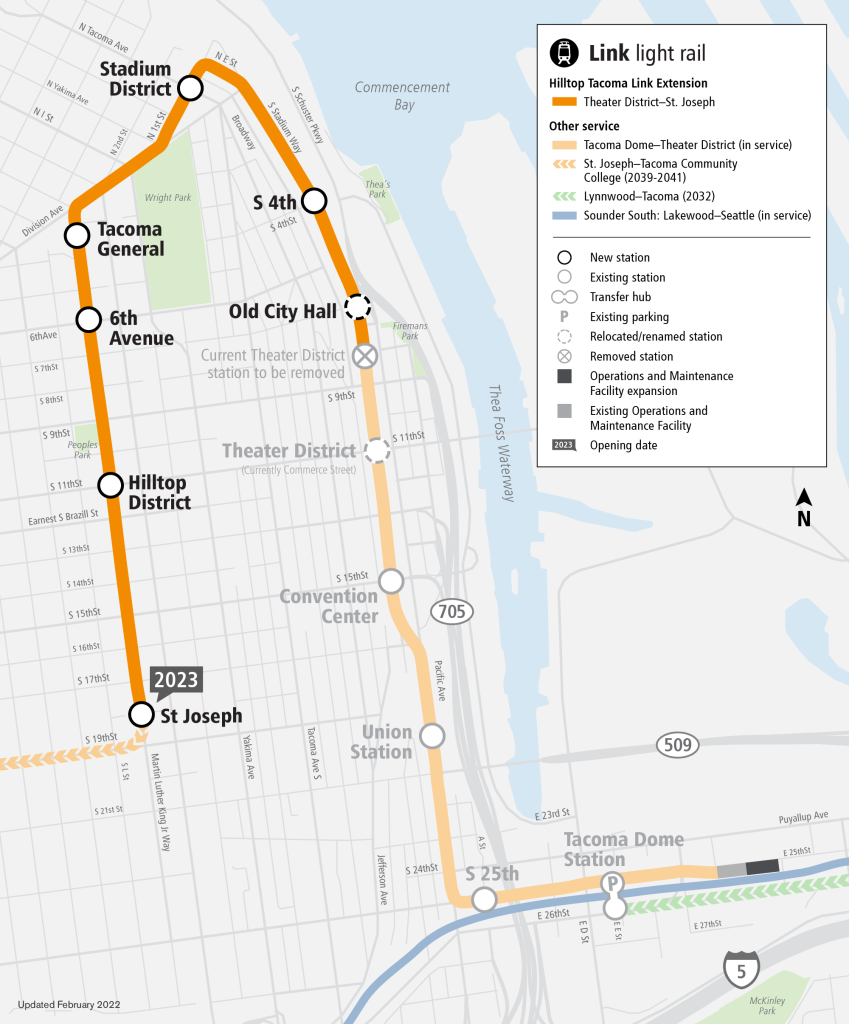 The opening of the Tacoma Link Extension marks a significant milestone for Tacoma, a city which opened its first streetcar line on May 30, 1888. By 1912, Tacoma's streetcar network was 125 miles long, serving residents of the city and those in outlying communities. Tacoma's signature grid, with its seemingly random triangle intersections, is the way it is in part because of the prevalence of streetcar lines in the city at the turn of the century.
The proliferation of private cars in Tacoma, as in all U.S. cities, brought the age of the streetcar to its end; June 11, 1938 marks the date the last streetcar of that era ran in Tacoma. By the 1990s, with traffic congestion choking Pacific Avenue and downtown, residents, along with city and regional leaders alike, recognized the need to reassess the value of public transit.
Plans for a new tram line materialized a decade later with the groundbreaking ceremony that took place on October 18, 2000. Testing of the new line began on June 18, 2003, 65 years since the closing of Tacoma's once expansive streetcar network.
The opening of the Tacoma Link Extension in a few weeks could mean the beginning of a new mobility era for the city of Tacoma and South Puget Sound. It will undoubtedly also bring change to the Hilltop neighborhood, a historically Black area of Tacoma.
Displacement was already impacting the Hilltop neighborhood prior to the construction of the T Link extension. This near-downtown neighborhood has boasted well-established families as well as storied and popular small businesses. Hilltop also bears the marks of decades of redlining and other forms of racially motivated disinvestments.
The expansion of the T Line into the neighborhood is supposed to be a reversal of this historic trend. It also presents risk as light rail expansions are sometimes correlated with neighborhood change that results in displacement.
Research also indicates that displacement does not necessarily need to follow expansion in tram and light rail service. When these expansions are attended by specific and targeted programs that give people the choice to stay, these expansions can be positively transformative in the neighborhoods through which they run. Sound Transit's Equitable Transit Oriented Development program, which provides surplus agency-owned land at low or no cost to affordable housing builders, serves that end when implemented well.
Sound Transit plans to continue extending the T Line west from the St. Joseph station along S 19th Street to Tacoma Community College. This would grow the T Line to just over 8 miles and to 18 total stations.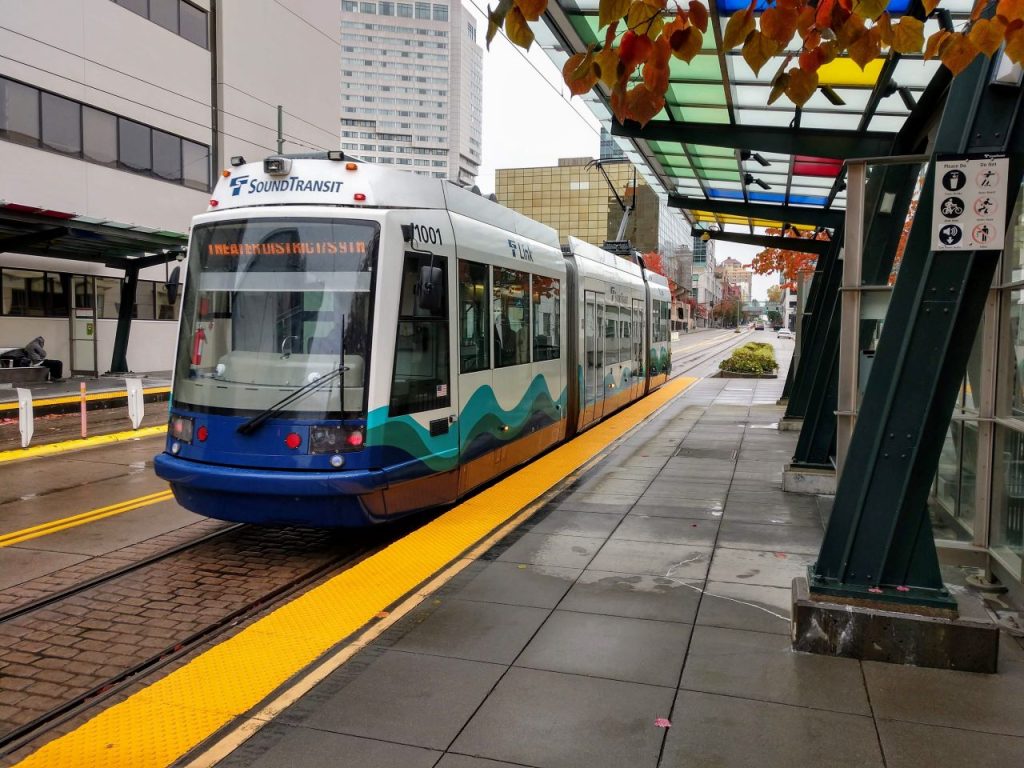 The T Line Extension is meant to work with the extension of Link light rail, which is currently underway. This project has likewise been mired in delays, with the revised plan now putting the arrival of light rail at the Tacoma Dome Station sometime in 2035.
The second phase of the T Line extension could be delivered in 2039 or 2041, according to Sound Transit's projections, making actual alignment and practicality difficult to achieve. This is true, also, because the current plans to extend west on S 19th Street do not fully align with riders' needs and movements, as The Urbanist has previously reported.
Also, Tacoma will require more investments in public transit, which could come as improved bus frequencies and additional streetcar lines — along 6th Avenue and another running up McKinley and through the Lincoln District, for example.
Whatever transit we are to get, it must be scoped and planned responsibly and ethically if we are to avoid unnecessary delays and the type of issues that have impacted the proposed bus rapid transit line along Pacific Avenue/SR-7. If not, the transformative potential of public transit will be diluted, and South Sound residents will suffer for it.
Quality, accessible, and well-managed public transit remains one of the most powerful tools we have to address a myriad of interrelated issues facing our region — from achieving affordable and attainable housing, to mitigating climate change risks, to reducing congestion. The T Line Extension is a small step carrying us towards our shared goals and destinations.
Update: An earlier version stated the Hilltop streetcar extension opening and celebration was on September 23rd, but subsequently Sound Transit moved up the time table for both to September 16th.