Nature-centered urban design makes us smarter, healthier and more resilient.
On October 25th Seattle Town Hall and the University of Washington College of the Environment welcomed UW alum Dr. Heather Tallis as the featured speaker for The College of the Environment's 2023 Doug Walker Lecture. Tallis discussed how harnessing the power of nature could aid in climate solutions and improve quality of life.
Dr. Tallis serves as the assistant director for biodiversity and conservation sciences at the White House Office of Science and Technology Policy, leads cross-agency work on nature-based solutions, connects nature to economics and initiated the National Nature Assessment.
New research is confirming the importance of nature in our day-to-day built-environment spaces for our health and wellbeing. Yet, access to parks and greenways is not consistent across urban areas which increases risks for some and not others. With planning, city designers can build solutions that create better access to nature, reduce climate impacts like hotter cities, and improve air quality across urban areas.
Tallis is also part of a group of White House and government agency staff who have recently published a roadmap for implementing more nature-based designs for communities. Her work includes changes to transportation corridors to be greener for better cities and better residents, and urban designs that incorporate indigenous knowledge and partnerships.
Tallis's talk starts at 13:50 minutes into the video after introductions by UW College of Environment Dean Maya Tolstoy, Doug Walker Professor at College of the Environment Greg Bratman, and UW Regent and head of Walker Family Foundation Maggie Walker.
The 2023 Doug Walker Lecture sponsors include REI, WA Trails, and the Wilderness Society.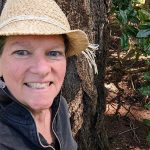 Linda Hanlon is the Lead Editor of The Urbanist. She cares about community-building and sharing smart ideas between communities, affordable housing, and active transportation. Safety, affordability, and access for all – regardless of age or physical ability – are starting points for her when thinking about livability. She lives in Port Townsend on the north Olympic Peninsula, the ancestral lands and home of the S'Klallam people.