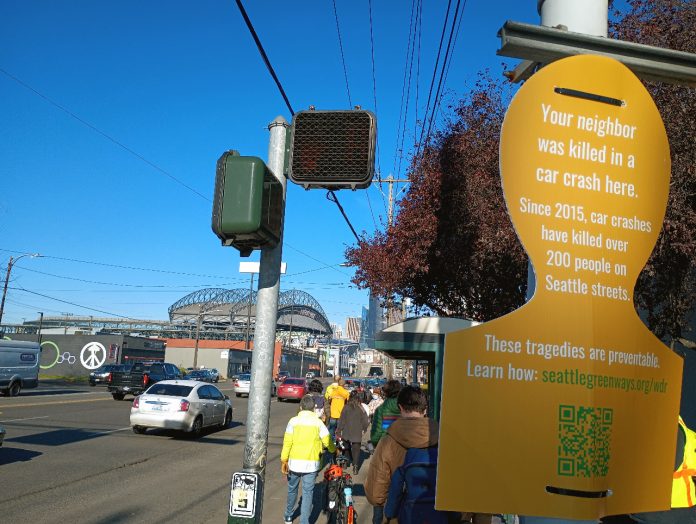 As Seattle approaches the ninth anniversary of its Vision Zero commitment to eliminate serious injuries and fatalities in traffic by the end of this decade, safe streets advocates marked the World Day of Remembrance for Road Traffic Victims on Sunday, November 19 with a renewed push for systemic redesign of the city's streets.
By installing close to 230 markers at locations around the city where a fatal crash had occurred since 2015, Seattle Neighborhood Greenways and its grassroots neighborhood advocates brought the reality of the devastating events that happen on an everyday basis on Seattle's streets to life. The city normally has very few markers to note the places where people were killed just trying to get from one place to another, and the evidence of a crash is regularly swept away quickly after new events occur. But the small signs, mounted to utility poles and traffic lights, each represent a monumental loss.
This past Friday morning, Seattle Neighborhood Greenways executive director Gordon Padelford led a walk along 4th Avenue S in SoDo, placing markers that note the 11 people who have been killed while walking, biking, or driving along this stretch of street since the city committed to Vision Zero. SoDo's fatal crashes make it the most dangerous neighborhood in the city to travel in, conditions that are fueled by the widest roads in Seattle, built to accommodate freight traffic around one of the largest industrial centers in the state along Elliott Bay and the Duwamish River.
Attempts to make minor changes to some of the neighborhood's roadways in response to tragic crashes have been met with pushback. Following the death of Pioneer Square resident Gan Hao Li last spring after a driver exiting a parking lot hit Li while he was riding his bike on 4th Avenue S near S Massachusetts Street, the Seattle Department of Transportation (SDOT) proposed a "rapid-response" project that would turn the stretch into a right-in, right-out only configuration and make some other small tweaks. But those changes have yet to be made, after concerns were raised about providing full access to and from the businesses along the stretch.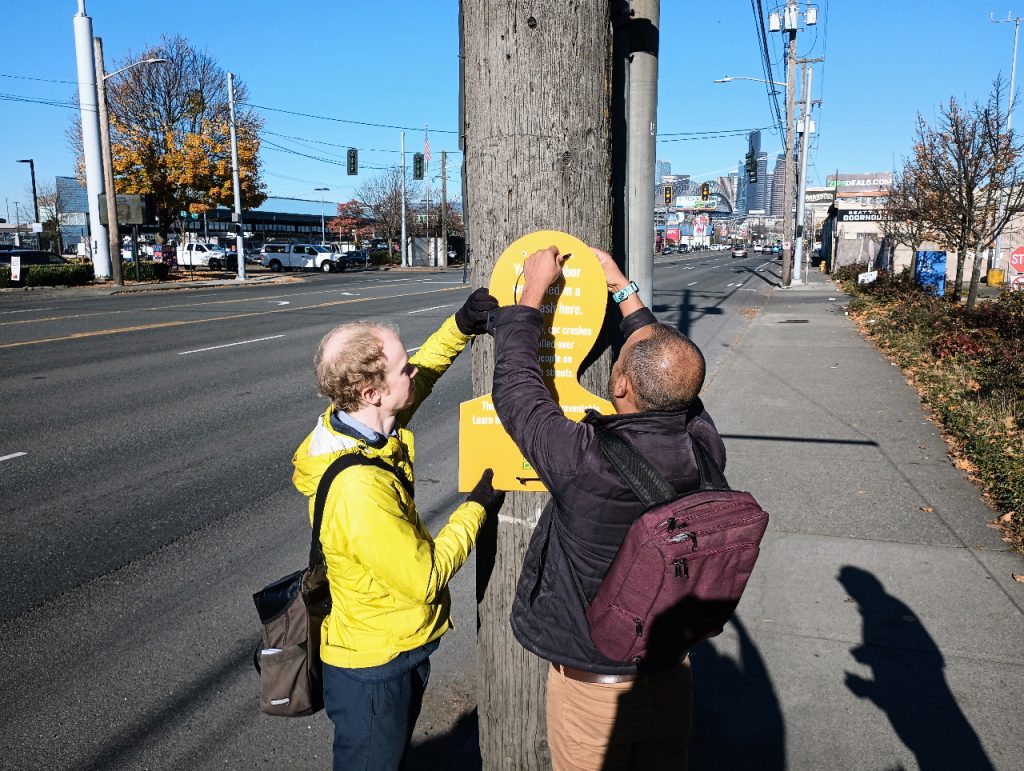 "My belief is the blue collar jobs and a thriving industrial area are compatible with safe streets, and we just haven't been willing to think about designs that can work for everyone," Padelford told The Urbanist. "I think we can move freight and goods and commuters through SoDo and we can keep everyone safe at the same time, I reject the sort of false premise that those are incompatible."
Elsewhere in SoDo, SDOT is working to add safe bike infrastructure, something that largely doesn't exist in the neighborhood. The Georgetown to South Downtown bike connection is on track to start construction next year, but it will route people on bikes via 6th Avenue S, a street with not very many destinations. It's the type of compromise that can be expected when the city remains at an impasse over making changes to places like 1st Avenue S and 4th Avenue S.
"You go out and you look at it, and it's designed for speed, it's designed so that people will feel really comfortable driving dangerously fast," Padelford says of streets like 4th Avenue S. "And we need to think about a design that allows freight to move through there that doesn't encourage the sort of dangerous speeding and turning that we're seeing out there that's resulting in people getting hurt. That could look like things like freight-and-transit lanes so that the freight can continue to move toward not having really wide general purpose lanes, general purpose traffic lanes can be narrower."
SDOT is set to pilot shared lanes for buses and freight vehicles in the Westlake neighborhood with a project starting next year, though enforcing that space remains a perennial issue.
The reluctance for the city to tackle its most dangerous, multilane streets remains the case in Southeast Seattle as well, where the design of streets like Rainier Avenue S and MLK Jr Way S continues to value throughput over safety, including around soon-to-open Judkins Park light rail station where riders will have to contend with on and off-ramps for I-90 steps from the entrance to a Sound Transit station. The City is moving forward with several long-delayed bike projects in South Seattle, but moving toward a more systemic approach to making the busiest streets in the Rainier Valley's neighborhoods safer remains absent from the conversation.
A few miles away in North Seattle, 35 additional markers have been installed on Aurora Avenue N, where another march took place on Saturday morning. The most dangerous state highway in Seattle, Aurora Avenue N has existed as an unsafe barrier between a myriad of neighborhoods in the north end for decades. In 2022, hope seemed to be on the way when the Washington State Legislature included $50 million to move forward with substantive improvements to the street in its Move Ahead Washington transportation package, but this year, the legislature made clear it wasn't yet planning to advance that funding until the end of this decade at the earliest.
With the lion's share of Move Ahead Washington dollars now expected to be taken up filling in cost overruns on existing highway projects and meeting the state's obligation to create fish passages across existing right-of-way, those dollars aren't likely coming any time soon.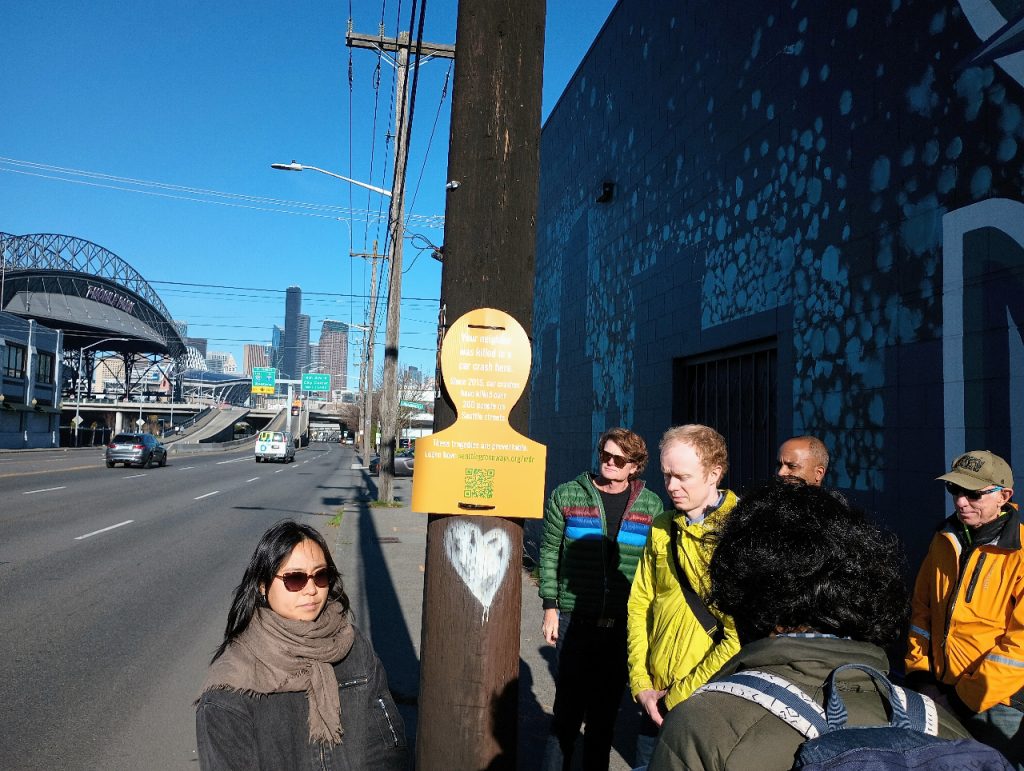 So far in 2023, 25 people have been killed in traffic crashes on Seattle's streets, and while SDOT is working on a brand new Vision Zero action plan that is set to come on the heels of this year's "top to bottom review" of the Vision Zero program, transportation advocates are looking for more detail in the 20-year vision for transportation laid out in the Seattle Transportation Plan around how injuries and fatalities will be reduced.
Padelford called out the Seattle Transportation Plan, in its current form, as lacking a "coherent vision" to achieve zero fatalities and serious injuries. "You can't really connect the dots in that plan, there's just too little details to get us there," he said. "We need to see streets like 4th Ave South, 1st Ave South, we need to see major safety redesigns of those streets. And we also need to see a comprehensive set of smaller investments like raised crosswalks, leading pedestrian intervals, no-right-on-red, pedestrian refuge islands, curb bulbs, the things that we know will keep people safe, and those need to be distributed everywhere."
With impacts seen in nearly every corner of the city, the push for improvements when it comes traffic safety is likely going to remain a top issue as a new city council takes office in 2024, even if the broad, systemic changes that are needed to achieve real progress remain elusive. We do know that advocates will continue to push, in part in the hopes of honoring those who were taken from us too soon.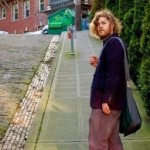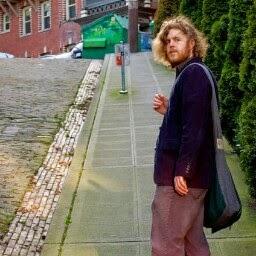 Ryan Packer lives in the Summit Slope neighborhood of Capitol Hill and has been writing for the The Urbanist since 2015. They report on multimodal transportation issues, #VisionZero, preservation, and local politics. They believe in using Seattle's history to help attain the vibrant, diverse city that we all wish to inhabit. Ryan's writing has appeared in Capitol Hill Seattle Blog, Bike Portland, and Seattle Bike Blog, where they also did a four-month stint as temporary editor.