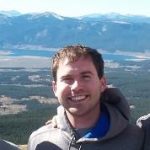 AJ McGauley was a temporary transplant in the Seattle area, living in East King with his lovely wife for five years before returning to the great Midwest. Having lived in nine very different cities in the six years prior to moving to Washington, he discovered the wonky side of urbanism after reading The Urbanist and is interested in why cities grow (or don't grow) in different ways. He worked for Sound Transit and can still be found riding transit for fun.
Growing up in the Old Northwest, I was used to townships and counties being small, arbitrary but generally orderly boxes that operate as the base unit of rural government. Around Indianapolis, the suburbs grew such that school districts, municipalities, and townships were generally contiguous, imbuing place into previously meaningless...
A new freeway interchange is likely on the way south of Downtown Bellevue. The City of Bellevue is partnering with the Washington State Department of Transportation (WSDOT) to evaluate improved I-405 access in south downtown, roughly defined as south of NE 4th Street and between 112th Avenue SE and...
Author's Note: This article is in response to Doug Trumm's excellent piece on Aurora rail, which was in turn a response to Seattle Subway's vision map. I recommend reading both, perhaps even first. Is rail the right solution for Aurora Avenue? When identifying future rail corridors, a logical place to start...
As the part of the Central Issaquah development moratorium, the city is refreshing the district visions established in the original Central Issaquah Plan (CIP) adopted in 2012.  For the update, start on  page 45 of the current draft. The update seeks to further focus dense mixed-use development in Central Issaquah...
As the City of Issaquah continues working through its Central Issaquah development moratorium, there will be another public touch-point at 6.30pm this Thursday (June 22nd) to discuss everyone's favorite topic: parking! The city is seeking public comment specifically on parking requirements for to-be-built development within Central Issaquah. City staff have framed...
Let's talk about Bertha. I didn't live here when we debated how to replace the viaduct (SR-99). I didn't even live here when Bertha first broke down. So perhaps I don't have the appropriate nightmares when I hear "deep-bore tunnel." So when I read articles talking about how the tunnel is such...
On Thursday (April 27th), there will public hearing for public testimony on the proposed Issaquah Old Town Subarea Plan, which kicks off at 6.30pm. The current plan was last approved in 2009 and is due for an update as the city plans for growth over the next 20 years. For...
One of the primary reasons for the Central Issaquah development moratorium is the lack of Vertical Mixed-Use (VMU) development naturally emerging. Projects in the development pipeline are mostly big box retail with surface parking, and a proposed Les Swab tire store on Gilman helped spur the council to action last...