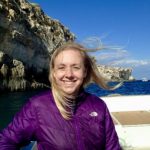 Natalie Bicknell is Senior Reporter at The Urbanist. She is a writer and community college instructor who lives in the Central District with her husband and two dogs. In her research and writing, she is always on the lookout for better ways of creating sustainable, diverse, and vibrant cities. Email her at natalie [at] theurbanist [dot] org.
A City Council committee has passed Local Improvement District (LID) funding for Waterfront Seattle. Next Monday, the LID heads for a full council vote. It feels significant that on the night before the Waterfront Seattle project received an important green light from the...
This is the second post in a two part series about train travel in the US. If you would like learn more about riding Amtrak cross-country, please read the first post, "Going the Distance on Amtrak." Recent headlines surrounding the US passenger rail industry verge...
Some lessons learned about US train travel from a recent 48 hour trip on Amtrak. This Christmas holiday I made an unconventional choice for my transportation plans. Instead of opting to fly home, I chose to buy a cross-country ticket on the Amtrak...
Volunteers are canvassing the neighborhood to learn more about the community's hopes for what light rail will bring to this forgotten corner of Seattle. Today Jackson Park is a North Seattle bedroom community tucked beside I-5 between Bitter Lake and Lake City. It's...
Recharge the Battery is working hard to ensure that the Battery Street Tunnel sites are transformed into much needed green space for Belltown. As the clock ticks down on the removal of the Alaskan Viaduct and decommissioning of Battery Street Tunnel, Recharge the...
New taxes would create $3.7 billion in revenue, helping to fund investments in cleaner buildings and electric powered transportation. Last week Governor Jay Inslee's proposed 2019-2021 budget was released. With Washington Democrats having taken the majority in both that state house and senate for...
The City of Seattle is seeking a team of "highly experienced" consultants to undertake a year-long feasibility study. 2018 has been a big year for freeway mitigation projects in Washington State. From the construction of the state's first freeway overpass for wildlife on...
"Sanctuary: Design for Belonging" runs from December 6th to February 23rd at The Center for Architecture & Design, 1010 Western Ave. The floor to ceiling collage of brightly colored posters with slogans such as "Stop the Deportations," "Migration is Beautiful," and "We the Future...