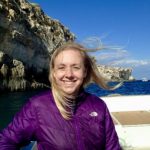 Natalie Bicknell is Senior Reporter at The Urbanist. She is a writer and community college instructor who lives in the Central District with her husband and two dogs. In her research and writing, she is always on the lookout for better ways of creating sustainable, diverse, and vibrant cities. Email her at natalie [at] theurbanist [dot] org.
Lately, I've been missing Pratt Park, one of my favorite public spaces in Seattle. While I haven't gone anywhere, and neither has the park, a major renovation project has left the heart of the park in shambles since before the onset of the Covid pandemic. While I still visit...
On March 9th, advocacy organizations Front and Centered and Disability Rights Washington held the first of a series of press conferences calling for Washington State legislators to halt spending on new highways. Instead, the coalition urges lawmakers to prioritize investments in building missing sidewalks and creating reliable transit and...
Set to open in 2023, the Judkins Park light rail station will connect thousands of Seattleites to the growing Link light rail network. The future station, which connects directly to the I-90 trail, is uniquely situated to offer safe transit access to pedestrians, cyclists and users of other modes of transportation, like...
Are you passionate about increasing housing affordability in Seattle? Or maybe you want to have a say in how your neighborhood develops? If so, you should consider applying before January 15th for one of the 15 slots currently open on the Seattle Design Review Boards. Each of the city's...
West Seattle activists are advocating for an urban aerial gondola alternative to Sound Transit's planned light rail extension. Will the movement gain momentum? Imagine for a moment that you're setting off on your daily commute from Alaska Junction in West Seattle to SoDo station, just south of Downtown. You hop...
The 70th annual Honor Awards showcase Seattle's flourishing architectural design community. I'll always hold a soft spot in my heart for the old Burke Museum of Natural History and Culture, specifically its café, a cozy wood paneled hideaway on the University of Washington campus where I used to hunker down...
The future of the pilot, which relies on community sponsorship to open residential streets to pedestrians and cyclists, remains uncertain beyond the end of the November. Twenty years ago, when Sheila Cloney moved from walkable Capitol Hill to steep-sloped Phinney Ridge an unpleasant surprise awaited her. Despite being situated on...
The relationship between democracy and cities is a close and longstanding one. It was in the ancient Greek city-state of Athens where the word democracy was first coined from the Greek roots demos (common people) and kratos (strength or power). Today democratic governments can be found on all seven continents and more than half...