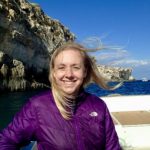 Natalie Bicknell is Senior Reporter at The Urbanist. She is a writer and community college instructor who lives in the Central District with her husband and two dogs. In her research and writing, she is always on the lookout for better ways of creating sustainable, diverse, and vibrant cities. Email her at natalie [at] theurbanist [dot] org.
About 2.3 million Americans live in food deserts, places where people lack access to affordable, healthy foods options, but did you know millions more Americans live in childcare deserts? In fact, according to the Center for American Progress, roughly 51% of Americans live in childcare deserts,...
Since the outbreak of the COVID-19 epidemic, people have watched the world around them transform in unexpected ways, but for many Americans the sudden ubiquity of people wearing masks and other facial coverings in public is one of the most visible indicators of the virus's impact on...
Across the world cities are taking bold measures to make it safer to walk and bike for transportation during the COVID-19 epidemic and beyond. Is Seattle's leadership finally jumping on board? Little good can be said about how the COVID-19 epidemic has upended (and...
Complete the survey by May 17th and share your feedback on a I-5 freeway lid proposed between Wallingford and the University District. It may seem unimaginable now, but just over 63 years ago, the Washington State Department of Transportation (WSDOT) established a special office...
Seattle has at least 263 miles alleys winding across the city. Of these, an estimated 144 miles are improved or paved alleyways, while an additional 119 miles are classified as unimproved or covered by gravel and grass. That is a lot of publicly owned land that could...
A few years ago, I was shocked when a friend disclosed to me that he did not like mixed-use buildings and dreaded the fact that more and more were being constructed throughout Seattle. Even more surprisingly, these words came someone who bikes to work, lives in a...
For the 50th anniversary of Earth Day, three local leaders weighed in on the most significant actions Seattle can undertake to increase its sustainability. Today marks the fiftieth anniversary of Earth Day, and due to unforeseen events, the celebration is shaping up to be...
For me, the warm and sunny weather provided extra inspiration for close-to-home urban exploration, but as I was reminded by a reader, with Google Maps it's not necessary to set foot outside to explore your city or others far, far away. So whether you take to the...