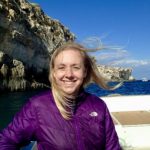 Natalie Bicknell is Senior Reporter at The Urbanist. She is a writer and community college instructor who lives in the Central District with her husband and two dogs. In her research and writing, she is always on the lookout for better ways of creating sustainable, diverse, and vibrant cities. Email her at natalie [at] theurbanist [dot] org.
Cohousing offers ways to stay connected during the Covid pandemic that city planners, architects, and community organizers can learn from. This spring, while people across Washington State and beyond were really beginning to understand what it means to be "socially distant" for a sustained...
On Monday, Seattle City Councilmembers will decide whether a 0.1% or 0.2% sales tax goes before voters in November. Their decision will impact transit service in Seattle for years to come. Even though the stay-at-home order might feel like it has dragged on...
Mayor Durkan and Police Chief Carmen Best remain at odds with the City Council over reducing the police budget. The Capitol Hill Organized Protest (CHOP) is now only a memory, but public discourse around defunding the Seattle Police Department (SPD) remains in the spotlight...
Data reveals a 5% increase in people living on the streets from 2019. In the earliest hours of the morning on January 24th, 2020, volunteers set out to conduct King County's annual Point-in-Time count. For the first time in three years, it rained...
Against the backdrop of national discussion around how to reimagine public safety in the United States, Seattle's local government leaders have been moving forward with promises to reduce the Seattle Police Department (SPD) budget, although significant disagreement exists over how much funding should be removed. While four...
Proposed by Councilmember Andrew Lewis, the new tax would fund housing and homeless services With the Covid recession already putting local governments' budgets into the red, the race is on for lawmakers to devise new measures to increase revenue. Ensuring new revenue is raised...
Calling for a "Central Area Housing Plan" that seeks to remedy decades of gentrification that have displaced Black residents from Seattle's Central District, last week a group of pastors from African American churches held a press conference with Councilmember Kshama Sawant to draw attention to a letter...
Social distancing and hygiene best practices will be incorporated into operations, but driver welfare remains a concern. Starting June 22th, Via to Transit, King County Metro's on-demand shuttle service will resume its service to Rainier Beach, Othello, and Tukwila International Boulevard light rail stations....