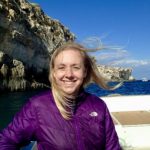 Natalie Bicknell is Senior Reporter at The Urbanist. She is a writer and community college instructor who lives in the Central District with her husband and two dogs. In her research and writing, she is always on the lookout for better ways of creating sustainable, diverse, and vibrant cities. Email her at natalie [at] theurbanist [dot] org.
Rally for a "Cruise-Free Salish Sea" 1pm to 3pm Friday, July 23rd at Pier 66. Set against the backdrop of massive cruise ships idling in Elliott Bay, speakers from environmental advocacy groups 350 Seattle, Seattle Cruise Control, and Extinction Rebellion called on the Port of Seattle to limit the presence...
Recent data published by the nonprofit American Forests shows stark racial and economic inequity in tree canopy coverage. How did the Evergreen State compare to national trends? There are certain visual clues that identify the socioeconomic status of an urban neighborhood, and in the United States one of these is...
In partnership with the Mt. Baker Hub Alliance, Mt. Baker Mutual Aid, Disability Rights WA, and Mercy Housing, The Urbanist is sponsoring a mayoral forum on Tuesday, July 20th, from 6 to 7:30pm at the amphitheater of Martin Luther King Jr. Memorial Park. The event will also be broadcast...
Update: Council Bill 120081 was signed into law on by Mayor Durkan on July 9, 2021. Critics are still hoping that the amended law can be repealed. Critics are demanding a return to the 80% AMI threshold for affordable housing developed on land owned by religious institutions. It was a long-awaited...
A proposed name change could kick off the fight to end exclusionary zoning in Seattle. So, what's exactly in a name? Juliet Capulet pondered this question of Romeo Montague in Shakespeare's Romeo & Juliet. In the case of "single-family" zoning, the name brings to mind an image of detached residential...
Research has identified strategies that can effectively combat the urban heat island effect. As the current heat dome traps Seattle within its sweltering grip, it has become painfully apparent that as the climate changes, we will have to change as well. Weather events like heat domes, which occur...
Seattle Subway and co-sponsor Seattle Transit Blog, both members of the MASS Coalition alongside The Urbanist, held a mayoral forum focused on the topic of mass transit in the Seattle area. It was the rare 2021 political discussion in which the word Covid never made an appearance, although references...
On a humble lot in Belltown, a remarkable building is underway. While 303 Battery may never raise the same level of international buzz as the 1960's era Space Needle, it is posed to quietly revolutionize the future of buildings, not just in Seattle, but potentially around the world. At...