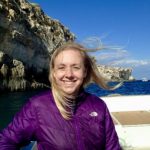 Natalie Bicknell is Senior Reporter at The Urbanist. She is a writer and community college instructor who lives in the Central District with her husband and two dogs. In her research and writing, she is always on the lookout for better ways of creating sustainable, diverse, and vibrant cities. Email her at natalie [at] theurbanist [dot] org.
Less than a year after the opening of the SR-99 tunnel, tunnel mania seems to be spreading across Seattle. An unfunded billion dollar price tag has not scared off supporters of deluxe tunnel options for Sound Transit 3 alignments in both West Seattle and Ballard. Seattle Subway's...
Seattle's City Council has unanimously voted to endorse the Seattle Green New Deal, which calls for the City to create and implement policies and programs that will "eliminate climate pollution by 2030, address historical and current injustices, and create thousands of good, green, well-paying, unionized jobs".
The name "Electric Coffin" may not immediately inspire whimsy, levity, and brightness, but those are exactly the sentiments the art collective Electric Coffin is hoping to seed across Seattle through their exhibit, DISCOVER + DISRUPT at the Center for Architecture and Design on Western Avenue, currently on view...
Seattle-based Bellwether Housing has announced the launch of its Building Opportunity Fund, the nation's first crowdfunded impact investment that funds the development of affordable housing. From now until September of 2019, Bellwether hopes to crowdfund $4.5 million dollars of investments to support the construction of 750 units...
Meet Veemo, an electric assist vehicle that advertises itself as "bike share meets car share." From a legal and technical standpoint, Veemo is an electric assist tricycle, or e-trike, but Veemo also includes an enclosure to shield riders from the elements that makes it resemble the tiny...
The Washington State Department of Transportation (WSDOT) has released its annual Active Transportation Safety Report, and the news from 2018 is not good. Between 2014 and 2018, pedestrian and cyclist deaths in traffic collisions rose 50%, jumping from 82 in 2014 to 123 in 2018.
Among urban planners of the 21st century, few can claim to have as interesting and expansive careers as Joe Berridge, partner at Urban Strategies Inc. in Toronto and the author of Perfect City: An Urban Fixer's Global Search for Magic in the Modern Metropolis.
It was standing room only at the District 3 Seattle City Council forum at the Washington Labor Council last Thursday. A growing pool of candidates hashed out their campaign platforms before a responsive crowd during the second debate sponsored by the MASS Coalition, of which The Urbanist...