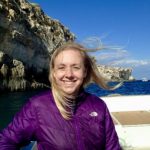 Natalie Bicknell is Senior Reporter at The Urbanist. She is a writer and community college instructor who lives in the Central District with her husband and two dogs. In her research and writing, she is always on the lookout for better ways of creating sustainable, diverse, and vibrant cities. Email her at natalie [at] theurbanist [dot] org.
For me, the warm and sunny weather provided extra inspiration for close-to-home urban exploration, but as I was reminded by a reader, with Google Maps it's not necessary to set foot outside to explore your city or others far, far away. So whether you take to the...
It is never easy to live unsheltered. Research shows that the stresses imposed by homelessness prematurely age the body by 10 to 20 years beyond individuals' chronological age. But in the time of COVID-19, life on the street has become an even heavier burden. "We are not...
The Urbanist is kicking off its new weekly scavenger hunt series with a call for readers to search out examples of "missing middle" housing in their communities. Recently as I was walking through the Judkins Park neighborhood near the I-90 greenbelt in Central...
Last week Rainier Valley Greenways and Safe Streets (RVGSS) submitted a letter to the Seattle City Council and Mayor Jenny Durkan requesting that the City open a segment of Lake Washington Boulevard to pedestrians and cyclists for the duration of the COVID-19 stay-at-home order. RVGSS also called...
For twenty years local nonprofit Northwest Film Forum (NWFF) has provoked dialogue about architecture and placemaking through its annual ByDesign Festival, curated by Design in Public. Promoted as a "cross-cultural exploration of people, structures, and ideas at the intersection of design and the moving image," over the...
A new survey suggests that telecommuting was already on the rise in Seattle even before fears over COVID-19 prompted the recent spike in remote work as people across the region are being encouraged to work from home to help slow down transmission of the virus.
Recently the King County Council made headlines when it voted to expand on ORCA Lift to provide free Metro bus service for qualifying riders. By July of this year, individuals and families who earn 80% or less of the federal poverty level and participate in one of...
Seattle may be famous for its cool rainy weather, but it is a little known fact that the city also holds the dubious distinction of ranking as one of the most intense urban heat islands in the United States. A study completed by Climate Central found that over...