Natalie Bicknell Argerious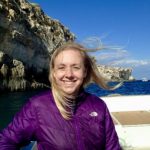 Natalie Bicknell Argerious (she/her) is Managing Editor at The Urbanist. A passionate urban explorer since childhood, she loves learning how to make cities more inclusive, vibrant, and environmentally resilient. You can often find her wandering around Seattle's Central District and Capitol Hill with her dogs and cat. Email her at natalie [at] theurbanist [dot] org.
As mentioned during our most recent subscriber drive, we are dedicating the first $2,000 that was raised to a paid freelance reporter program. A big thank you to our generous contributors who helped us to achieve our goal! We are also very grateful for all of the contributions we...
This November in celebration of National Native American Heritage Month, the University of Washington Department of Architecture is presenting a lecture series titled "On the Ground: Indigenous Voices on Constructed Place." Hosted by Bobbie Koch, architectural designer at 7 Directions Architects/Planners, and Jim Nicholls, professor of architecture at the...
Supporters of solar power for Seattle Public Schools can sign a petition or register to speak at Wednesday's School Board meeting. During the windstorm that swept through the Puget Sound region last week, more than a hundred thousand people were estimated to have lost power. For some the outage...
Sign a petition or register for public comment at the Seattle City Council Budget Committee meeting Thursday, October 28 at 9:30am​. News that the Seattle Department of Transportation (SDOT) had ostensibly dropped plans for a safe crossing for cyclists and pedestrians over Interstate 5 on NE 45th Street in Seattle was a heavy...
Findings strengthen case for funding work that could lead to lidding segments of the freeway. In the event of an earthquake, do you know what Seattle roadway is named as the city's seismic lifeline? If you guessed Interstate 5 (I-5) the freeway that cuts straight through the heart of Seattle,...
Yesterday the King County Board of Health made the decision to delay a vote on the county's helmet law, which applies to cyclists of all ages in the county. King County Councilmember Jeanne Kohl-Welles, who had initially called on the Board of Health to revisit law after allegations of...
Come out to celebrate the future Garfield Super Block on October 23rd, 12-4pm, at Garfield Park. If you visit Garfield High School in Seattle's Central District today, nearby you'll see a large playfield flanked by a walking path that extends out to Cherry Street where it terminates in a plaza...
A poll completed by Change Research for the Northwest Progressive Institute (NPI) indicates plenty of reasons why supporters of progressive candidates in Seattle's general election should be worried as election day approaches. Previously tight races have seemingly swung in favor of more conservative candidates if the poll is accurate,...