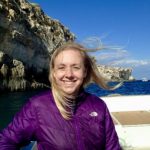 Natalie Bicknell is Senior Reporter at The Urbanist. She is a writer and community college instructor who lives in the Central District with her husband and two dogs. In her research and writing, she is always on the lookout for better ways of creating sustainable, diverse, and vibrant cities. Email her at natalie [at] theurbanist [dot] org.
Seattle teens are part of an international youth movement calling on governments to do more to combat climate change. On the first organized "Friday for the Future" strike, a small group of Seattle teen climate activists gathered on the steps leading to Seattle City...
With Mandatory Housing Affordability in place in all urban villages, Seattleites are seeking additional answers for how to decrease displacement of low-income residents. At the beginning of a recent "lunch and learn" session devoted to the topic of displacement at the City Council chamber,...
The bills' signage marks the end of a long fight by housing advocates to get affordability requirements enshrined in Seattle law. Before a crowd of enthusiastic supporters, Mayor Jenny Durkan signed legislation authorizing "citywide" implementation of Mandatory Housing Affordability (MHA) into law yesterday March...
For the last year and a half, Seattle City Council candidate Cathy Tuttle has been traveling the world and consulting on topics related to urban planning. Major projects included a stint in Hawaii, where Tuttle spent two weeks on each of the four major islands studying the...
Today Seattle City Council is voting on "citywide" implementation of Mandatory Housing Affordability (MHA), a form of inclusionary zoning from which single family zones outside of designated Urban Villages are exempt. Looking back at the events that have led to this moment one thing is certain: nothing...
It is apparent early on in conversation with District 7 City Council candidate Michael George that he loves cities, but the dedicated urbanite and co-founder of Parents for a Better Downtown Seattle (PBDS), also professes to be fond of wild spaces too. "I'm an 'up...
Home Now is a compelling mix of art and activism that invites viewers to make a human-to-human connection with their unhoused neighbors. It was time for the outdoor viewing for Home Now, an innovative photography exhibit on display at the Impact Hub in Pioneer Square....
As Seattle City Council debates legislation that would require additional housing affordability contributions from developers, big questions have emerged about whether efforts to preserve affordable housing would hurt or help. "Naturally occurring affordable housing" has become a buzz word in urban planning and policy...