Natalie Bicknell Argerious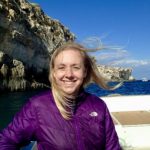 Natalie Bicknell Argerious (she/her) is Managing Editor at The Urbanist. A passionate urban explorer since childhood, she loves learning how to make cities more inclusive, vibrant, and environmentally resilient. You can often find her wandering around Seattle's Central District and Capitol Hill with her dogs and cat. Email her at natalie [at] theurbanist [dot] org.
A poll completed by Change Research for the Northwest Progressive Institute (NPI) indicates plenty of reasons why supporters of progressive candidates in Seattle's general election should be worried as election day approaches. Previously tight races have seemingly swung in favor of more conservative candidates if the poll is accurate,...
This Thursday, the King County Board of Health will vote on a proposed repeal of the county's helmet law for cyclists as well as a companion resolution that affirms helmet use, encourages other jurisdictions to repeal helmet laws, and supports broader measures that ensure the cyclists' safety. While Washington...
Stepping into my new role as Managing Editor of The Urbanist has made it clearer for me than ever how much effort it takes to produce a quality publication. Every story we publish is the result of vigorous research and careful writing, most of which is accomplished by volunteers...
This article was updated on 10/26/2021 to reflect that it was the U District Community Council, not the U District Partnership, that submitted a letter to the City of Seattle. The segment of NE 45th Street near Interstate 5 in Seattle does not provide a safe or comfortable connection for...
The excitement that the recent Northgate Link opening generated provided a vivid example of Seattle residents' desire to be better connected by rail. This enthusiasm is backed up by a recent poll which found three quarters of participating Seattle voters would support a new funding measure to expand light...
It's City budget season and the Low Income Housing Institute (LIHI) is seeking to boost funding for tiny house villages that shelter people experiencing homelessness. LIHI, the sole operator of tiny houses villages in Seattle, is asking supporters to testify before City Council on Tuesday, October 12th, in favor...
Nicknamed the "city of trees," Boise is an enigma in its approach to urbanism. A bike lane leads straight up to the steps of the state capital building, where a Republican majority legislature fills the benches and halls. Residents paddle kayaks and trout fish in the river running through...
Neighborhood advocates, however, want the Belltown site to be more than a vacant lot during the interim period. Mayor Jenny Durkan and Seattle Public School (SPS) Interim Superintendent Brent Jones have signed a letter of intent (LOI) opening up the opportunity for SPS to build an elementary school and park...