Paige Malott (Guest Contributor)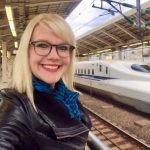 Paige Malott is the chair of Cascadia Rail, a Washington State non-profit and 501(c)(4) social welfare organization advocating for high-speed rail in the Pacific Northwest.
A bill to fund the rollout of high-speed rail across America was recently introduced in the House of Representatives. The proposed policies would get the economy back on track by investing $205 billion over five years, creating jobs, competition in transportation, and giving Americans cleaner, faster, more reliable commutes....
As a result of the mandatory stay-at-home orders, fewer people are flying, fewer people are commuting to work, and fewer people are using their cars for recreational purposes. Seattle experienced a noticeable reduction in emissions, as stay-at-home orders led to 40% fewer car trips. The congestion that plagues the...
In the midst of the public health emergency, worldwide stay-at-home mandates have resulted in significantly fewer people traveling by car or airplane. Scientists have been tracking improved air quality and resurgence of wildlife in urban areas, perhaps providing hope for the current state of our global climate. Preliminary data...
The Port of Seattle is planning a new cruise terminal at South King Street, just steps away from the Occidental Square streetcar station and the First Avenue Streetcar line extension also known as the Center City Connector. The project, Terminal 46, is located just south of Colman Dock and...
On October 14th, former Seattle City Councilmember Nick Licata wrote a blog post that may mislead enough people to stop an excellent local transit project that Seattle Subway has supported since its inception. Since publishing his post, "The Center City Connector Streetcar--A Solution Looking for A Problem," the Seattle...