The Port of Seattle is planning a new cruise terminal at South King Street, just steps away from the Occidental Square streetcar station and the First Avenue Streetcar line extension also known as the Center City Connector. The project, Terminal 46, is located just south of Colman Dock and is expected to open in 2022 serving 10,000 daily cruise passengers.

Recently, the Port held community outreach meetings in Pioneer Square and SoDo as they begin the early stages of the project. The site of Terminal 46 includes a total of 88 acres, with the new cruise terminal occupying the northern one-third of the space. The remaining two-thirds will be used for cargo, project manager Fred Chao said at the meeting. The cruise terminal building will resemble the structure at Pier 91 and be larger in size with access points at South King Street and South Atlantic Street. Utility upgrades and intersection improvements at King and Jackson Streets are also being planned.

"We will be working closely with the Department of Transportation, stakeholders, and the community to make sure the egress points are safe and operationally efficient," Chao said.
In 2019, Seattle expects to serve 213 cruise ships and 1.2 million passengers. According to the Port, each vessel supports an estimated $4.2 million in economic activity for our region, with the average cruise passenger spending $1,547 in the city before and after their voyage.
Where are passengers visiting?
Among the Top 10 activities, 64% of cruise guests visited Pike Place Market, followed by shopping at 44%, and 42% going to the Space Needle.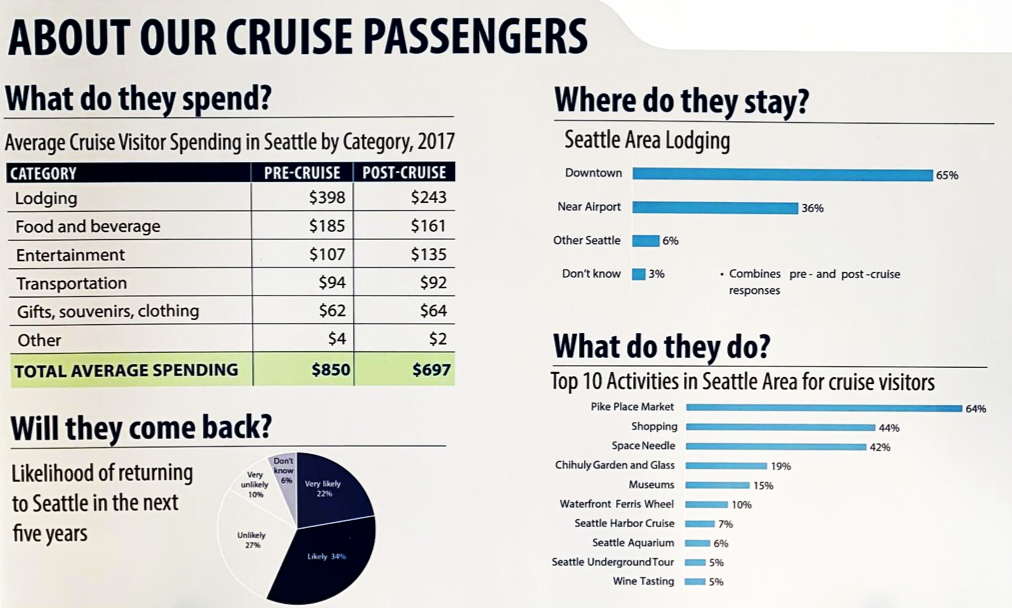 But with Terminal 46 operating on the southside of downtown, favorite tourist attractions become a one-mile, uphill walk for cruise passengers–or worse–thousands of more Uber rides into the city center during rush hour.

Michael McLaughlin, Director of Maritime Cruise and Marketing, explained that a typical day of a cruise ship starts early in the morning when it docks and roughly 5,000 passengers deboard between 7:30AM and 10:00AM. Starting around 11:00AM through 3:00PM, a new group of 5,000 passengers arrive to board for their cruise journey. The Port also reports that 65% of passengers are staying in lodging Downtown before or after their cruise but only 2% of passengers are using public transit or walking to the cruise terminal. That's a lot of people, and a lot of vehicles, being added to city streets at a time when it's at peak capacity.
What if there was a better way?
Two blocks away from the proposed cruise terminal is the Occidental Square streetcar stop–the current end of the line for the First Hill Streetcar that also serves as a station on the forthcoming First Avenue Streetcar line (Center City Connector). Once complete, the First Avenue line would link Seattle's two existing streetcar systems in First Hill and South Lake Union, creating a five-mile route with direct access to Pike Place Market and popular shopping destinations in Pioneer Square and Westlake.
Taking advantage of an exclusive transit lane, passengers could travel on the electric-powered streetcar from Occidental Square to Westlake in just 10 minutes. With approximately 6,400 cruise tourists heading to Pike Place Market every day and 4,400 going shopping nearby, the First Avenue Streetcar would be a big win-win-win for sustainability, guest experience, and supporting small businesses along the corridor.
The Port is open to new ideas for sustainably transporting cruise passengers around the city. "The new facility has opportunity to utilize public transit," said Stephanie Jones Stebbins, Managing Director of Maritime. "Included in the principles the Commission adopted to give guidance on cruise terminal development is a focus on getting folks to the cruise terminal in ways other than vehicles."

For those 6,500 daily passengers sleeping over in Seattle, the First Avenue Streetcar would provide direct access to 15 hotels on the route and serve over 57 hotels located within a three-block radius along the entire streetcar system. Top tourist destinations would also be connected to lodging via the streetcar. In addition, the layout of streetcar infrastructure makes it more accessible for a high volume of people with luggage, strollers, or people with limited mobility as compared to using bus or light rail. Curb-level boarding allows for easy, roll-aboard access between platform and streetcar vehicle, in contrast to navigating the steps and narrow aisles of a bus or escalators of the light rail station.

But what about light rail?
An obvious solution is to direct cruise passengers to travel downtown using the closest Link light rail station at International District-Chinatown. The International District-Chinatown Station averaged 6,200 daily boardings in the fourth quarter of 2018, according to Sound Transit. Adding Terminal 46 passengers could potentially increase the amount of light rail rush hour passengers by 85%. It could also mean that tourists miss an opportunity to visit some of the 220 small businesses and arts venues in the Pioneer Square neighborhood–businesses that are visible from the streetcar route but not from the underground transit tunnel.
Pioneer Square and SoDo neighborhoods would likely face the most challenges from the new terminal. "Traffic impacts with people coming into town and out of town, the impacts of noise, of air quality, of your view and lighting; all of these things we will study and review how the project effects these environmental elements," a spokesperson from the Port said at the outreach meeting. "We expect sometime in early fall to start the environmental review process and look forward to working with the community and making sure this is a well-run operation with minimal environmental impacts."

Setting sail
With the project still in its early stages, the Port is currently seeking a private partnership to support co-investment into Terminal 46 and potentially operate the facility once construction is completed. The early cost estimate for the development is $200 million, with the Port contributing $100 million to the project.
Could investors be interested in accelerating the First Avenue Streetcar as well?

The Port anticipates an aggressive construction schedule for the terminal to be open by mid-2022, and as of this January, the estimated completion date of the First Avenue Streetcar (Center City Connector) was pushed back to 2026. If we've been looking for incentive to lift up the anchor on Seattle's streetcars and set our sights on finishing the alignment, this is it. Similar streetcar projects, such as the 2.2 mile line in Kansas City, completed construction, vehicle testing, and opened for service in a little over two years. The First Avenue Streetcar line is shorter in distance, spanning 1.2 miles, meaning that a similar construction timeline is feasible.
Why wait until 2026?
If we act with ambition, the streetcar could be open to serve the first passengers arriving at Terminal 46.

More tourists are coming. Will our city be ready? Let's roll up our sleeves, lay down some track, and provide cruise visitors with a first-class transit option at their doorstep. Let's get the First Avenue Streetcar rolling by 2022.

Paige Malott is the chair of Cascadia Rail, a Washington State non-profit and 501(c)(4) social welfare organization advocating for high-speed rail in the Pacific Northwest.