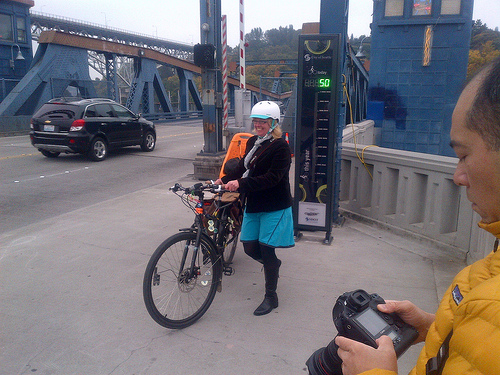 Way back in 2012, the Seattle Department of Transportation (SDOT) installed bike counters at a number of locations, including the very popular Fremont Bridge. Since then, the Fremont Bridge bike counter has been storing each of those bike trips across. The bridge didn't quite break one million trips in 2013, coming in just below at 928,279. But the one million mark for 2014 was reached on December 28th! The final count for the year was 1,004,471 bike trips. Well done, Seattle!
Tom over at the Seattle Bike Blog noted that total trips on the Fremont Bridge were up 8.5% year-over-year, representing positive growth in biking along the corridor. SDOT also had some information to share regarding infrastructure projects that will benefit the corridors connecting to the Fremont Bridge:
With so many people crossing the bridge every day, the addition of a new protected bike lane along Westlake Avenue N is going to be a great benefit. Staff worked hard in 2014 to gather input from the community, collect data and identify an alignment and preliminary design for the protected bike lane. We've met all the key milestones and are on schedule to begin construction in fall 2015.

To make it safer and more predictable to ride along Dexter, SDOT is partnering with WSDOT to rechannelize the street between Mercer and Denny Way. This rechannelization swaps the location of the parking and current bike lane to create a new protected bike lane. Construction of this project will be phased in throughout 2015, with the first portion expected to be completed in January.

Finally, SDOT is launching the Center City Bicycle Network project in early 2015. This effort will identify where protected bike lanes in the Center City should go to form a network. Learn more about 2015 through 2019 implementation plans by visiting Seattle's Bicycle Master Plan web page.
There's a lot in the pipeline to make the experience, safety, and ease of riding a bike better for residents, visitors, and commuters traveling between Downtown and North Seattle. We're excited to see what 2015 holds next for the Fremont Bridge and biking across the city.

Stephen is a professional urban planner in Puget Sound with a passion for sustainable, livable, and diverse cities. He is especially interested in how policies, regulations, and programs can promote positive outcomes for communities. With stints in great cities like Bellingham and Cork, Stephen currently lives in Seattle. He primarily covers land use and transportation issues and has been with The Urbanist since 2014.