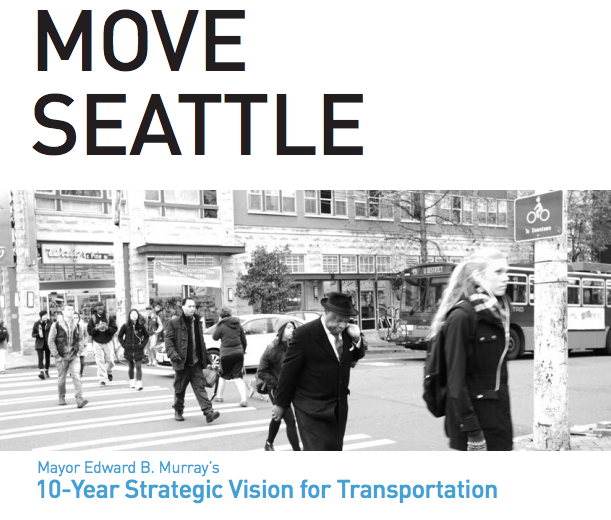 At a full council session yesterday, the Transportation Levy to Move Seattle was unanimously approved by the City Council in an 8-0 vote (Okamoto being absent). The nine-year, $930 million levy will now go to voters for approval in the November General Election. The new levy would secure $95 million annually for citywide transportation investments, which is deeply needed given that the current Bridging the Gap Levy expires in 2016. That levy is also much more modest in scale, netting the City $44 million annually. Move Seattle would more than double the rate of City investments meaning substantial improvement of new infrastructure and catching up on the City's deep backlog of maintenance and repair.
The levy will fund key components of the Move Seattle program, as laid out by Mayor Ed Murray and the Seattle Department of Transportation. Highlights of the program include (detailed spending plan below):
$207 million for Safe Routes Programs: safety corridors, Safe Routes to School, transportation operations, signs and markings, bicycle safety, pedestrian safety, and neighborhood projects.
$303 million for Congestion Relief Programs: $20 million of which will go toward the Lander Street overpass (or freight mobility if infeasible), multimodal improvements, traffic signal timing, Intelligent Transportation Systems, Graham Street Station, new sidewalks, Northgate Bridge, Mt. Baker Station accessibility, bicycle and walking facilities, East Marginal Way Corridor for freight, and spot improvement for freight.
$420 million for Maintenance and Repair Programs: bridge and structures maintenance, bridge seismic improvements, bridge replacement, arterial roadway maintenance, paving spot improvements, drainage partnerships, and tree trimming and planting.
On the heels of the Select Committee on Transportation Funding from a week prior, the City Council essentially adopted the same legislation approved at that meeting–which included 13 attached amendments. Councilmember Tom Rasmussen, however, presented a substitute bill at yesterday's meeting. It primarily contained housekeeping changes, including: a few grammatical and legal corrections, Councilmember Bruce Harrell's Racial Equity Toolkit analysis language, and revised ballot measure language. Harrell's changes were perhaps the most substantive given that they directly affect the use of levy funds on streetcar operations and expansion:
Section 8. Use of Funds. Any proposal to use Levy Proceeds to build or operate streetcars must be accompanied by a narrative presented to the appropriate Council committee evaluating the proposal's geographic value, productivity, and effect relative to race and social justice implications. The narrative shall describe describing findings from applying the Racial Equity Toolkit (or the successor thereto), geographic value, and productivity to evaluate the proposal's effects on historically marginalized populations.
Meanwhile, changes to the ballot language were exclusively for the purpose of shortening the length. (State law requires ballot titles to contain 75 words or less.) The ballot language will now read as:
The City of Seattle's Proposition 1 concerns replacing funding for citywide transportation maintenance and improvements. If approved, this proposition would replace an expiring levy and would fund bridge seismic upgrades, transit corridor and light rail access projects, pedestrian and bicycle safety projects, synchronized traffic signals, street maintenance and repair, freight projects, and neighborhood street fund projects. It authorizes regular property taxes above RCW 84.55 limits, allowing maximum collections of $95,000,000 in 2016 and $930,000,000 over nine years. The 2016 total regular tax limit would be $3.60/$1,000 assessed value, including approximately $0.62/$1,000 assessed value in additional taxes. Should this levy be approved? Yes / No
Before wrapping up the vote on the Move Seattle levy, Councilmembers shared their thoughts and feelings about the transportation package. Councilmember Nick Licata expressed his concern that the measure may not pass due its size; he also said that he supported it and hopes that it will move forward to bring congestion relief and safety to all transportation users. Council President Tim Burgess praised SDOT for their "detailed analysis and recommendations" as well as the specificity contained within the program plan. And, Councilmember Tom Rasmussen thanked city staff, advocacy organizations, and the public for their work in helping to craft a comprehensive transportation package.
But it was Councilmember Sally Bagshaw who had, perhaps, the most befitting comments of all saying:
First, we're going to be maintaining what we already have, and I think every taxpayer knows that has to be our first priority. And secondly, we're going to make sure that our investments reduce congestion. Wherever I go, people say to me that the worst problem that the city has is congestion. And, unless we can reduce that and accommodate all the people who are coming, we are going to be in significant trouble. And, I know that this package is going to be designed to that. And thirdly, we're really promoting safety for all. I know that you have all heard that I am poster child for Cascade Bicycle Club's all ages and abilities. I'm riding my bike again, and I ride all over the city. I want to have the protected bike lanes so that I can get all over the city safely, 'cause right now I'm playing dodge-a-car and dodge-a-bus after the [Second Ave Protected Bike] lanes that we have just end. So, I'm very much supporting this package–both as somebody who drives a car occasionally, rides a bus, rides my bike, and walks.  
Attachment A Spending Breakdown

Stephen is a professional urban planner in Puget Sound with a passion for sustainable, livable, and diverse cities. He is especially interested in how policies, regulations, and programs can promote positive outcomes for communities. With stints in great cities like Bellingham and Cork, Stephen currently lives in Seattle. He primarily covers land use and transportation issues and has been with The Urbanist since 2014.