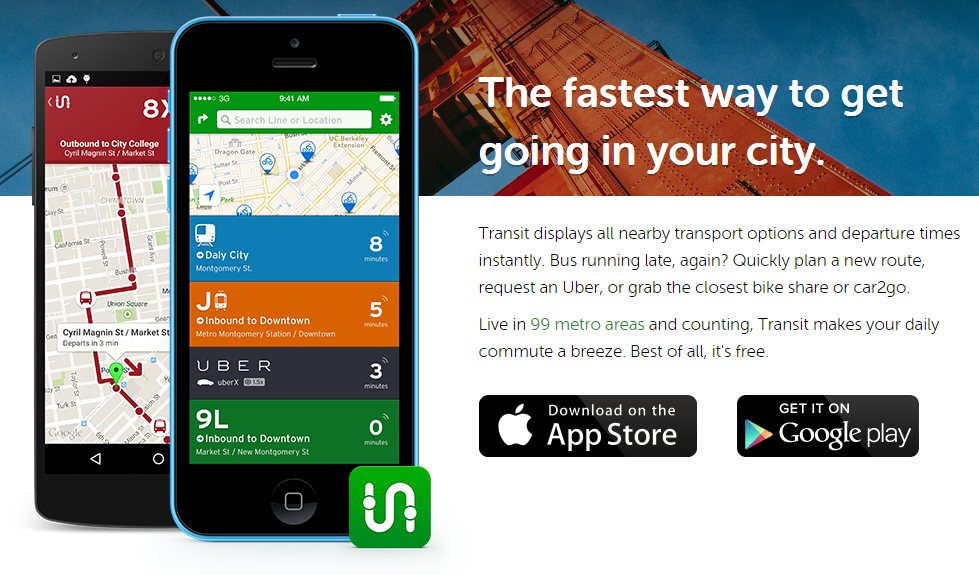 Transit App pushed out an updated version of the app for iOS (Version 3.7) and Android (Version 3.7.1) users on Tuesday. The latest update focuses on optional alarms, bike lanes, and an improved trip planner.
Users can now set alarms for specific transit trips or routes. Setting up a transit alarm is fairly simple. In Nearby Mode, users first choose a particular route and then tap the clock icon. This takes users to the stop schedule of the route. Trips available for transit alarms will have a small bell icon on the right side of the screen. Tapping the icon will reveal alarm options. Reminder alarms for individual departures can be set for up to one hour before arrival.
At the top of the stop schedule screen, users can also set reminders to repeat at specific intervals (e.g. 10 minutes) for each upcoming departure. This could be useful for users who are out late on the town and aren't familiar with the schedule, but might want some flexibility in their departure time. An added bonus to this feature is that the departure alerts will disappear once the user is moving (assuming they've enabled that particular option); future alarms become deactivated.
If users leave the app, the alarms will still appear across the device like any other alarm set on iOS. Apple users will find their set alarms in the Notification Center and Unlock Screen if active.
(For those of you in Philadelphia, rumor has it that the bell icon has a crack in it!)
Bike lanes are now shown on the app map, making it much more useful for the bikeshare users out there. The bike lane data is based off of Google Maps and excludes sharrows. Users can rest assure that if they follow the bike lane information on the app map, they'll be riding in a bike lane or on a paved off-street trail.
Finally, Car2Go now appears in the Trip Planner for users logged into their Car2Go account on the app. This is a handy modification for users because it's now possible to compare the time competitiveness of transit, Uber, and Car2Go. Estimated walk time to the car and parking time is included in the trip comparison. However, the Car2Go trips only appear in the Leave Now mode. If users try to compare specific trips by arrival times to their intended destination or departure times in the future, Car2Go will not be shown. Given the deployment of this new feature, my guess is that it's only a matter of time before Transit App adds bikeshares to the Trip Planner mix.
Supported Puget Sound transportation services by Transit App include: Sound Transit (buses, Link Light Rail, and Sounder), King County Metro Transit (buses, streetcars, and water taxis), Pierce Transit, Community Transit, Everett Transit, Kitsap Transit (buses and foot ferries), Intercity Transit, Washington State Ferries, Pronto! Cycle Share, Car2Go, and Uber. The Transit App also serves 99 metropolitan areas in North America, Europe, and Africa.

Stephen is a professional urban planner in Puget Sound with a passion for sustainable, livable, and diverse cities. He is especially interested in how policies, regulations, and programs can promote positive outcomes for communities. With stints in great cities like Bellingham and Cork, Stephen currently lives in Seattle. He primarily covers land use and transportation issues and has been with The Urbanist since 2014.