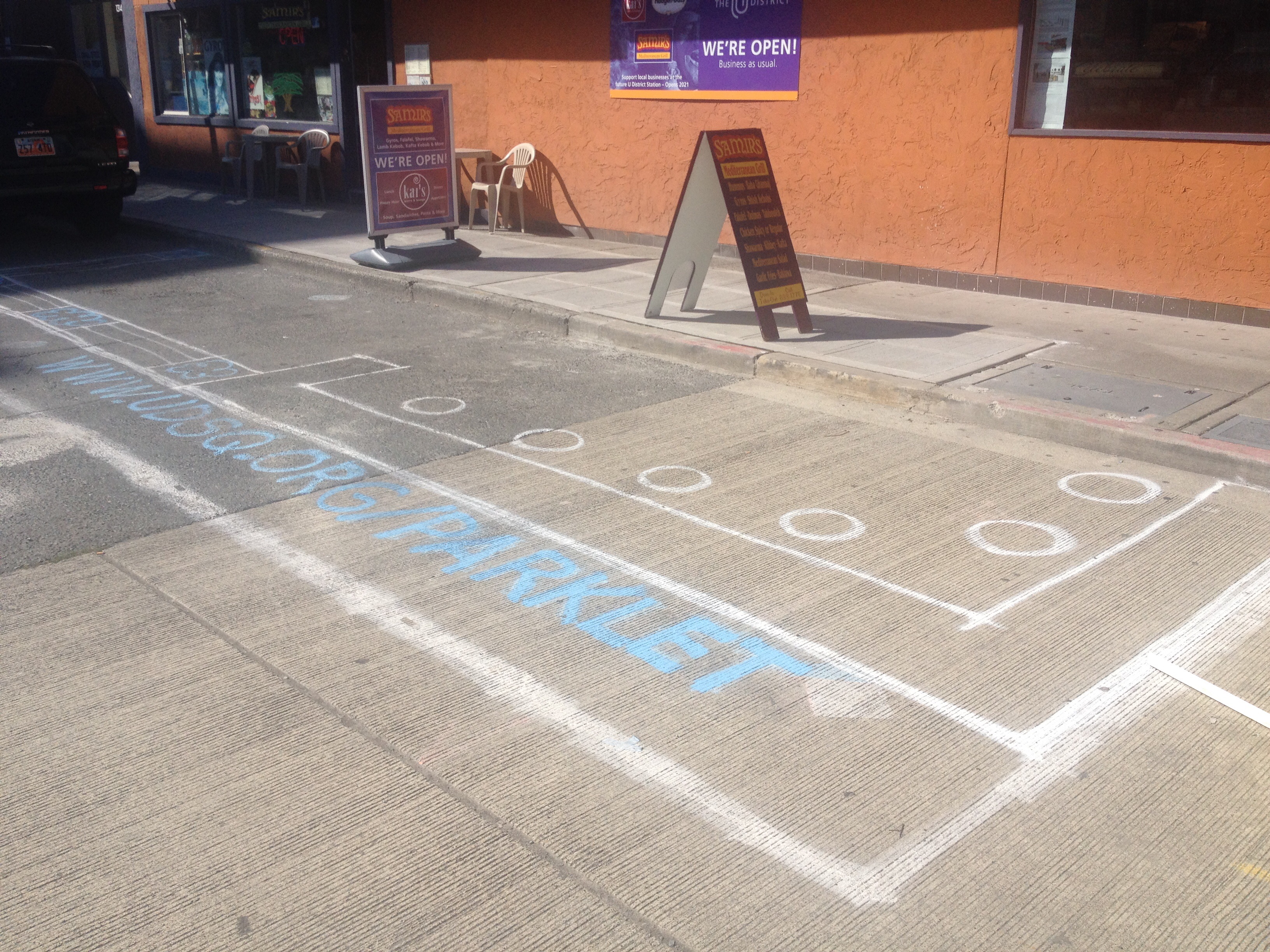 PARK(ing) Day has returned and it's bigger than ever! Over 50 locations in Seattle will be transformed into temporary park space for play, entertainment, leisure, and art. Seattle joins a growing movement that is now in its tenth year that seeks to bolster community discussion on how public space is created and used. Innovative parklet and demonstration designs challenge visitors to consider other ways to utilize limited right-of-way space. Seattle has already taken many of the lessons learned in previous and put them into practice with the establishment of eight parklets and streateries. And not to be outdone, the city is also making targeted use of on-street parking for other uses like bioswales, bus bulbs, wider sidewalks, and cycletracks.
This year's entrants have upped the game with some highly unique parklets. In Belltown, the National Park Service plans to lay down an interactive acoustic map for visitors to listen to soundscapes from the nation's national parks. Kaffeklatsch in Lake City will roll out a corn harvest where kids and adults alike can chuck corn! And the folks from Ankrom Moisan Architects in Pioneer Square plan to devise a mobile phone-free zone on the sidewalk. They hope to funnel people on their mobile phones to task-specific furniture for texting, e-mailing, calling, and charging while those mobile phone-free walkers walk by without the worry of collision.
We'd be remiss if we didn't mention our friends at Seattle Neighborhood Greenways who are running a fun and smart competition to demonstrate safe street designs using ordinary parking spaces and the ingenuity of volunteers. In August, they put a call out to supporters to craft their own plans for PARK(ing) Day and the selections were tough. They chose four designs for implementations at three locations in North Seattle and one location in Southeast Seattle. The quality of these submissions is actually quite extraordinary and perhaps could lead to future changes on the blocks that they appear.
So here's what Seattle Neighborhood Greenways has to say about their PARK(ing) Day competition:
Four winning designs from the first annual Seattle Neighborhood Greenways PARK(ing) Day Design Competition will be built this Friday. These are tactical urbanism projects – quick, inexpensive, and effective demonstrations of how streets can be safer for all of us. PARK(ing) Day celebrates streets for people. #PARKingDayPLUS celebrates SAFE streets for people.

Interestingly, all #PARKingDayPLUS projects are spearheaded by parents of very young children who want to make their streets – and their neighborhoods – safer for their families and their community.

Rainier Ave South. Shirley Savel bikes with her baby and young daughter along Rainier Avenue South, Seattle's most dangerous street. Savel has teamed up with other Rainier Valley residents and parents to install a one-day demonstration of a protected bike lane on both sides of Rainier Avenue South between 39th Ave S and 42nd Ave S, stretching between Columbia City and Hillman City. Savel met with Seattle Department of Transportation (SDOT) engineers and safety experts to plan her route and make it safe for people who walk, drive, ride the bus, and bike.

Ballard NW 65th & 6th NW. In Ballard, Chris Saleeba often bikes with his four-year-old daughter to the Ballard Farmer's Market. Chris teamed up with his co-workers at Alta Design & Planning to design a protected intersection for people who walk and ride bikes across NW 65th St. at 6th Ave NW. Saleeba, along with his friends and neighbors from Ballard Greenways, will build and staff the intersection from 10 to 7 on Friday for PARK(ing) Day and 11 to 3 on Saturday during the Ballard Summer Parkways event.

Ravenna NE 65th & 20th NE. In Ravenna, Andres Salomon and his three-year-old son Atom are frequently out and about walking and biking in northeast Seattle. Andres and his friends from NE Seattle Greenways will build a protected climbing lane for people who bike along NE 65th St between 20th Ave NE and 22nd Ave NE. Andres found that the sidewalk on this stretch of NE 65th was narrow, uneven, and often blocked by cars, while biking in the street felt very unsafe.

Bryant Burke Gilman Trail & 40th NE. In Bryant, Kenneth Trease, father of two young children, and Jen Goldman, mother of three whose oldest is celebrating her sixth birthday on Friday, will build a protected crossing in a high conflict area for people who walk, bike and drive at 40th Ave NE and the Burke-Gilman Trail. Jen says, "I am providing mini cupcakes to hand out. Sort of a shared birthday party for my daughter, who loves to bike, frequently crosses there, and is turning 6 that day. She is excited about the idea of getting a nicer spot to cross for her birthday."
Not to be outdone, the ongoing Seattle Design Festival (SDF) is an added bonus to all of this. SDF will be giving awards to the best designs in select categories. The results of the winners will be announced later tomorrow afternoon once SDF has had a chance to visit all of the sites. The City of Seattle also wants to get people excited about the event and will spend the day sharing content through social media. Live tweets of the event will appear on @parkingdaySEA. If you see anything cool out there, tweet using the hashtag #SEAParkingDay and tag us. We'll retweet what you see! PARK(ing) Day runs from 10am to 7pm tomorrow (September 18th). So don't forget to get out there and uses these awesome spaces!

Stephen is a professional urban planner in Puget Sound with a passion for sustainable, livable, and diverse cities. He is especially interested in how policies, regulations, and programs can promote positive outcomes for communities. With stints in great cities like Bellingham and Cork, Stephen currently lives in Seattle. He primarily covers land use and transportation issues and has been with The Urbanist since 2014.