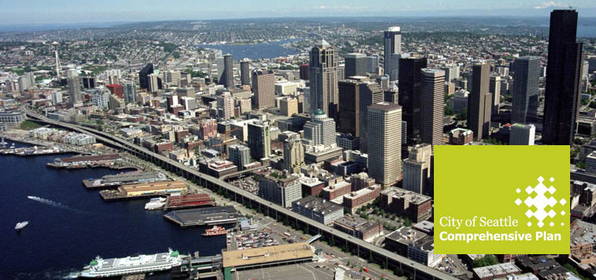 A suite of Comprehensive Plan amendments are now under consideration by the Seattle City Council. Three separate proposals are being vetted, which are the culmination of periodic updates required under the Growth Management Act, annual amendment proposals, technical policy adjustments on affordable housing policy, and a discretionary neighborhood planning update in University District. These proposed amendments to the Comprehensive Plan are not directly tied to the statutorily required 8-year update otherwise known as Seattle 2035, but do have some overlap. I'll talk about these policy proposals over the course of two articles. The first article — this one — will look at all of the amendment proposals, except for University District neighborhood planning update, in brief.
Periodic Update Amendments
A package of periodic updates to the Comprehensive Plan are proposed to revise policies that are largely out of date, make targeted changes to specific elements of the Comprehensive Plan and inventories in appendices, strengths relationships to current plans (e.g. Bicycle Master Plan and Right-of-Way Improvement Manual) and directs policy in favor of these, and amend language and data for growth projections.
Under the King County Countywide Planning Policies, new growth estimates were promulgated and project that 70,000 new households and 115,000 new jobs will be located within Seattle over the next 20 years. These projections are proposed for incorporation into the Comprehensive Plan. As part of this, the proposed text amendments recommend that the Comprehensive Plan refer to these as "growth estimates" instead of "growth targets" to better reflect that there isn't a cap on growth. Rather, the phrase more accurately conveys that the City's Comprehensive Plan is planning for a certain level of possible growth. Growth estimates for urban centers (but not urban villages) encompass the planning horizon from 2015 to 2035 with the primary statistic is as follows:
2014-2015 Annual Amendments
Three subarea planning updates were conducted to revise policies to urban villages within the Central Area, West Seattle, and Lake City. Proposed text amendments are fairly minor in nature, but five proposed amendments to the Future Land Use Map (FLUM) present the most interest. Three of these appear in the 23rd & Union-Jackson Residential Urban Village, one in the Morgan Junction Residential Urban Village, and one in the Lake City Urban Hub Village.
Proposed FLUM amendments to 23rd & Union-Jackson Residential Urban Village could result in:
Nine parcels on E Union St being added to the Urban Village. All nine parcels are currently designated as Commercial / Mixed Use, which would remain in keeping with similarly designated parcels just east within the Urban Village.
Two parcels on the north side of E Cherry St being redesignated from Single Family Residential to Commercial / Mixed Use. This would continue the Commercial / Mixed Use designation further westward on E Cherry St.
One parcel on the south side of E Cherry St being redesignated from Multi-Family Residential to Commercial / Mixed Use. This would continue the Commercial / Mixed Use designation further westward on E Cherry St.
The proposed FLUM amendment to the Morgan Junction Residential Urban Village could redesignate a 0.29-acre parcel owned by West Seattle Church of the Nazarene from Single Family Residential to Multi-Family Residential. The parcel of land is just one block east of California Ave SW where a corridor of properties are similarly designated as Multi-Family Residential and falls within the Urban Village.
The proposed FLUM amendment to the Lake City Hub Urban Village could result in a substantial expansion of Commercial / Mixed Use designated land between Albert Davis Park and Virgil Flaim Park in an area currently designated as Multi-Family Residential.
Affordable Housing Policies
Separately, the Department of Planning and Development has proposed text amendments to the Comprehensive Plan to revise affordable housing policies. The amendments cover three elements of the Comprehensive Plan: Land Use, Housing, and Neighborhood Planning — all of which speak to affordable housing policy objectives and implementation. The purpose of these amendments is to provide clearer policy direction to address affordable housing needs, enable consideration of mandatory and incentive-based affordable housing strategies, and establish an affordable housing program that evaluates impacts resulting from total project area.
As a primer to these policy changes, proposed text amendments within the Housing Element provide an important context. The revised discussion on affordable housing and low-income households wisely states the following (emphasis mine):
Although the average inflation-adjusted prices of for-sale housing in submarket areas of Seattle have not yet surpassed peaks hit in 2006-2007, Seattle's rental housing costs are at their highest to date. Rent prices are susceptible to sharp increases during periods of high demand, and this particularly impacts low-income households. Indeed, the Housing Needs Assessment (see Housing Appendix) includes ample data demonstrating that Seattle's low-income households have disproportionately high housing needs.

Housing costs unduly affect people of color. Thirty-one percent of black households are severely housing cost burdened, compared with 17 percent of all Seattle households.

Seattle's demographic patterns trace back to its history of racial segregation, urban renewal, and displacement of communities of color caused by market pressures. As in other U.S. cities, the consequences in terms of housing cost burden, generational wealth gained from homeownership, and access to amenity-rich neighborhoods has resulted in chronic inequity and racial disparities. Addressing these inequities and protecting marginalized populations is a primary focus of the Housing Element.

In order to address these issues, it is important for the City to periodically monitor and evaluate the supply of housing affordable to low-income households and the effectiveness of existing programs that provide housing affordable to low-income households in order to understand whether existing programs are sufficient to meet our goals.
Dozens of changes are proposed throughout the three Comprehensive Plan elements. Noticeably, language is consistently added to existing policy statements that could require action instead of merely encouraging it. Clear policy agendas for affordable housing initiatives are also established with statement such as: "Seek to reduce involuntary housing cost burden for households by supporting the creation and preservation of affordable housing" and "Encourage a shared responsibility among the private and public sectors for addressing affordable housing needs. And perhaps most importantly, four sequential proposed text amendments to the Housing Element would directly support the Mayor's Housing Affordability and Living Agenda recommendations. Together these would facilitate new affordable housing regulations and programs that give the City broad authority to institute a commercial linkage fee, regulations for mandatory inclusionary housing, and similar measures. Policy H29.2 would explicitly enable the City to assess linkage fees on new development:
H29.2 Consider using substantive authority available through the State Environmental Policy Act to require that new development mitigate adverse impacts on housing affordable to low-income households.
Policy H29.4 similarly empowers the City to exact mandatory affordable housing regardless of companion rezones as part of new development:
H29.4 Consider requiring that new development provide housing affordable to low- income households. Consider adopting such an approach either with or without rezones or changes in development standards that increase development capacity.
Additional policies H29.6 and H29.8 would direct the City to consider alternative means to retain existing affordable housing units and recongize the community value that affordable housing brings to those most in need of it:
H29.6 Consider implementing programs to preserve or enhance currently affordable housing in order to retain opportunities for low-income households to live in Seattle.

H29.8 Recognize that the provision of housing affordable to low-income households can help provide low-income households with access to education, employment, and social opportunities; support the creation of a more inclusive city; and reduce displacement of households from their neighborhoods or the city as a whole.
Next week, I will detail the Comprehensive Plan update for the University District. Stay tuned.

Stephen is a professional urban planner in Puget Sound with a passion for sustainable, livable, and diverse cities. He is especially interested in how policies, regulations, and programs can promote positive outcomes for communities. With stints in great cities like Bellingham and Cork, Stephen currently lives in Seattle. He primarily covers land use and transportation issues and has been with The Urbanist since 2014.