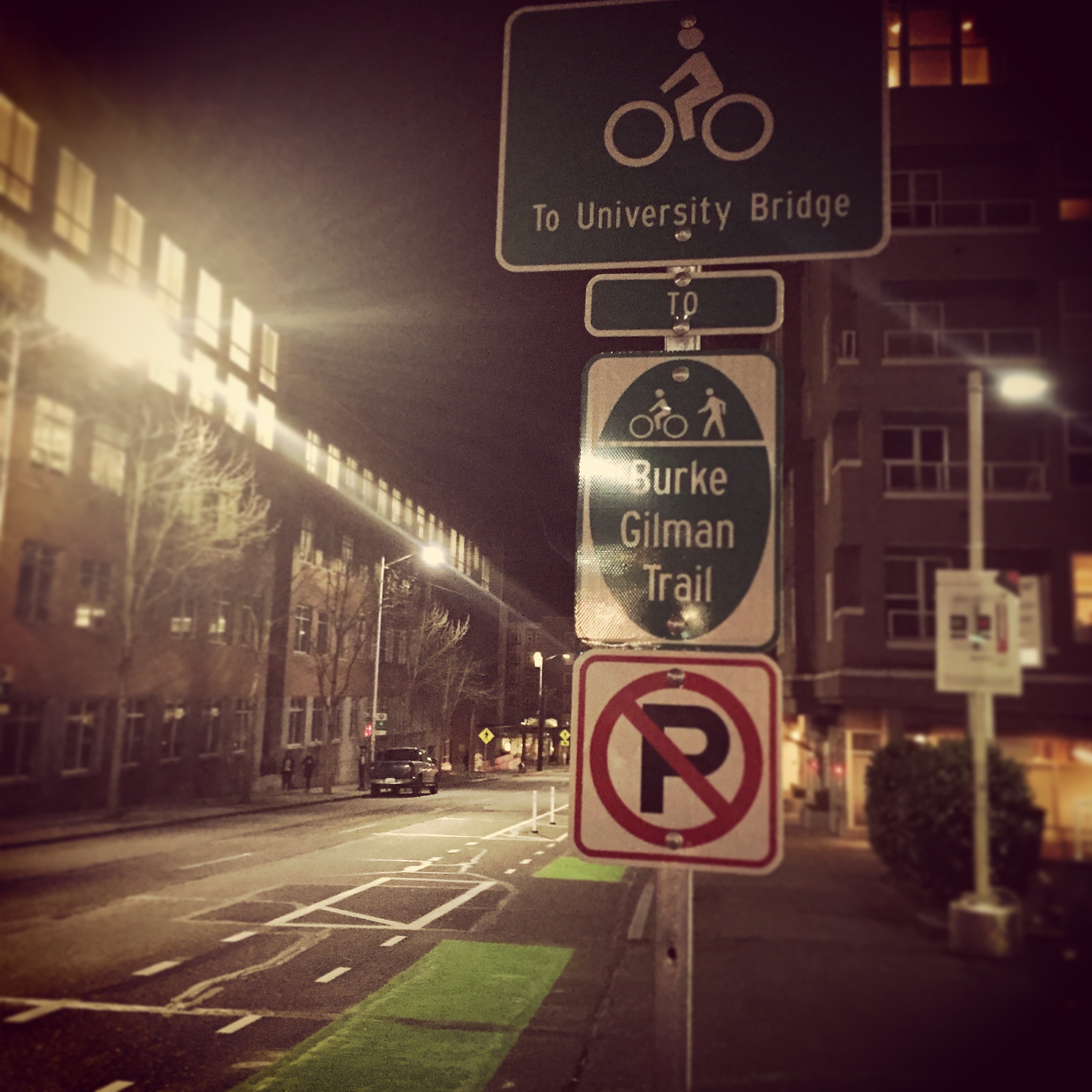 The Seattle Department of Transportation (SDOT) is gathering public input for the Roosevelt to Downtown High Capacity Corridor Project. SDOT is embarking on a process to evaluate options for bus rapid transit (BRT) along the corridor. In preparation for this, a study to capture existing conditions of the corridor was produced revealing a massive trove of important data ranging from population density to sidewalk conditions and collision rates to right-of-way uses. Again and again, the data points to a common thread: a need for safety improvements that benefit people walking and biking. Here's eight reasons why:
1. Car-lite households. Within 1/2 mile of the Roosevelt BRT corridor, 30% of surveyed households don't own a car. Compare this to 8% non-car ownership for the rest of Seattle.
2. Dense car-lite neighborhoods. Where are all of those zero-car households? Much of the corridor; the darkest maroon areas have greater than 10 car-free households per acre.
3. High pedestrian and bicycle collision rates. The corridor that Roosevelt BRT will serve had a high number collisions within a 5-year period. 657 in total collisions occurred between 2010 and 2015, and one-third (184) of those involved a person walking or biking. Safety should be the first priority for Roosevelt BRT.
4. High density corridor. More than 13% of Seattle's population lives within 1/2 mile of the future Roosevelt BRT corridor. Naturally, the population density of this corridor makes it critically important for movement of people.
5. Accessibility challenges. The worst sidewalks along Roosevelt BRT corridor are located within South Lake Union, Eastlake, Roosevelt, and north University District neighborhoods. These neighborhoods make up core segments of the corridor.
6. Low vehicular traffic volumes. Vehicle counts for the corridor are pretty low. Road rechannelizations are recommended for streets where vehicle volumes are under 20,000 to 25,000 per day, making this corridor a prime candidate for change.
7. A reconfigurable corridor. Much of the Roosevelt BRT corridor has 4 lanes (two in each direction, including the Roosevelt/11th couplet), which can easily become 3 or 2 lanes without delaying drivers.
8. We've traditionally focused on the wrong thing. SDOT has devoted a whole section in the Roosevelt BRT study to corridor Level of Service (LOS) and vehicle speeds. LOS is how transportation engineers measure congestion for cars. There's a completely separate section analyzing average speed for existing buses, meaning the LOS section is entirely focused on car and truck movements. LOS should be our absolute lowest priority in trying to move people safely through this corridor.
SDOT will be holding two public meetings tonight and tomorrow; one in Eastlake and one in the University District. Meetings will include a brief presentation on the project, which starts at 6:15 PM each night. This is your chance to weigh in on the future safety and multi-modality of this corridor, so let SDOT hear that you want safer walking and biking facilities!
Wednesday, December 9
6 PM to 8 PM
TOPS School, Cafeteria
2500 Franklin Avenue E
Thursday, December 10
6 PM to 8 PM
UW Tower, Cafeteria North
4333 Brooklyn Avenue NE/td>
A version of this article originally appeared on Seattle Neighborhood Greenways.
Andres Salomon (Guest Contributor)
Andres Salomon is a dad, safe streets advocate, and former mayoral candidate. He lives in Northeast Seattle.