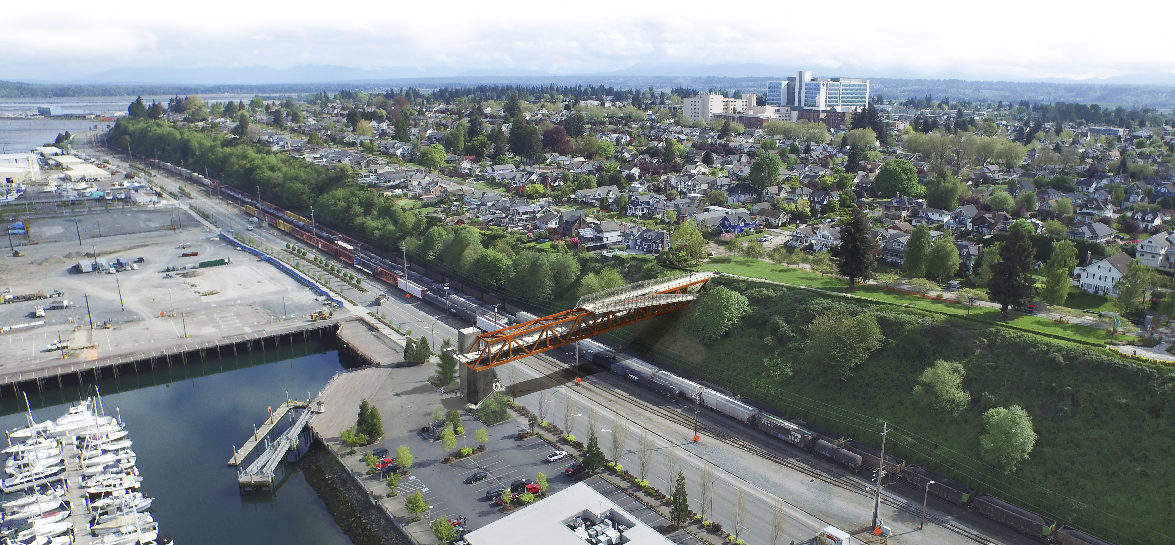 A bridge with a view. That's what Everett plans to build later this year. The project is an outgrowth from various utility needs and a long-standing desire to provide a pedestrian connection from Grand Avenue Park down to the burgeoning waterfront.
The project is still at 60% design, but funding is in the bag and advanced engineering is nearing completion. As proposed, the project includes two key elements: a new bridge over a series of right-of-ways and substantial improvement and replacement of local sewer systems. The bridge will be built into the hillside of Grand Avenue Park and cross five railway tracks1, an electrical transmission line2, and a five-lane highway3. The bridge itself will serve a dual function by enabling pedestrians and bicyclists to easily scale up and down the hillside while making new sewer systems, attached underneath the bridge, readily accessible for repair, replacement, and expansion.
Context
The placement of the bridge is very intentional since it will directly serve existing sewer systems. But the bridge also has some practical benefits for those on foot or bike. The Port of Everett is developing a 66-acre waterfront site with over 660 homes, two hotels, 447,500 square feet of office space, 63,000 square feet of retail, and 20,000 square feet of new marine retail. It's a massive undertaking, but it will eventually serve as a major local generator for housing and employment.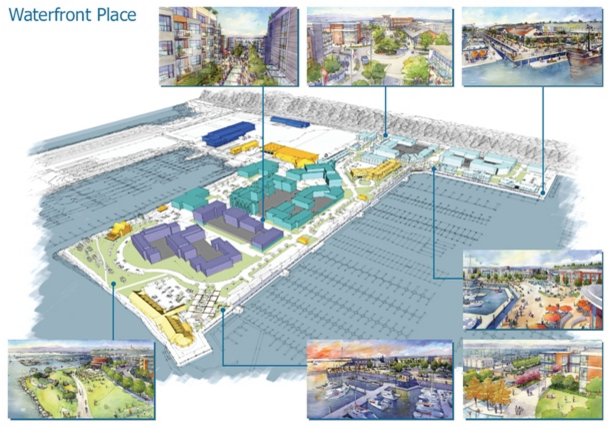 Immediately south of the Port of Everett property is a large Navy installation, which garrisons many uniformed members of the service. The areas north, south, and east of the Grand Avenue Park hillside are largely low density residential in character, but Providence Regional Medical Center is within a 5-minute walking distance while Downtown Everett and Everett Community College are no more than a 10-minute bike ride away.
Importantly, the closest point for pedestrians and bicyclists to access the portion of the waterfront that the bridge will serve is at least one mile south. The new bridge will ultimately provide many North Everett residents and employees a better option.
Bridge Design
Renderings depict a through truss bridge with the western end siting slightly cantilevered over an elevator tower block. The overall bridge design emotes a modern industrial aesthetic. Steel framing resembles a worn copper tone while safety fencing on the bridge will use a modern latticed design with a silver metal. Fence standing at average height will be capped with a copper tone railing and portions of the fencing rise as it extends toward the railway bed below (a safety feature). And perhaps not evident, the bridge decks will be lit by lighting embedded into the floor. Together, these features work to create architectural interest.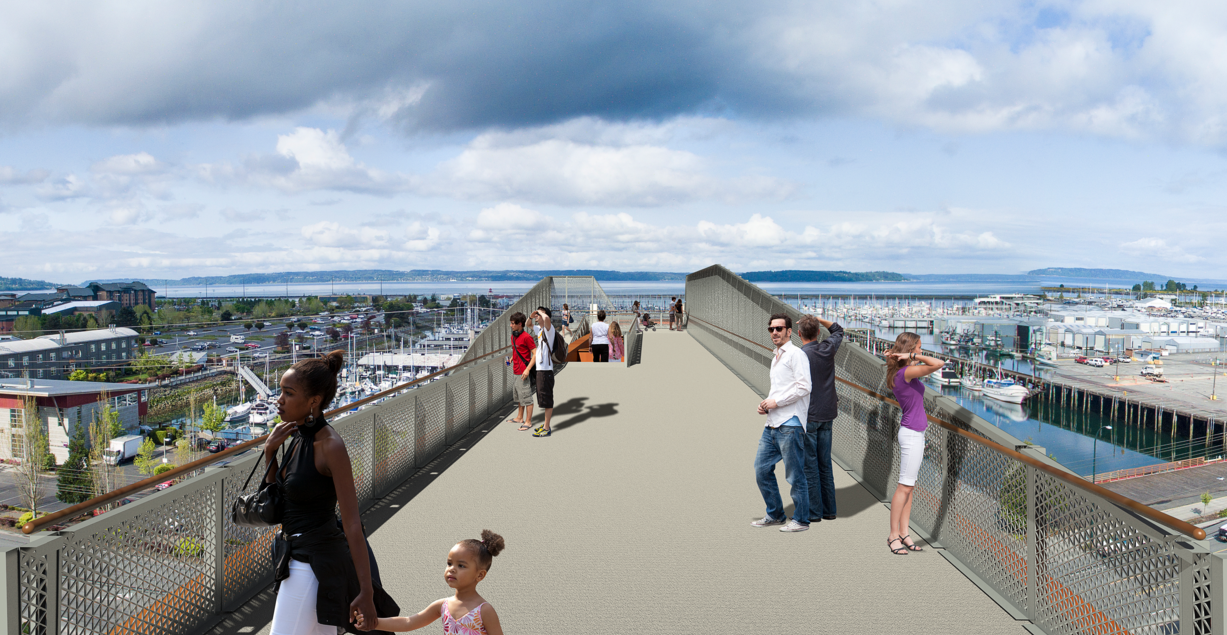 To move pedestrians to different elevations comfortably, the bridge will feature two ramps that act as switchbacks. Ramps reduce the overall grade change and minimize the amount of effort that those less able will need to exert to scale the bridge. At the topmost ramp, pedestrians will be able to walk out to the edge of the deck and take in views to the north, south, and east of Everett and Possession Sound. Indeed, this will be an especially beautiful viewpoint.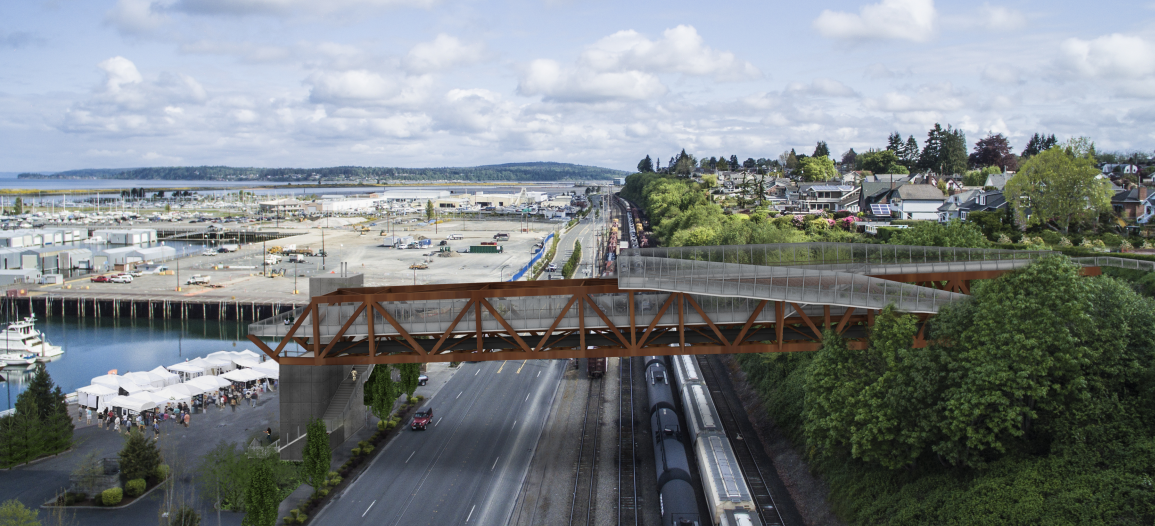 But the switchback also presents some interesting design aspects. The switchback is quite striking from a design standpoint because it will extend outward from the steel framing making it very noticeable from afar as a pedestrian feature. Pedestrians will be able to better appreciate southerly views from it than within the steel truss body of the bridge. The switchback is also a wise design choice because it eliminates the need for an elevator on the hillside and reduces any visual impacts that an elevator tower or higher bridge would create for property owners east of Grand Avenue Park.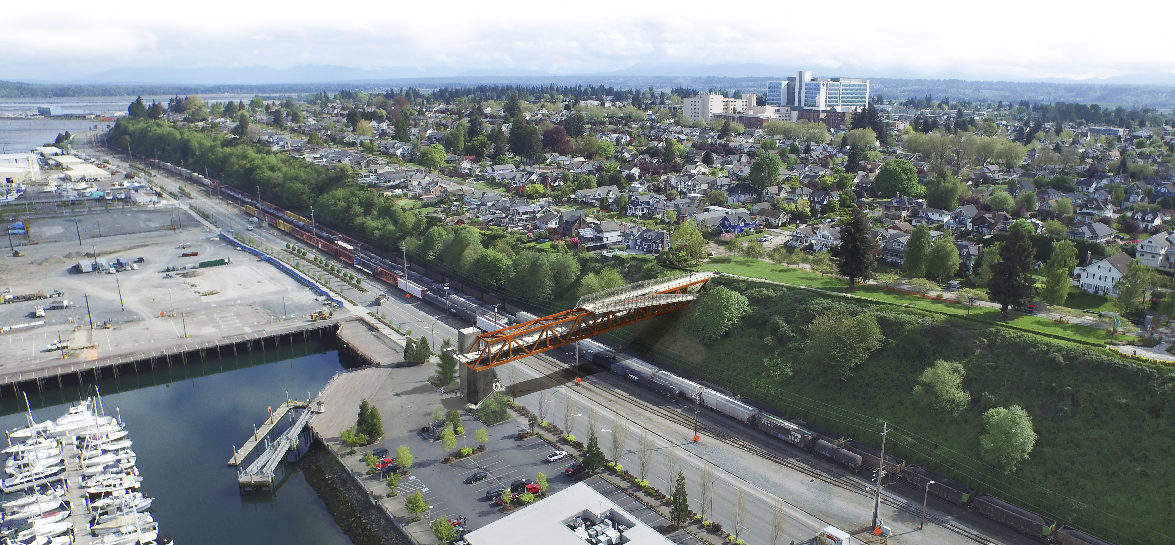 The elevator tower will appear slightly different from the one depicted below. Part of the reason for that is due to a request by the Port of Everett for enhanced safety and security features. Staff say that the elevator and its entrances will be fully transparent with glass windows. Obviously, the elevators provide greater accessibility to those with mobility issues. Those who are more nimble can scale the elevator tower using the winding staircase. The upper landing should provide an unobstructed view across Possession Sound.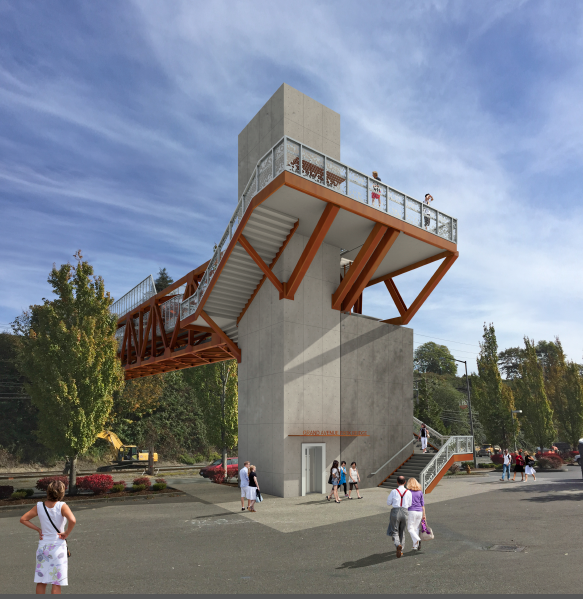 The Sewer Component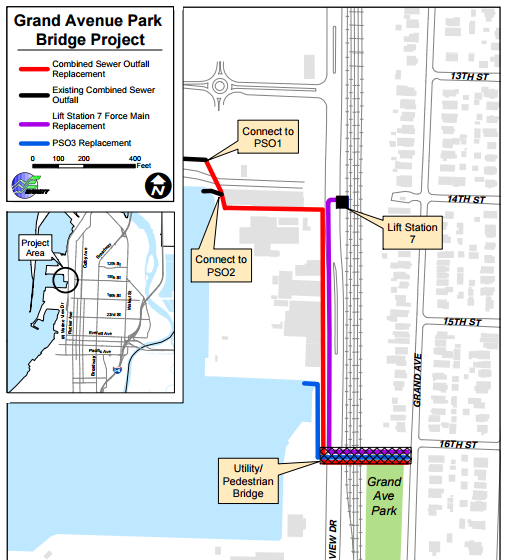 A combined sewer system for stormwater and wastewater was constructed in this portion of North Everett about 100 years ago. But water issues have increasingly become a problem in North Everett with many instances of basement flooding. Adding to the problems, a landslide in 2013 caused substantial damage to a stormwater outfall on the steep hillside. Recognizing that these problems wouldn't just resolve themselves, the City of Everett set out to come up with plans to build new systems to accommodate current and future needs.
The City identified a new bridge extending from 16th Street as the preferred means to carry pipelines for stormwater and sewer systems across the railway, transmission line, and roadway. Plans specifically call for three components to replace existing systems, including: a new lift station main (Lift Station 7), a new combined sewer system to connect two existing outfalls (PSO1 and PSO2) on the Port of Everett property, and the creation a new outfall (PSO3) that will be dedicated exclusively to stormwater.
Funding and Timeline
Everett puts the total project cost for the bridge and utility improvements at $13.6 million. $10.7 million will be dedicated toward utility upgrades and replacement while a further $2.9 million will go toward the pedestrian bridge itself. Funding for the pedestrian element is mostly paid for by grants; the Federal government is chipping in $2 million. Rounding the remaining $900,000 is a $600,000 contribution from the City's general fund and a $300,000 pledge from the Port of Everett.
The City anticipates 100% project design by March, but an actual start date is somewhat uncertain given other approvals required by agencies. City staff have suggested that groundbreaking could happen somewhere from mid-2016 to late-2016. Once construction has begun, work on the bridge will take about 14 month, meaning an opening date like in late 2017.
---
Right-of-way owned by Burlington Northern Santa Fe.
Right-of-way owned by Snohomish County Public Utility District No. 1.
Right-of-way owned by Washington State Department of Transportation.

Stephen is a professional urban planner in Puget Sound with a passion for sustainable, livable, and diverse cities. He is especially interested in how policies, regulations, and programs can promote positive outcomes for communities. With stints in great cities like Bellingham and Cork, Stephen currently lives in Seattle. He primarily covers land use and transportation issues and has been with The Urbanist since 2014.