In a major announcement yesterday, Seattle Mayor Ed Murray and King County Executive Dow Constantine revealed that an agreement to spend $20 million on affordable housing in Northgate had been made. At least 200 units will be constructed benefiting low-income families with access to quality housing, local services, and frequent transit. The affordable housing will be built as part of a larger transit-oriented development (TOD) investment on four parcels of land owned by King County Metro Transit at the Northgate Transit Center. The four-block site is bounded by NE 103rd and NE 100th Streets, adjacent to the Northgate Park-and-Ride and Thornton Place development.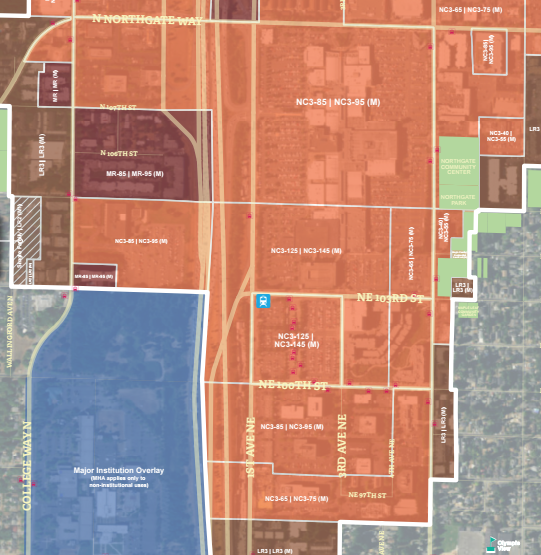 Zoning on the sites allow buildings up to 125 feet in height with a Neighborhood Commercial 3 (NC3-125) designation, but could go to 145 feet (NC3-145) under a draft rezone proposal. Mid-rise development in the area already reaches seven stories, but the promise of high capacity transit and generous zoning could unleash new construction in the high-rise range.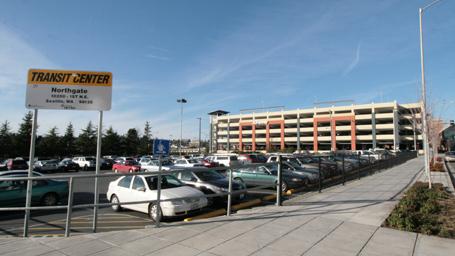 A Cooperative Agreement signed by the City and County specifies the requirements by each party for affordable housing and outlines parameters for a future Development Agreement of the TOD sites. King County plans to develop the sites with additional market-rate housing, retail and commercial uses, and office space to better make use of the forthcoming light rail station in 2021.
The City and County will both contribute $10 million to total $20 million for the publicly financed affordable housing. Funding for the units is coming from the City's recently approved (and redoubled) 2016 Housing Levy and the County's Transit-Oriented Development bond fund.
In a statement, Mayor Murray said:
Transportation has the power to transform entire communities. The arrival of light rail in five years at the busiest transit hub in Seattle means the Northgate community is poised to become one of the most connected, livable areas of the city. Today's announcement ensures affordable housing will be part of that future, with residents and families of all incomes having the opportunity to live in a vibrant community with easy access to transit, jobs, and higher education.
Meanwhile, Executive Constantine noted that:
 The arrival of light rail at Northgate presents a remarkable opportunity to create a community where families can live, work, and shop without ever getting behind the wheel. By investing in affordable housing, we ensure Northgate continues to be an inclusive and diverse neighborhood, connected to the region by a fast and efficient bus and rail network, as well as bike and pedestrian improvements. This is how we can grow and meet our housing and transportation needs, now and into the future.
The Northgate Transit Center is already a very busy hub in the north end of the city. Some 6,500 riders board 13 bus routes (11 Metro and two Sound Transit routes) on an average weekday. Note the facility has good access to neighborhood services, dense housing complexes, and 1,500 parking stalls (spread between two parking garages and multiple surface parking lots).
When light rail opens, Sound Transit expects transit ridership to skyrocket, in part because of TOD investments like Metro's, but also because it will draw new riders from further afield. By 2030, the Northgate light rail station is anticipated to have over 15,000 daily boardings, which translates to about a 230% increase in ridership. Seattle plans to improve walkability and bikeability in the area, too, by constructing a new bridge over I-5 for just pedestrians and bicyclists. The new facility should expand the total walkshed/bikeshed of the Northgate light rail station and urban center.
King County plans to sell or lease the four parcels of land to a single developer. Using a competitive bidding process, prospective developers will be welcome to submit development proposals in mid-2017 with the winning bidder starting development as soon as late 2018.
The County hopes that the first phase of development would be wrapped up to coincide with the opening of the light rail station in 2021. That phase would include the affordable housing component. The TOD site will also deliver a lot more affordable housing in the years to come. With the promise of a citywide Mandatory Housing Affordability program, most new multi-family residential and commercial development will be subject to delivering affordable housing units through on-site unit set-asides or payment of affordable housing fees. If the City plays its cards right, Northgate could become an equitable and inclusive TOD station area model for the region to emulate.

Stephen is a professional urban planner in Puget Sound with a passion for sustainable, livable, and diverse cities. He is especially interested in how policies, regulations, and programs can promote positive outcomes for communities. With stints in great cities like Bellingham and Cork, Stephen currently lives in Seattle. He primarily covers land use and transportation issues and has been with The Urbanist since 2014.