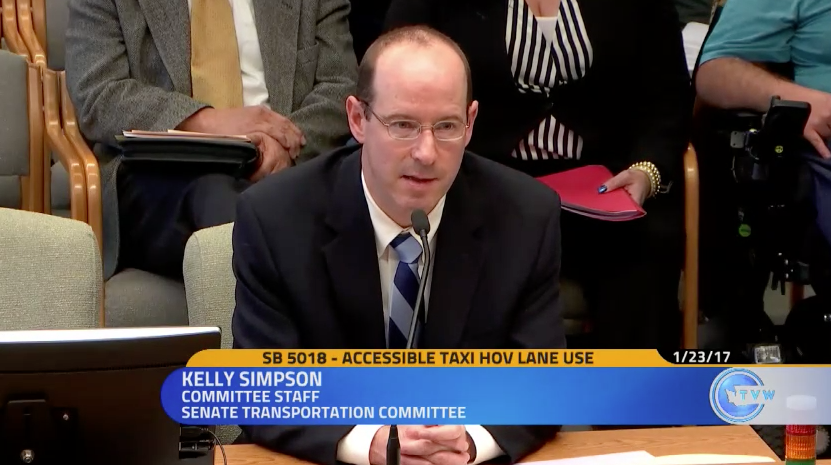 The busy legislative session is underway down in Olympia. A mixed bag of transportation-related bills have been introduced to both houses of the Washington State Legislature. These include new transportation fee options, adding new areas to the Sound Transit regional transit authority area, creating a new state-wide bicycle safety advisory council, and making policy changes on tolling and tolling facilities. Below is a round-up of the bills making their way through the legislative process:
House Bill 1029 (see companion Senate Bill 5001) would modify the governance structure of Sound Transit. 19 new single-member districts within the Sound Transit regional transit authority would be created with members elected directly by voters. This is different from the current system which apportions membership to the Sound Transit Board of Directors by county and certain representation requirements for cities with all seats being held by local elected officials, except the Secretary of the Washington State Department of Transportation. Each voting member would receive up to $10,000 per year. A large group of anti-transit Republicans are lining up behind the bill to dismantle the ability of Sound Transit to deliver new capital projects and service. The Republicans are hopeful that low-information and anti-transit candidates would be elected under the system to derail the organization.
House Bill 1030, dubbed the "Eastside Corridor Congestion Relief Act," would eliminate variable high occupancy toll (HOT) lanes on Interstate 405. Portions of the highway have two HOT lanes, which required conversion of one general purpose lane and one high occupancy vehicle (HOV) lane to achieve; other segments only have one HOT lane, which only required conversion HOV lane. Since HOT lanes were instituted on the highway in 2015, widespread anger has been expressed by commuters over the new lane restrictions and tolling system, despite some metrics suggesting that congestion may have temporarily improved. Local legislators, both Democrat and Republican, have voiced opposition to the current situation. The proposed bill would essentially revert the highway back to one high occupancy vehicle lane with the remainder lanes for general purpose, and push the Washington State Department of Transportation to create a fourth general purpose lane in each direction. It appears that bill is already dead for this legislative session, but the implication of it would have decidedly negative impacts on transit performance on the corridor and do little or nothing to ease congesting. At the same time, it may have a positive implication from a land use standpoint by discouraging long-distance commutes, particularly from urban fringes. The bill is sponsored by Representative Mark Harmsworth (R-Mill Creek) and co-sponsored by a handful of other Republicans and two Democrats, Representatives Derek Stanford (D-Bothell) and Gerry Pollet (D-Seattle).
House Bill 1175 would allow the City of DuPont to institute an extra 0.6% sales tax through a city-wide Transportation Benefit District. The sales tax would have to be approved by the voters. Representative Dick Muri (R-Steilacoom) is the primary sponsor of the bill.
House Bill 1199 (and companion Senate Bill 5203) would allow transit infractions by some youth to be carried out in a youth court. Under current law, 16- and 17-year-old juveniles are typically sent to a regular court unless they are referred to a youth court where the case is heard by their peers. The proposed law would make youth court the standard for these types of cases so long as the juvenile hasn't been committed of a traffic or transit infraction before that was heard by the youth court or been committed for another crime, and acknowledges that he or she would have had a high likelihood of having been committed for the infraction. Representative Morgan Irwin (R-Enumclaw) is the primary sponsor of the House bill.
House Bill 1246 concerns school bus safety. Newly manufactured school buses after September 1, 2018 would need to be equipped with shoulder strap seat belts for all passengers. By the same date, all school districts would need to equip cameras to the rear of their buses to electronically record and capture any other vehicle committing an infraction. School districts that install such camera devices prior to August 1, 2017 will be able to use infraction monies derived for their vehicle transportation funding and school zone safety projects. School districts that fully participate on or after the August date would have to divvy the infraction money up for law enforcement and courts processing the infractions and the new state School Bus Safety Account. The bill has bi-partisan support and is sponsored by Representative Gina McCabe (R-Goldendale).
House Bill 1268 seeks to exempt construction or addition to a road any sidewalk, pedestrian path, or sidewalk extension from State Environmental Policy Act (SEPA) review process so long as no additional automobile lanes are added by the project. In 2016, the Washington State Department of Ecology issued new rules that specifically categorically exempted bicycle facilities and pedestrian facilities from SEPA review if they didn't involve projects adding automobile lanes. These categorical exemptions, however, are predicated on the projects not taking wholly or partly on lands covered by water, requiring a license governing non-exempt discharges to water or emissions to or, or requiring a non-exempt land use decision. This new exemption would reach further than the existing categorical exemptions, but could have significant unintended environmental implications. The bill is sponsored by Representative Mark Harmsworth (R-Mill Creek).
House Bill 1307 could allow local jurisdictions to give roads dual speed limits. It's not clear what the intent of the law is: dual as in differing types of vehicles may go different speeds or if posted limits would indicate when the different speed limits are in effect. Matt Shea (R-Spokane Valley) is the primary sponsor of the bill.
House Bill 1331 (and companion Senate Bill 5403) would make a minor adjustment to county-operated ferry districts by clarifying that ferries need not only be passenger-only vehicles. Representative Christine Kilduff (D-University Place) is the primary sponsor of the bill.
House Bill 1345 would increase two vehicle fees. The filing fee for vehicle registration would increase from $3.00 to $4.50 and the filing fee for a certificate of tile would increase from $4.00 to $5.50. This, of course, does not include other vehicle fees that may be applicable. The modest fee increases would help cover the increasing cost of service delivery. Representative Jake Fey (D-Tacoma) is sponsoring the bill.
House Bill 1371 would target districting driving by upgrading state law to catch up with our evolving usage of phones. Current state law is made for the era of flip phones focusing on a hands-free approach and prohibiting texting. House Bill 1371 would strike current law and imposing a new infraction for any electronic device when a motorist holds, watches video, or otherwise uses their "hand[s] or finger[s] to compose, send, read, view, access, browse, transmit, save, or retrieve email, text messages, instant messages, photographs, or other electronic data" on such device. An exclusion would be provided for the instance of activation, deactivation, and initiation of the device. Certain exemptions would also apply for emergency phone calls, commercial vehicle operators, and transit operators. Representative Jessyn Farrell (D-Seattle), former Transportation Choices Coalition alumna, is sponsoring the bill, which is getting strong bipartisan support. Road safety advocates will undoubtedly be signing up to support the law.
House Bill 1405 would create a statute of limitations on toll collections. The bill would require that any agency collecting or seeking collection of tolls or civil penalties related to tolls must commence such action within six months from the vehicle using a toll facility where the toll became due. The intent is to avoid some of the very botched toll collections carried out by the Washington State Department of Transportation and its agents. Representative Mark Harmsworth (R-Mill Creek) is sponsoring the bill.
House Bill 1410 (and companion Senate Bill 5288) would give Thurston County a new local option to fund public transit. In effect, Intercity Transit would be able to submit a proposition to impose a sales tax anywhere from one-tenth to three-tenths of one percent to voters. Representative Beth Doglio (D-Olympia) is the original sponsor of the House bill.
House Bill 1581 would cap the daily toll for motorists crossing the Tacoma Narrows Bridge. Motorists are currently only charged a toll when headed eastbound on the bridge for each trip. The bill would eliminate additional crossing charges after the first crossing during a single day. Representative Jesse Young (R-Gig Harbor) is the primary sponsor of the bill.
Senate Bill 5018 would expand usage of the state's high-occupancy vehicle (HOV) lanes to include wheelchair-accessible taxicabs in addition to other types of authorized vehicles that may not always have the minimum number of persons required to be present in a vehicle when using an HOV lane. Expanding the exemption for wheelchair-accessible taxicabs would likely encourage other taxi drivers to provide the same service and expedite dispatch of the vehicles to riders who need the specific wheelchair-accessible service. So far, just 53 such vehicles existing in Washington state with all of them located in King County. Senator Bob Hasegawa (D-Seattle) is the primary sponsor of the bill.
Senate Bill 5309 concerns allowing voters in contiguous counties to a county that has areas participating in Sound Transit's regional transit authority area to opt-in as a new subarea of the service and taxing district. The bill has one sponsor, Senator Sam Hunt (D-Olympia), who has previously advocated for adding other counties and cities like Thurston and Olympia to the Sound Transit service and taxing district. If approved, there would be a process to determine which areas in another county would qualify for participation in the regional transit authority and voters would have to approve by ballot proposition. Any new subarea opting in under the provisions would automatically be subject to the same taxing rates imposed by regional transit authority. In the case of Thurston County, billions of dollars more could be provided for transit to develop commuter rail, light rail, and regional bus service.
Senate Bill 5402 would create a new state-wide bicycle safety advisory council. At minimum, the bicycle safety advisory council would have 12 representatives consisting of specialists like a traffic engineer, emergency medical technician, public health official, multi-modal transportation planner, and law enforcement road fatality investigators. The group would be required to meet at least once quarterly to review bicycle cases of serious injury and fatality. Importantly, the group will be tasked with delivering an annual report detailing findings and recommendations. The recommendations may identify changes to policies, strategies, ordinances, statutes, and rules that could improve bicycle safety. Senator Marko Liias (D-Lynnwood) is the primary sponsor of the bill.
It's hard to know which of these will be taken serious and jump through the legislative hoops to get a floor vote. Like all things in the Legislature, it is a Hunger Games-like adventure for bills to make the final cut. We'll update you as the legislative season moves forward on which bills end up as the Victors.

Stephen is a professional urban planner in Puget Sound with a passion for sustainable, livable, and diverse cities. He is especially interested in how policies, regulations, and programs can promote positive outcomes for communities. With stints in great cities like Bellingham and Cork, Stephen currently lives in Seattle. He primarily covers land use and transportation issues and has been with The Urbanist since 2014.