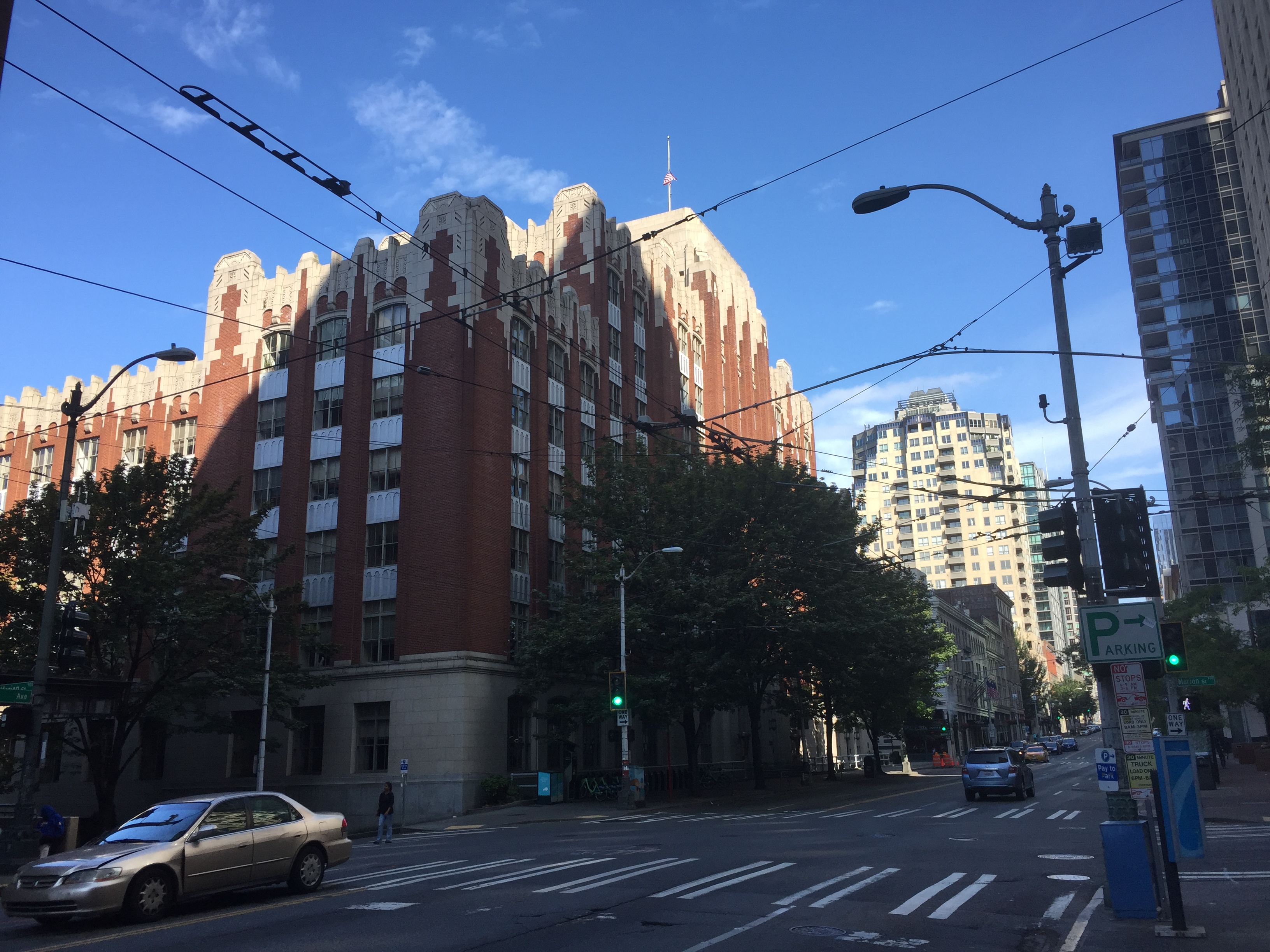 The rezone proposals for Downtown Seattle and South Lake Union (SLU) could be getting a handful of refinements. The Seattle Planning, Land Use, and Zoning (PLUZ) Committee will take up discussion on the proposal and possible amendments to it. The PLUZ Committee could also take votes on amendments and the full bill, sending it to the full City Council. The bulk of the proposal is focused on rezoning most parts of Downtown and South Lake Union to unlock affordable housing provisions built into Mandatory Housing Affordability (MHA) program. Once passed, new developments in those areas will generally have to contribute toward affordable housing development either through voluntary construction of such units or paying a fee to the City to fund new affordable housing.
A variety of technical amendments to the ordinance are proposed, most which are targeted at bringing it up to date with recently passed land use ordinances. Councilmembers are also considering a handful of other amendments to address technical topics like "combined lots" and "assumed lots" as well incentivizing participation in MHA and construction of family-sized units.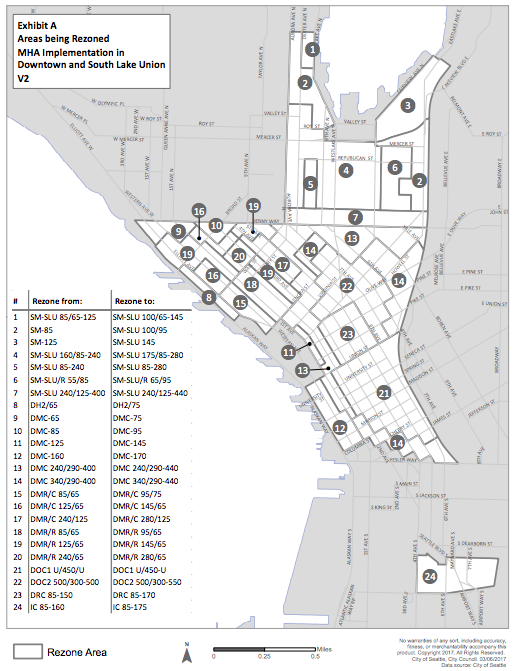 "Combined Lot" Revisions
In certain Downtown zones (DOC1, DOC2, and DMC 340/290-440), it is permissible to transfer development capacity from one lot to another on the same block. This allows the receiving lot to increase its total development capacity, but also has the effect of reducing how much floor area of the receiving lot that would otherwise be subject to participation in incentive zoning absent the combined lot. The City processes such "combined lots" only if the applicant demonstrates that a significant public benefit will be provided. The Land Use Code outlines a variety of public benefits, which include options like landmark preservation or setting aside space for a grocery store or public community center.
The amendment would eliminate short-term parking and improving building massing as qualifying public benefits. It would also clarify the option related to housing requiring such housing to be affordable housing and exceed the standards of the MHA program. Other technical changes would require applicants to provide a detailed written report of the public benefits and the Seattle Department of Construction and Inspections (SDCI) to process such requests as a Type II administrative decision appealable to the Hearing Examiner.
Opt-In Provision To MHA
Two new sections could be added to the MHA-Residential and MHA-C chapters to allow vested land use applications to opt-in to the MHA program. Approximately 40 developments proposed within Downtown and South Lake Union have not yet reached construction. These provisions would allow such projects to voluntarily participate in MHA by complying with the MHA requirements for any extra floor area that would otherwise be subject to MHA if the project were new.
To qualify, the project must have been vested to the City's Land Use Code before the effective of the opt-in provision added by ordinance. A qualifying project must also have received its required Design Review Recommendation, though the Recommendation need not have been completed prior to the effective date of the opt-in provision. Any changes made by adding square footage would be exempt from additional design review so long as the overall design is consistent with the original design review approval. Additionally, the changes can't necessitate further development standards departures from the Land Use Code.
In essence, this proposed amendment would expand the MHA program to incentivize projects already in the development pipeline to contribute toward the city's affordable housing supply.
Family-Sized Units Incentive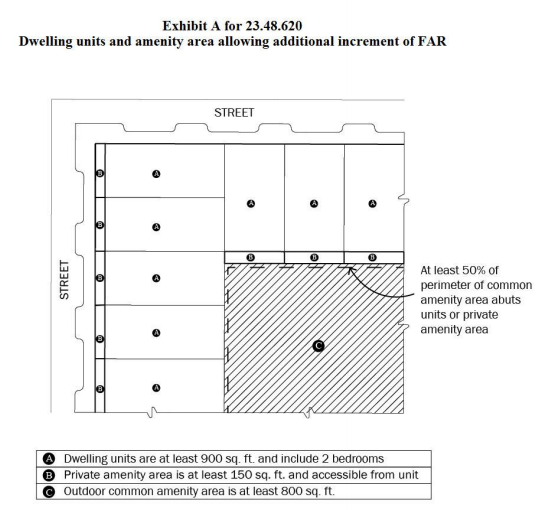 According to data by the Office of Planning and Community Development, apartments in Downtown and South Lake Union are severely lacking family-sized units. 20% of apartments have two-bedroom units and less than 1% have three or more bedrooms. An incentive for family-sized units could get an add, but given existing development regulations widely in place, the incentive would be narrower than in other areas. Since residential floor areas is generally exempt from maximum floor area calculations, the amendment would target commercial square footage. Extra floor area for commercial uses would be permitted if a developer provides at least ten dwelling units with two or more bedrooms. The dwelling units would have to be provided with direct access to an outdoor amenity space, similar to the recently approved University District urban design and zoning proposal.
Transportation Management Program Requirement
The City typically requires development of a Transportation Management Program (TMP) whenever a large commercial project (100,000 square feet or more of commercial uses) is proposed to mitigate significant transportation impacts. Under an SDCI rule, a TMP can also be required for other large projects when subject to environmental review or otherwise required by the Land Use Code. A likely amendment would subject more projects in Downtown and South Lake Union to a TMP, which could be modeled on a similar provision passed as part of the University District urban design and zoning proposal. The goal of the TMP requirement would be to reduce single-occupancy vehicle trips in new developments. Developers would be able to propose things like information campaigns on modal options, provision of subsidized transit passes, and on-site bicycle storage for tenants.
Tower Separation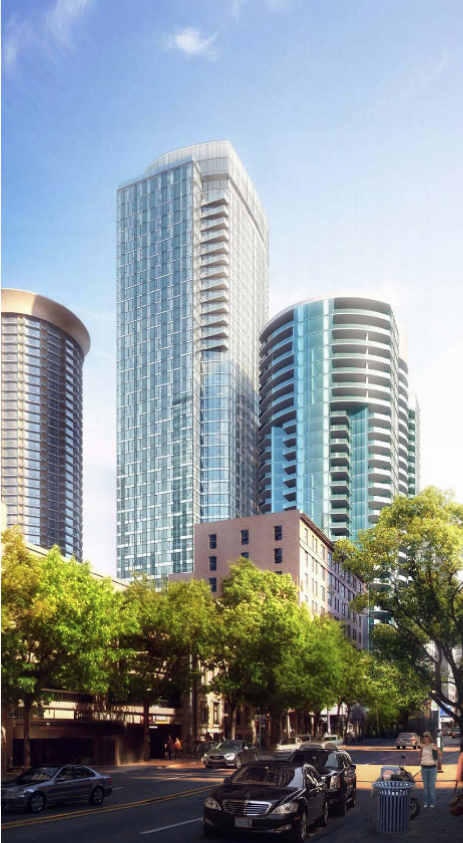 Tower separation has been a recurring topic for Downtown development in recent years. Escala residents vigorously raised concerns with an adjoining tower proposal over a very modest tower setback (effectively the existing alleyway) in Belltown. In June, the Downtown Residents Alliance filed an appeal against the proposed Downtown and South Lake Union rezones on grounds of similar livability concerns only to later drop the appeal. The proposed ordinance, however, would only modify rules for vesting a tower project based upon existing tower separation regulations, not revise the underlying tower space requirements.
An amendment would partially address tower spacing concerns by developing a comprehensive resolution section in the ordinance stating the City Council's intent to review the issue further as part of a wider urban design framework, which could include:
Development of a new option for developers to achieve extra building height in the DOC2 zone in exchange for increased setbacks from existing residential structures;
Review of established right-of-way management policies and strategies and ways to revise them to maximize the use of alleyways;
Exploration of how existing streets can be put to use as green space and public and how more Green Streets could be developed; and
A wholesale look at the existing urban design strategy for Downtown and updating it, including revisions to neighborhood design guidelines.
"Assumed Lot" In South Lake Union
A technical amendment related to "assumed lots" could be introduced, which is specific to South Lake Union. In a recently passed omnibus bill, the Land Use Code was amended allowing some mixed-use developments to modify the calculation for floor area. The issue with the provision is that it could have unintended consequences for urban design, particularly upper-level development standards (e.g., podium height for towers) in South Lake Union. The amendment would limit the scope of "assumed lots" to only the SM-SLU 85-240 zone instead of all SM-SLU zones.
Outcomes
The rezones if adopted promise some positive outcomes. Development in South Lake Union would be able to achieve greater absolute densities relieving some pressures for additional property aquisition and development in the long-term throughout Seattle and the region. It also could result in the development of 2,100 or more rent-restricted affordable housing units in the next 10 years, which is more than a third of the city-wide goal for the MHA program.
Central Staff Memo – Downtown-SLU – 3-21-17 by The Urbanist on Scribd
Related Articles
A First Look At The Downtown And South Lake Union MHA Rezones

Stephen is a professional urban planner in Puget Sound with a passion for sustainable, livable, and diverse cities. He is especially interested in how policies, regulations, and programs can promote positive outcomes for communities. With stints in great cities like Bellingham and Cork, Stephen currently lives in Seattle. He primarily covers land use and transportation issues and has been with The Urbanist since 2014.