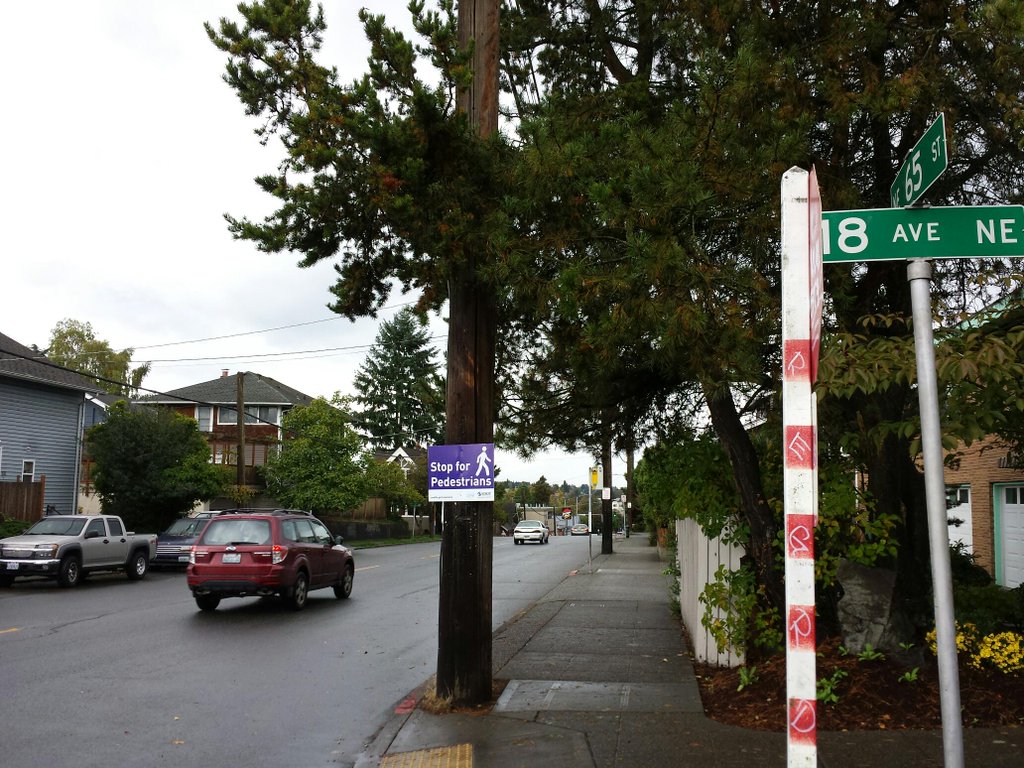 NE 65th Street is one of the most collision-prone corridors in North Seattle. There have been 231 crashes on the street between Ravenna Boulevard and 39th Ave NE, and three people have died as a result of those crashes. It's a huge street, with only two marked lanes in each direction but with enough room for four lanes. This leads to an environment where drivers frequently exceed the speed limit and pedestrians are reluctant to cross the street at unmarked (but legal) crosswalks.
As Sound Transit continues to work toward opening a light rail station near I-5 at Roosevelt Way and NE 65th St in 2021, people who live around NE 65th St have had enough of the status quo on the street, and want a safe street through their neighborhood. Rallies were held, hell was raised, Councilmember Rob Johnson (District 4, Northeast Seattle) agreed that something must be done, and money was added to the Bike Master Plan budget this past year for a fix on the corridor.
The plan from the Seattle Department of Transportation (SDOT) is to implement near-term improvements this year but not install the complete corridor rechannelization until 2019. Yesterday they held an open house to present the different options being considered for different segments of the street, and turned on an online survey for people to give feedback on those changes.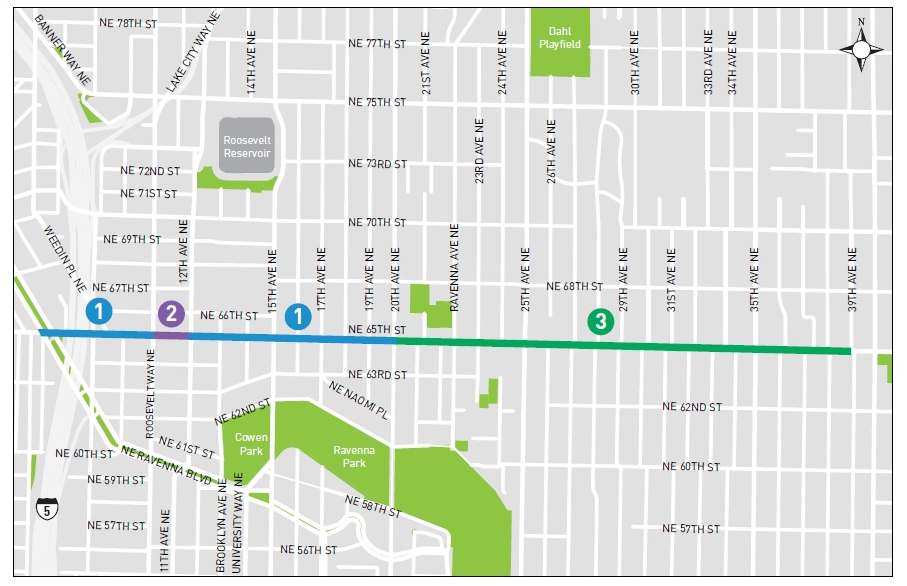 Ravenna Blvd to 20th Ave NE (except for Roosevelt to 12th)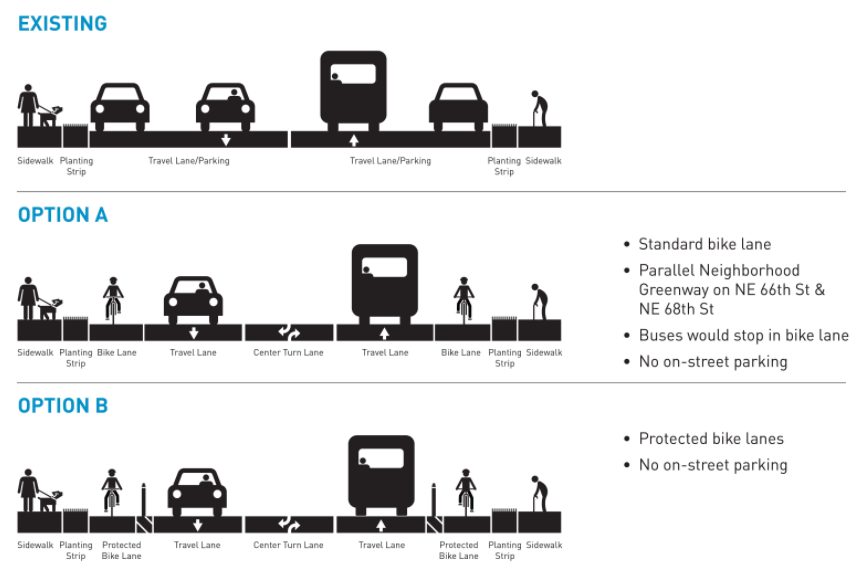 Options A and B differ here only in that Option A is an unprotected bike lane, not fit for all ages and abilities, whereas Option B is. Option B comes with slightly smaller travel lanes and slightly smaller bike lanes. Well, there is one other difference: in Option A, buses make stops in the bike lane, which sounds terrible for everyone involved. In Option B, there are two additional options for what happens at bus stops.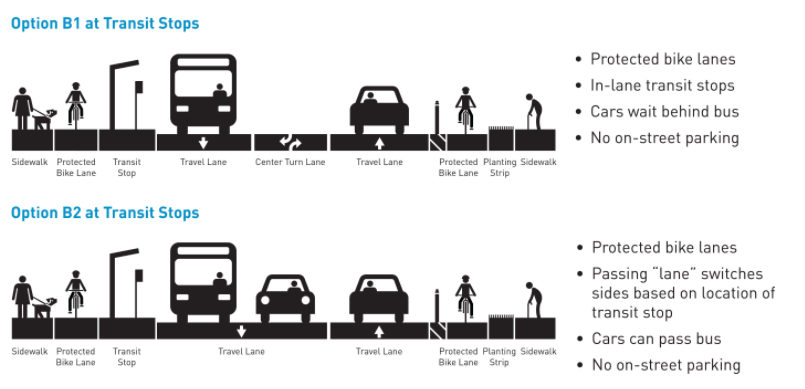 In both options where a protected lane is installed, NE 65th Street is actually widened at transit stops, by taking out the planting strip between the sidewalk and the bike lane. The transit stop would be on an island, like the current stops on Dexter Ave N and Roosevelt Way, and the bike lane would go between the island and the sidewalk. The only difference between Options B1 and B2 is whether the travel lane should be kept extra wide, like it currently is on NE 65th St, so that drivers can pass stopped buses, or if there should be a marked turn lane in the center like everywhere else.
The answer is pretty clear here as well: in-lane transit stops are efficient for buses (which do not significantly impact travel time for cars) and encouraging drivers to weave around buses is terrible for safety. At the open house, SDOT confirmed that they will be working with Metro to consolidate bus stops along the corridor, which is all the more reason to stick with in-lane stops. Even with the center turn lane, drivers may still choose to pass stopped buses unless there is a clear signal from the roadway design that doing so is dangerous. But of the given choices presented, Option B1 is clearly the better choice.
Roosevelt to 12th Ave NE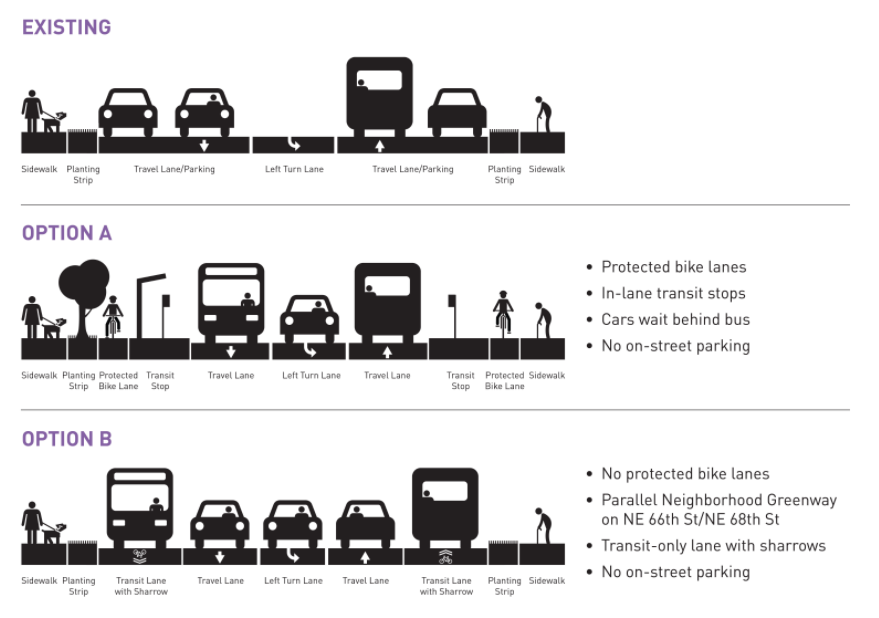 If you're thinking you really like this project but what it needs is more sharrows, the Roosevelt Way to 12th Ave NE segment is just for you. This is probably the most important segment of the corridor, the part that is directly adjacent to the new Sound Transit light rail station. The two options being considered are: protected bike lane, just like the rest of the street immediately adjacent, or transit-only lane with a bike symbol painted on it. Give people on bikes an actual connection to Ravenna Boulevard or let them play leapfrog with buses for a block? Pretty clear choice here once again.
20th Ave NE to 39th Ave NE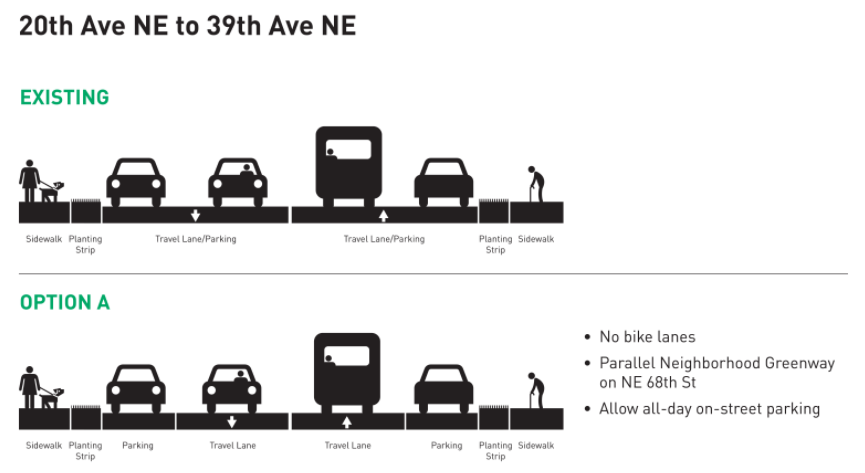 Down the street, from 20th Ave NE to 39th Ave NE, there is only one option on the table in SDOT's survey of streetscape improvements: do nothing. They propose painting a line between the parking lane and the travel lane, and doing nothing else. People on bikes are encouraged to go to the Greenway one very long block away at NE 68th St. Of course, the main business district in Ravenna is mostly located east of 20th Ave NE.
Vision Zero Project?
Completely punting on any improvements east of 20th Ave NE, keeping a sharrow-only segment of the protected bike lane corridor on the table, and suggesting keeping lanes extra wide at transit stops in exactly the spots where they need to be kept narrow for safety are all pretty troubling aspects of this proposal. Cannibalizing the planting strip also seems very short-sighted on a street that is already really wide. The bike lanes on the street corridor are a great benefit, but the primary purpose of the project is to narrow travel lanes so that driver speeds go down and the corridor becomes more pleasant to walk on.
This project along with Rainier Avenue's rechannelizing are set to take center stage in Seattle's Vision Zero program as capital projects that are primarily about safety. We need to make sure these are done correctly, and the proposals that are outlined in the concepts survey all raise serious concerns about getting the design right.
Take the online survey and tell SDOT what you think about their concepts for Vision Zero on NE 65th Street.
Featured image by Andres Salomon.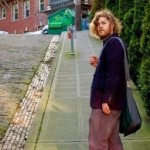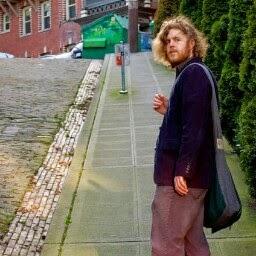 Ryan Packer lives in the Summit Slope neighborhood of Capitol Hill and has been writing for the blog since 2015. They report on multimodal transportation issues, #VisionZero, preservation, and local politics. They believe in using Seattle's history to help attain the vibrant, diverse city that we all wish to inhabit. In December 2020, Ryan started a three-month stint as editor of Seattle Bike Blog.