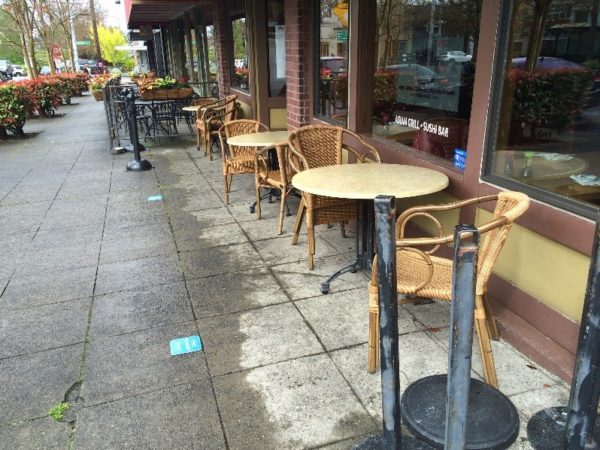 Sidewalk cafes are an increasingly common feature in Seattle's urban landscape. New amenities that have popped up in recent years like streateries (a food-oriented parklet), streamlined permitting processes, and fence-free sidewalk cafés have made moving your food business outside easier on local restaurants. With summer essentially upon us, local restaurants are beginning to see increasing numbers of patrons who want to eat, drink, and bathe in the sun on the sidewalk. Competing for the outdoor-focused clientele is becoming an essential way to keep up in Seattle's red hot restaurant industry.
While fenced sidewalk cafés are undeniably the predominate version of outdoor food service, fence-free sidewalk cafés are a trend to watch. The Seattle Department of Transportation (SDOT) is promoting them after they rolled out a pilot program last summer. They modeled the pilot on similar programs operated in Portland and San Francisco. So far, five fence-free sidewalk cafés are operating in the city and five more have been approved but aren't completed yet.
The fence-free sidewalk cafés came about as an option in response to changes by the Washington State Liquor and Cannabis Board that allows restaurants to serve alcohol on sidewalks as long as pavement makers clearly identify the bounds of the sidewalk café. Previously, the standard requirement was a 42-inch tall fence enclosing the sidewalk café area; and restaurants can still chose do go that route. Interestingly, SDOT had not received requests for fence-free sidewalk cafés from restaurants not serving alcohol.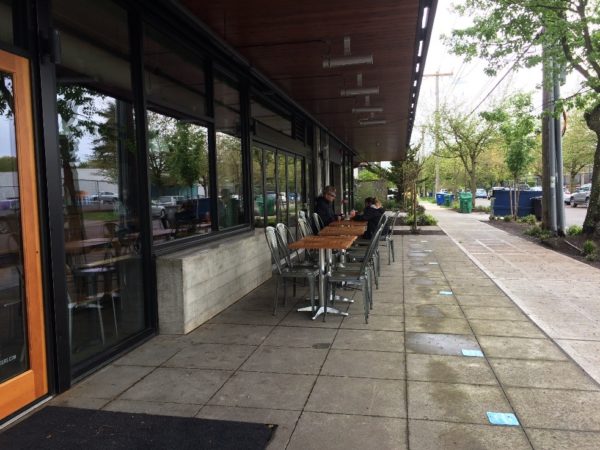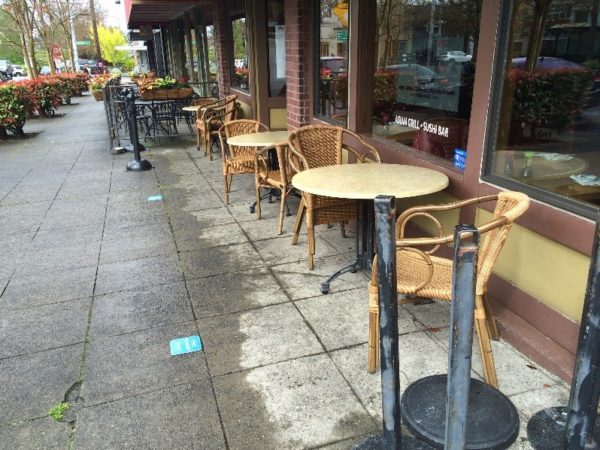 SDOT has specific requirements that an establishment must meet in order to be eligible for the fence-free sidewalk café pilot program, which are outlined below. However, even if an establishment meets all requirements, there is not a guarantee that a proposal will be successful. For instance, site conditions may still preclude the minimum required path-of-travel for pedestrians to pass by and other sidewalk café design requirements also apply.
Businesses that may be eligible must:
Businesses that are not eligible include:
Hold a restaurant liquor license for their
establishment or not serve alcohol at all.
Curbside cafés and streateries serving alcohol.
Provide table service within the café space.
Businesses seeking fence-free sidewalk cafés on
platform structures.
Have a dedicated attendant, wait staff, or server in
the outside service area when in use.
Establishments with other forms of liquor licenses
(e.g., taverns, breweries, wineries, and nightclubs).
Be able to locate the sidewalk café directly
against their building (if serving alcohol).
Note that regardless of sidewalk café type, a restaurant is required to obtain a permit for street use and pay the requisite fees for it.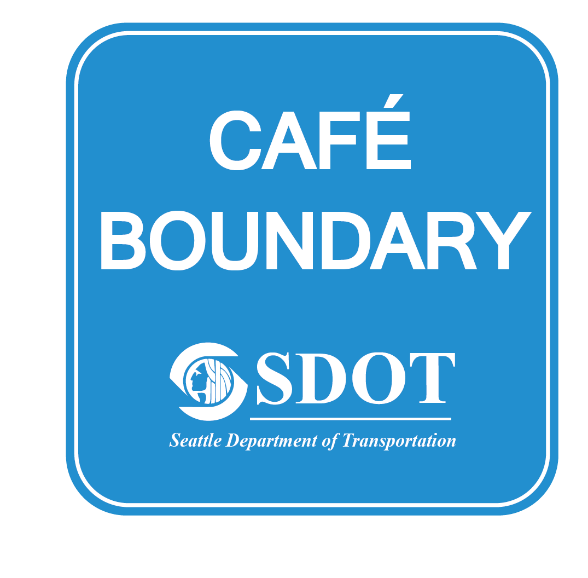 The fence-free sidewalk café is noticeable by its lack of, well, a fence around outdoor seating and tables. But they are also particularly noticeable because of special pavement makers that SDOT requires to be placed on the pavement to demarcate the zone. The pavement markers are relatively small and identifiable by their SDOT blue and inscribed descriptors. Restaurants participating in the program are required to have each of the pavement markers placed a maximum of 10 feet apart to indicate the sidewalk café boundaries. The solution is clearly a very preferable one since it means fewer rope and metal barriers that can significantly impede the permeability and comfort of Seattle's mostly small sidewalks. Space that might have been roped off for interior sidewalk café access to tables instead can be shared by both passerby and sidewalk café patrons and staff.
Of course, there are two main drawbacks to fence-free sidewalk cafés: one is a matter of safety, another is a matter of personal taste. For the visually-impaired, fence-free sidewalk cafés introduce a new opportunity for conflict since a cane-swiper must be used to determine if there are tables and chairs in the pathway. Meanwhile, some sidewalk café patrons may not be terribly keen on passerby walking so closely by–but such is the life of a busy, dense urban environment.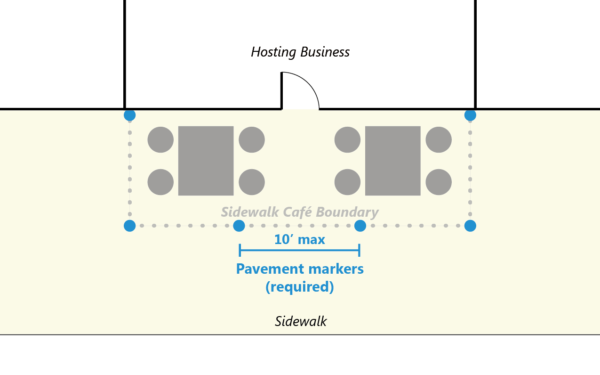 Additionally, SDOT encourages fence-free sidewalk cafés to use diverters at the bookends of the café area in order to provide natural circulation control of foot traffic. Diverters also provide an opportunity to provide some attractive street furniture elements to the public realm. SDOT has minimum standards for deploying diverters on sidewalks. They must:
Be between 30 to 42 inches tall;
Extend the full depth of the sidewalk café area;
Contain no advertising;
Be designed to endure extreme weather conditions;
Project horizontally from the abutting building; and
Use materials that fully contrast with the sidewalk.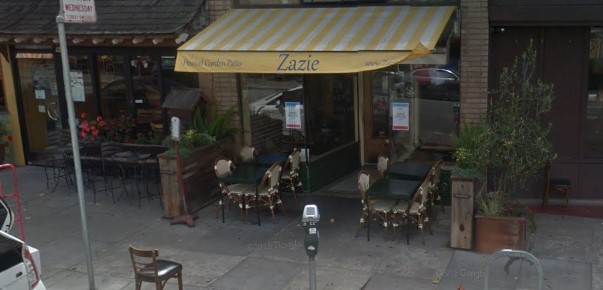 Participants in the program are required to keep their sidewalk café furniture and space in good condition. That means ensuring chairs and tables are maintained and complimentary to the public realm. The sidewalk space must also be tidy and not impair mobility when the restaurant is closed. SDOT also encourages program participants to remove their furniture from the right-of-way when the sidewalk café is closed, but that is not a hard requirement.
SDOT is asking all participants in the fence-free sidewalk café pilot program to provide feedback on how its working in practice. "While the fence-free sidewalk cafés are intended to activate streets, create more vibrant neighborhoods, and support economic vitality, we are committed to ensuring that our streets and sidewalks serve the traveling public," the transportation department says. "As such, we will pay particular attention to any negative impacts on pedestrian mobility and safety that may arise."
Whenever rights-of-way like sidewalks are put to use for non-mobility use, there are inherent values questions about the fairness of other uses. Sidewalk cafés are a traditional element of right-of-way use that goes back centuries. They provide for street activation and can be a reasonable use of excess space in the public realm. The evolution and innovation of Seattle's sidewalk café program offers another way to be more flexible in the design and use of right-of-way, and it could improve the overall quality of the public realm where fence-free sidewalk cafés are located by reducing physical barriers and obstructions to pedestrian flow.

Stephen is a professional urban planner in Puget Sound with a passion for sustainable, livable, and diverse cities. He is especially interested in how policies, regulations, and programs can promote positive outcomes for communities. With stints in great cities like Bellingham and Cork, Stephen currently lives in Seattle. He primarily covers land use and transportation issues and has been with The Urbanist since 2014.