The Seattle Department of Construction and Inspections (SDCI) has adopted two new Director's Rules. One regulates the application of interior dimensional requirements for Small Efficiency Dwelling Units and another prescribes a new design for large notice signs required by environmental review (SEPA).
SEDU Interior Dimensional Rule
Small Efficiency Dwelling Units (SEDUs) have been a controversial residential building type for a number of years in Seattle. SEDUs, more commonly known as microhousing units, received substantial criticism over where they were allowed to be built, size of dwelling units, and the level of density that could be achieved by developing them. Many SEDU advocates defended them as an affordable and efficient form of residential development and were not persuaded by arguments to further regulate them.
However, legislation was adopted in 2014 to regulate SEDUs as a distinctive residential development type for health and safety purposes, and where they were allowed. Since then, the City has recalibrated SEDU eligibility for the Multifamily Tax Exemption program and crafted specific rules on their design A new rule further interprets the development standards for individual SEDUs, as allowed by the Land Use Code (see SMC 23.42.048.B), and supersedes a similar rule from 2016.
The Land Use Code requires that all Small Efficiency Dwelling Units (SEDU) be at least 220 square feet in size with at least 150 square feet designed for sleeping. The sleeping space cannot include other dwelling unit features, such as as bathrooms, cabinets, closets, appliances, and structural elements. Each SEDU is also required to have a food preparation space and a bathroom. SDCI has adopted a new rule to further clarify SEDU design criteria. The rule regulates how sleeping space is partitioned and defines the dimensional standards food preparation and storage space.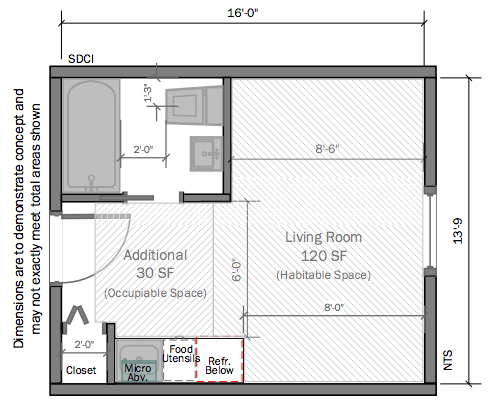 Under the rule, sleeping space is broken into two categories: habitable space and occupiable space. At least 120 square feet must be dedicated to habitable space, such as a living room or sleeping area. Specific dimensional requirements according Sections 1208.1 and 1208.2 of the Seattle Building Code (SBC) apply. Another 30 square feet must be provided as occupiable space that must be continuous to the habitable space, but does not need to meet the dimensional requirements of SBC 1208.1 and 1208.2. In total, the two spaces must be at least 150 square feet to constitute the minimum sleeping space requirements of SMC 23.42.048.B.1 for SEDUs and the spaces must be provided on a single floor instead of spanning multiple floors.
Food preparation areas will be required to have clear working space that achieves a minimum of 30 inches and include space for a refrigerator, sink (hot and cold), storage space for food and utensils, cooking appliance (e.g., a microwave), and a countertop that is at least four feet wide.
Closet and storage areas are required for each dwelling unit. At least 55 cubic feet of storage space must be provided in the building for each dwelling unit, whether in the unit or elsewhere in the building. A built-in closet space is required to be provided in each dwelling unit. If the built-in closet includes storage space for a Murphy bed, the space used to store the Murphy bed may not be counted toward the storage space and it may not be counted toward the sleeping space.
Lastly, each dwelling unit is required to have have natural light filter into the sleeping space and meet the standards of SBC 1205.2.
Large Notice Signs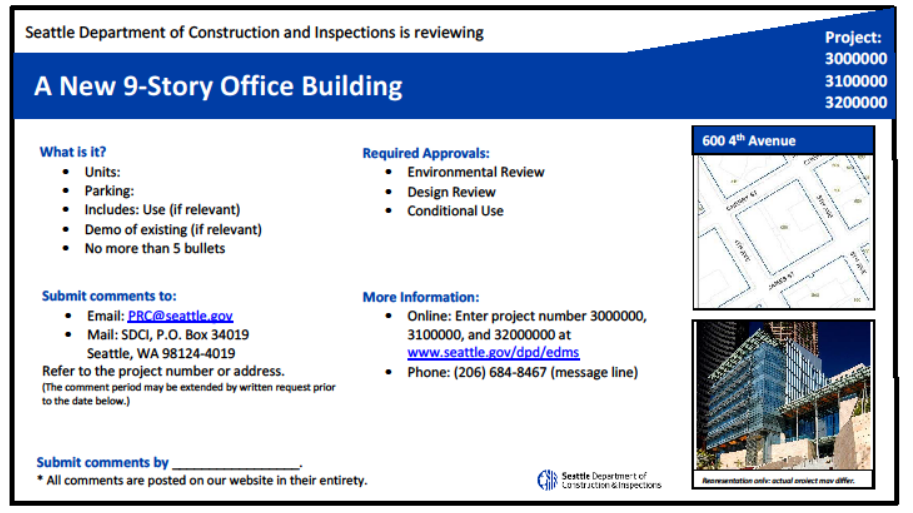 The adopted rule for large notice signs was not altered significantly from the draft rule we covered in May. The new signs will feature renderings of the proposed development and vicinity map. Each sign will succinctly the scope of the project proposal and related project numbers. Other information about project details, required approvals, and how to get involved in the review process have been simplified. The changes should be a major improvement over the older black and white notice signs.

Stephen is a professional urban planner in Puget Sound with a passion for sustainable, livable, and diverse cities. He is especially interested in how policies, regulations, and programs can promote positive outcomes for communities. With stints in great cities like Bellingham and Cork, Stephen currently lives in Seattle. He primarily covers land use and transportation issues and has been with The Urbanist since 2014.