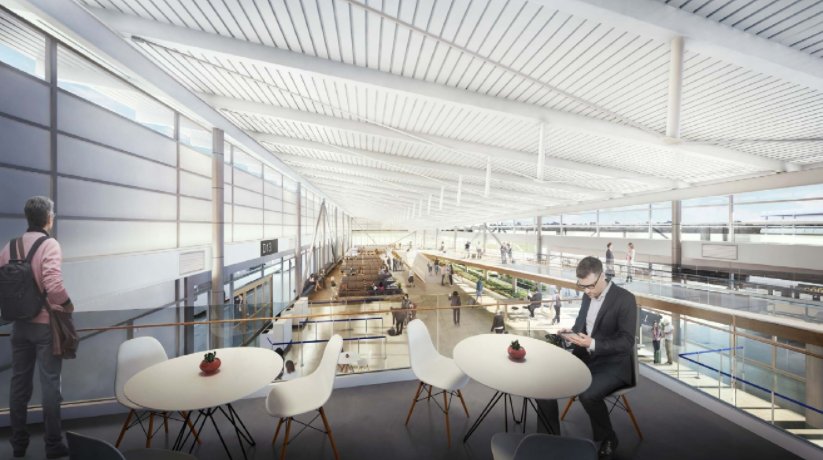 With record passenger levels and major overhauls planned to passenger facilities underway at Sea-Tac Airport, The Port of Seattle is commissioning a new gate expansion. Located at the northend of the main terminal, Concourse D will be modestly expanded with the addition of a hardstand holdroom. The new 32,500-square foot passenger facility will be a two-story structure where passengers will both arrive and depart from while their planes wait at a hardstand site on the tarmac airfield about a half-mile away. Passengers will be shuttled between the holdroom and hardstand site.
The Port of Seattle has decided to use this as a different approach from the standard concourse-side gangway boarding method to accommodate peak passenger and gate demand. Instead of planes waiting on the tarmac for an open gate, they can move into the the hardstand site and begin the deboarding–and even boarding–process using moveable ramps. Buses will whisk passengers between the Concourse D Hardstand Holdroom and hardstand site north of the North Satellite (which itself is undergoing expansion and refurbishment). Passengers will be able to pick up the baggage as normal or make direct connections via Concourse D and the main terminal.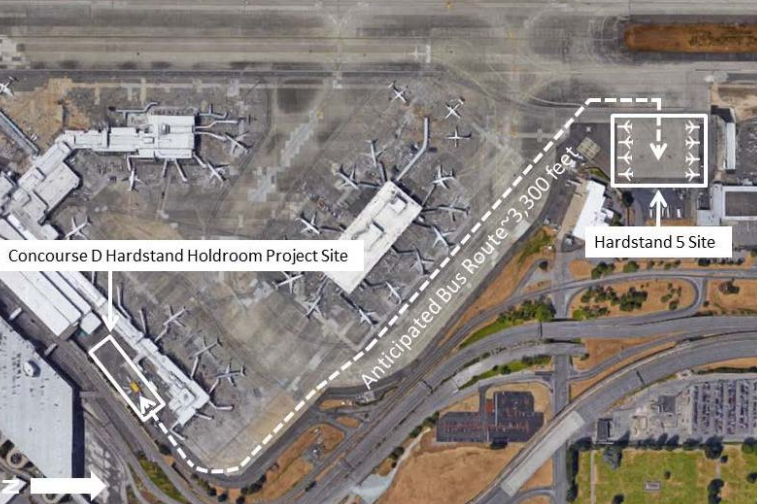 The holdroom will have capacity for six gates. Port of Seattle expects that the facility will typically accommodate 12 hardstand operations per day. Depending upon traffic, that could be higher or lower. No specific airline is set to use the space yet. While it's really meant for overflow capacity, some carriers may regularly use it based upon need. The holdroom will advance environmental goals of the Port of Seattle by reducing the amount of idling, emissions, and fuel required for planes waiting for a gate. It will also speed up the overall process for passengers getting them home on-time or ahead of schedule.
The holdroom design is fairly modern. The roof will be articulated and flowy, making the building feel relatively light and airy. The structure will make heavy use of windows to maximize light and transparency to the tarmac where passengers will step out to and from for busing. HOK Architects were the chief designers for the project.
Inside the building, the ground floor will be dedicated to passenger seating, bathrooms, a children's play area, and concessions space. Upstairs there will be another concessions and dining area for passenger with some scenic views. The building itself will be directly attached to Concourse D via a skybridge that connects at the upper floor and descends downward with sloped walkways. Other passenger amenities in the holdroom will include electric charging stations and free WiFi.
This slideshow requires JavaScript.
The Port of Seattle Commission approved the project last year and environmental review has wrapped up. Construction on the new facility is expected to begin in September 2017 with a spring opening to passengers in 2018.
IAF and SAMP
Groundbreaking for new Intl Arrivals Facility that'll dramatically improve experience for intl travelers! https://t.co/lrj4TUaJo4 pic.twitter.com/WFsbdBfX6A

— Seattle-Tacoma Intl. Airport (@flySEA) August 15, 2017
On Tuesday, local officials including Representative Adam Smith and King County Executive Dow Constantine joined
industry and labor leaders for a groundbreaking ceremony for the new International Arrivals Facility (IAF). The IAF will expand Sea-Tac's capabilities to process international travelers by having a new terminal-side facility just east of Concourse A. A new bridge will be constructed above the tarmac between Concourse A and North Satellite to keep international travelers in a secured corridor. The current customs area is located in the South Satellite and often has significant delays that can stressful to arriving passengers hoping to make connecting flights. Processing international travelers on terminal-side will expedite and improve the customs process.
Work also continues on development of the Sustainable Airport Master Plan (SAMP), which will set out a long-range plan for the airport over the next 20 years. Port of Seattle staff are going through the process of evaluating different alternatives for the master plan to support growth and demand of the airport facilities.
Early information points to significant terminal, cargo, and operational expansions of Sea-Tac Airport. Two different options would add a new passenger terminal north of the main terminal and be directly connected to Concourse D. Either option would also expand the usage of hardstand and include some type of people mover to shuttle passengers between terminal areas. A preferred alternative is expected to be shared with the Port of Seattle Commissioners in early 2019 for consideration and selection. An environmental review will follow the preferred alternative selection and an Environmental Impact Statement would be completed if it is determined to be necessary (a plan of this scope typically requires one).

Stephen is a professional urban planner in Puget Sound with a passion for sustainable, livable, and diverse cities. He is especially interested in how policies, regulations, and programs can promote positive outcomes for communities. With stints in great cities like Bellingham and Cork, Stephen currently lives in Seattle. He primarily covers land use and transportation issues and has been with The Urbanist since 2014.