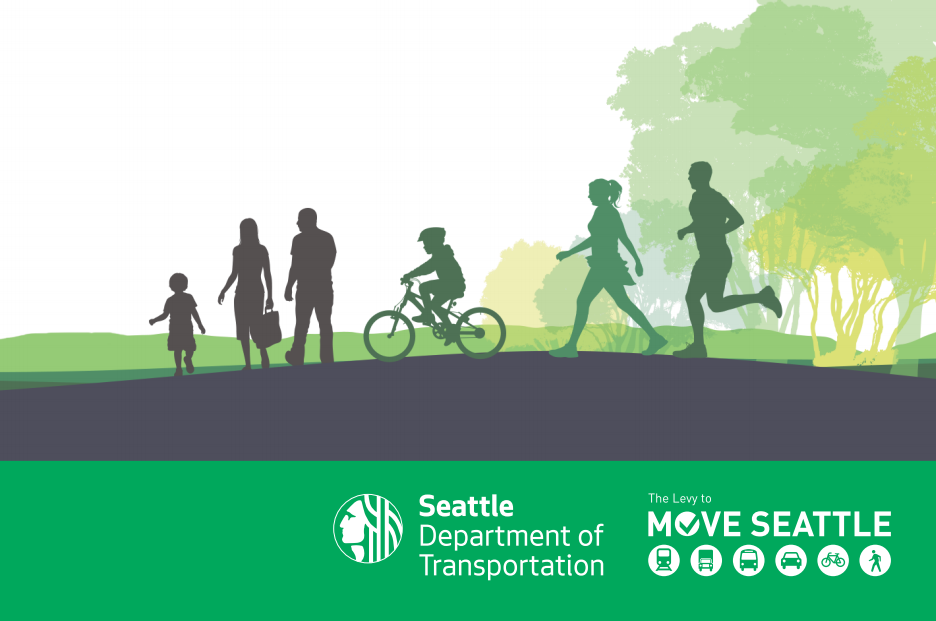 Through Sunday, the Seattle Department of Transportation (SDOT) is offering a survey to get feedback on a concept for the Central Ridge Neighborhood Greenway and associated Safe Routes to School (SRTS) connection. The greenway and SRTS connection are intended to thread together neighborhoods from Judkins Park to North Captiol Hill with a cohesive family-friendly corridor safe for walking and biking. As a greenway, SDOT will focus on street calming techniques, such as reducing posted speeds, adding speed humps, modifying intersection designs, and adding signs, signals, and flashing beacons. SDOT will also sign the corridor to clearly identify it as a greenway.
The proposed 2.5-mile route would largely follow 18th Ave, though portions would jog down E Republican St and 16th Ave. The greenway would splice together other nearby greenways and trails along the route like E Columbia St, Central Park Trail, and future greenways on S King St and 18th Ave north of E Republican St. Within blocks of the proposed greenway, there are many schools and parks as well as significant retail districts, cultural venues, and Swedish Cherry Hill medical center campus.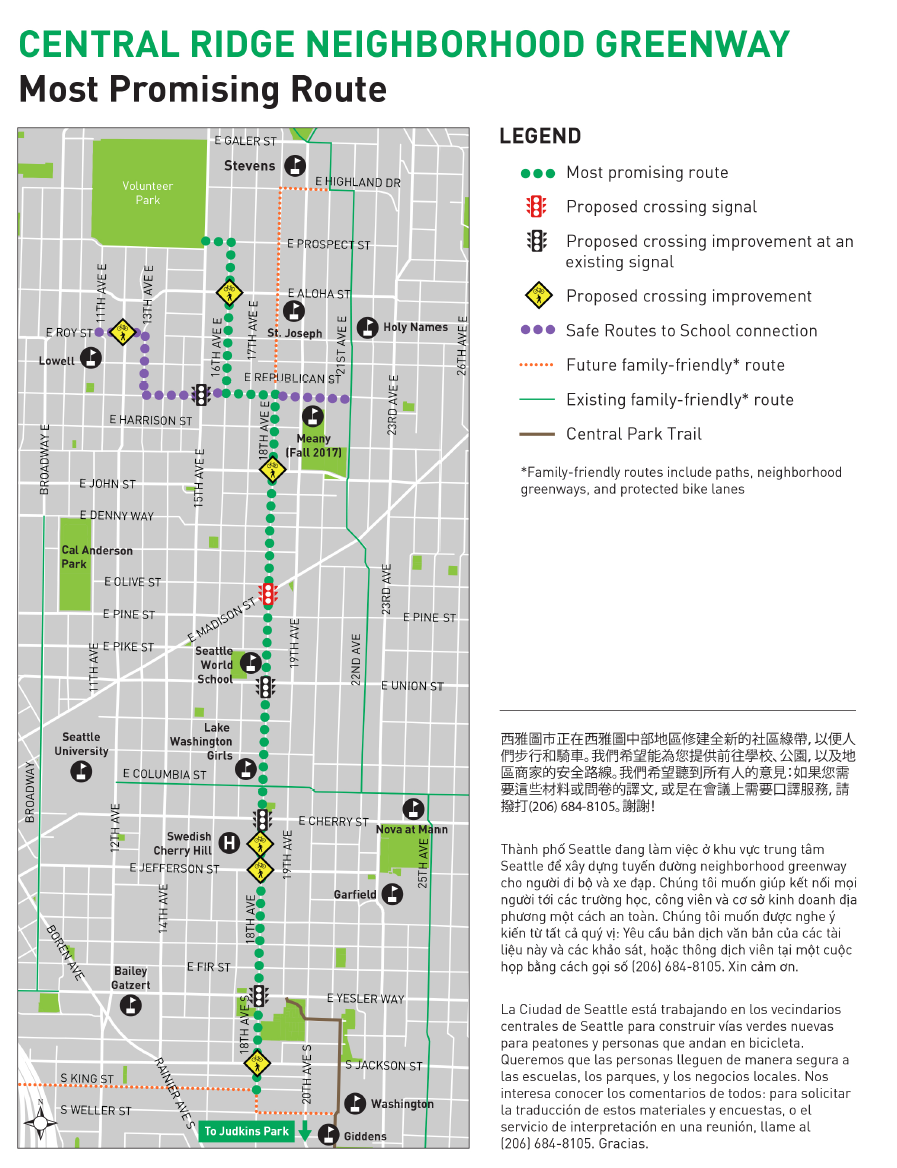 SDOT is proposing a variety of improvements along the corridor, including: a brand new signalized intersection at E Madison St and 18th Ave, six improved non-signalized intersections, and four improved signalized intersections. Intersection improvements would be tailored to local circumstances. For instance, SDOT is proposing bike boxes and curb ramps at E Yesler St and 18th Ave while a new crosswalk and speed hump and curb bulbs would be added at E Jefferson St and 18th Ave intersection.
This slideshow requires JavaScript.
The survey calls out special attention to the intersection of E Aloha St and 16th Ave E. In both scenarios, new crosswalks and speed humps would be added, but the main intersection could either be raised as tabletop with ramps or painted to draw attention to it.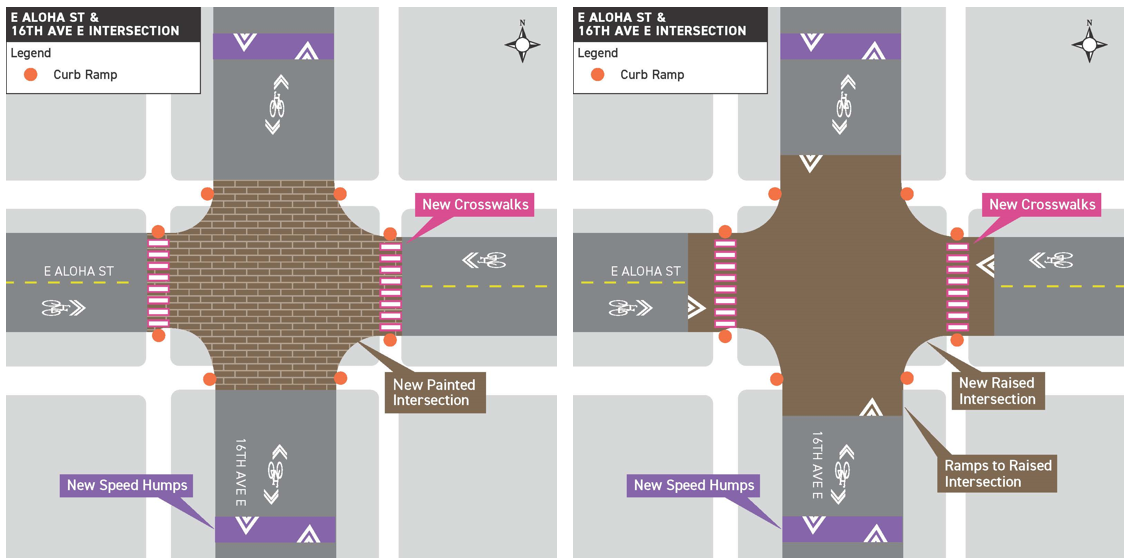 Meanwhile, SDOT wants to know how the community would like bike boxes designed. Using the intersection of E Cherry St and 18th Ave as example, SDOT's concept show two variants of bike boxes either behind or in front the crosswalk.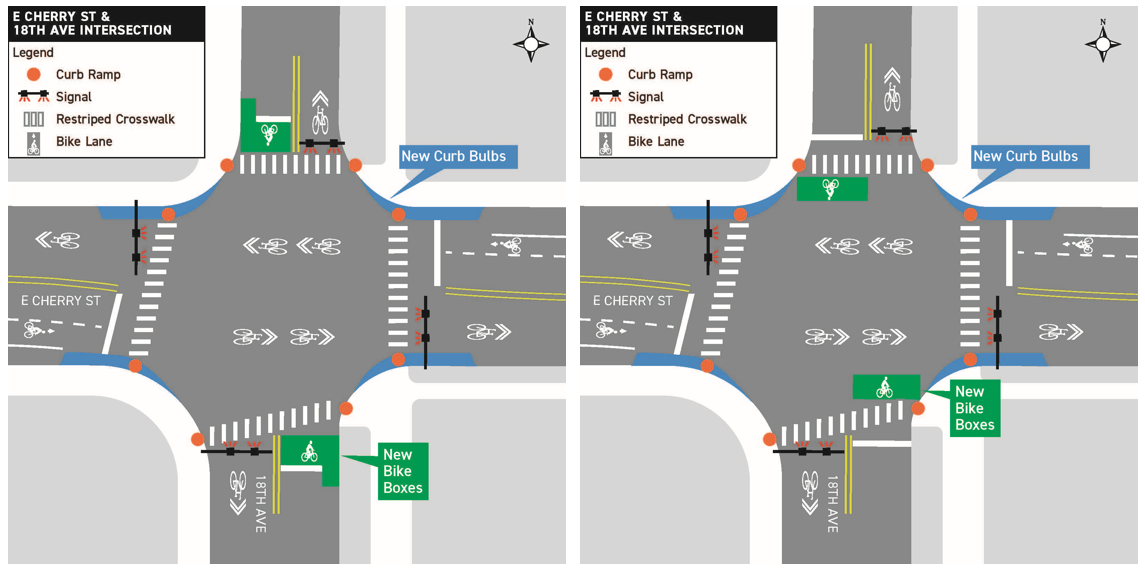 Finally, SDOT is soliciting feedback on one of the biggest investments in the project: a signalized intersection at E Madison St and 18th Ave. The proposal would:
Add two new traffic signals to stop motorists on E Madison St;
Deploy two new north-south crosswalks;
Add bicyclist push buttons adjacent to bike boxes;
Construct new curb ramps;
Restripe the existing crosswalks; and
Add markings to require motorists to turn right from 18th Ave.
Also notable with the Madison intersection is its relationship to the Madison BRT (RapidRide G Line) project. Bus stops for the RapidRide line would be located a half block or so west of the intersection.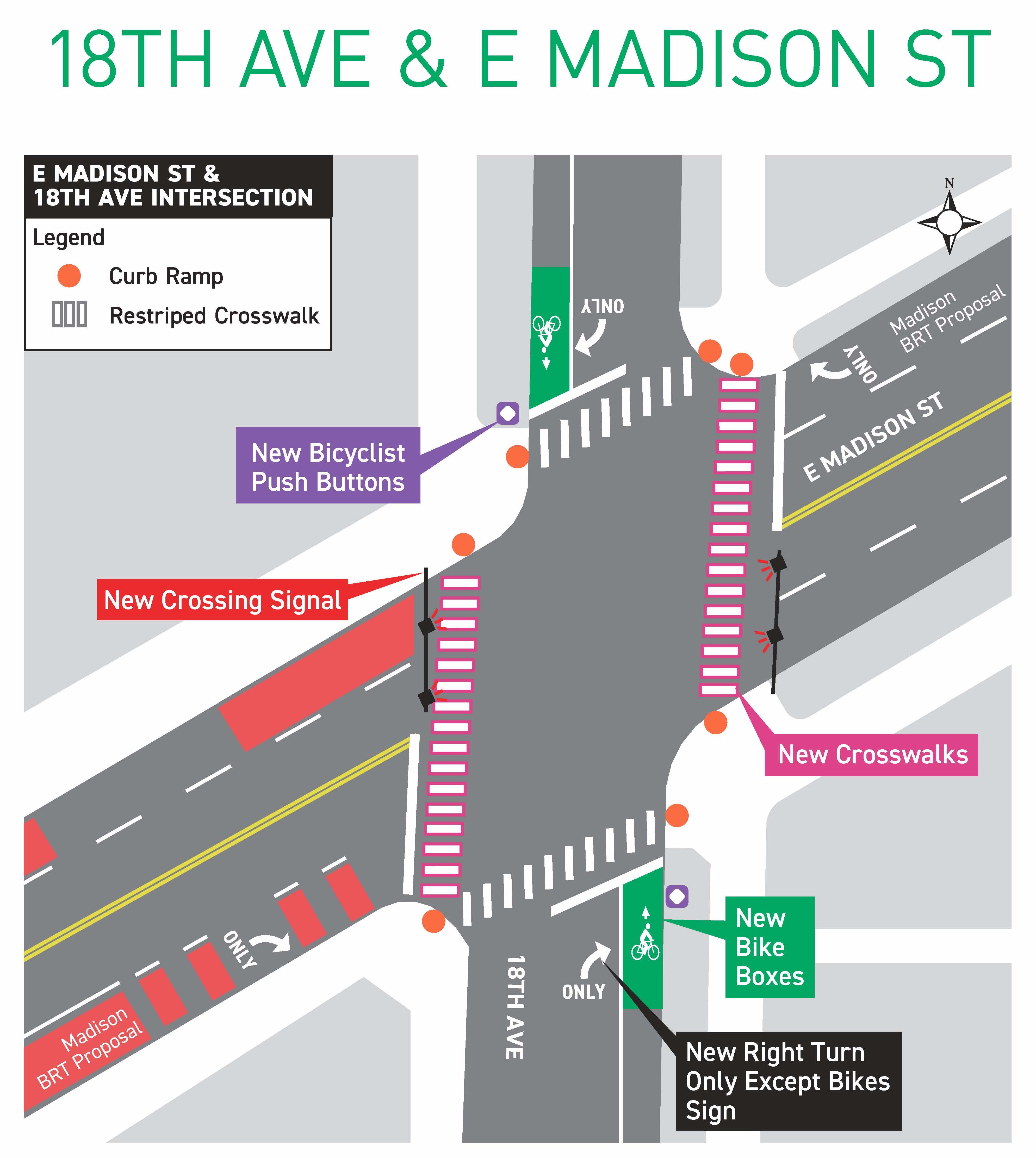 SDOT intends to finalize the route this fall and begin formal design in 2018. Construction on the greenway would follow in 2019.

Stephen is a professional urban planner in Puget Sound with a passion for sustainable, livable, and diverse cities. He is especially interested in how policies, regulations, and programs can promote positive outcomes for communities. With stints in great cities like Bellingham and Cork, Stephen currently lives in Seattle. He primarily covers land use and transportation issues and has been with The Urbanist since 2014.