Sound Transit's construction of Northlink is on track to extend light rail to the north end of Seattle by 2021. After decades of failed attempts and hard work, we will finally have a fast, reliable rail line connecting North and South Seattle. Unfortunately, major questions have been left unanswered as to how people will be able to safely and easily access our future light rail stations and nowhere is this oversight more glaring than in the U District. U District Station will attract tens of thousands of daily users, but unlike Northgate Station and a growing list of others, no agency has studied how people will travel to and from U District Station and what improvements are needed to ensure people can reach Link safely and comfortably by 2021.
The U District Mobility Group aims to engage the Seattle Department of Transportation (SDOT), Sound Transit and Metro Transit to work with the community on a station access plan that will coordinate and accelerate needed investments to provide safe and convenient access to U District Station for all. This afternoon the U District Mobility Group is hosting a walking tour around the future U District Station to engage participants in a discussion about the pressing need for safe and convenient options to reach light rail. The walk will start at the UW Tower plaza at 4:30 pm and end at Cafe Allegro at 6pm with food and drinks (cash bar) to follow. Along the way, speakers will highlight potential barriers and opportunities to improve surrounding pedestrian conditions, bus-rail connectivity, bike safety, vehicle loading and more.

The U District Mobility Group consists of U District residents and representatives from institutions including the UW, Seattle Greenways, U District Partnership, U District Advocates and Seattle Children's. For the last year we have been discussing the need to help accelerate and coordinate transportation projects that will help U District Station exceed expectations and handle the coming influx of residents, employees, students and connecting transit riders.

U District Station Access Plan Objectives
A multimodal station area plan (or access plan) is an opportunity to identify key issues around the station that should be addressed and develop a conceptual level plan that addresses all modes. Such a plan would help inform upcoming projects such as the city's rebuild of NE 43rd Street and future RapidRide implementation. We believe a U District Station access plan should accomplish the following:
Prioritize safety concerns for the tens of thousands of daily pedestrians in the immediate vicinity of the station.
Develop great bus-rail transfers and ensure connecting buses have reliable pathways to the station, even during evening rush hour.
Ensure people on bikes have safe routes to the station including alternatives to major arterials such as NE 45th Street and improvements at dangerous intersections.
Ensure adequate loading areas and building access for private vehicles.
Create streets that support vibrant, safe and welcoming experiences for all.
Prioritize Pedestrian Safety Concerns

The U District is the second largest business district in Seattle and it is growing at one of the fastest rates in the region. The U District is a dense, pedestrian oriented neighborhood where most people walk or take transit to their destinations. U District Station promises to further increase the volumes of pedestrians on already crowded sidewalks and intersections.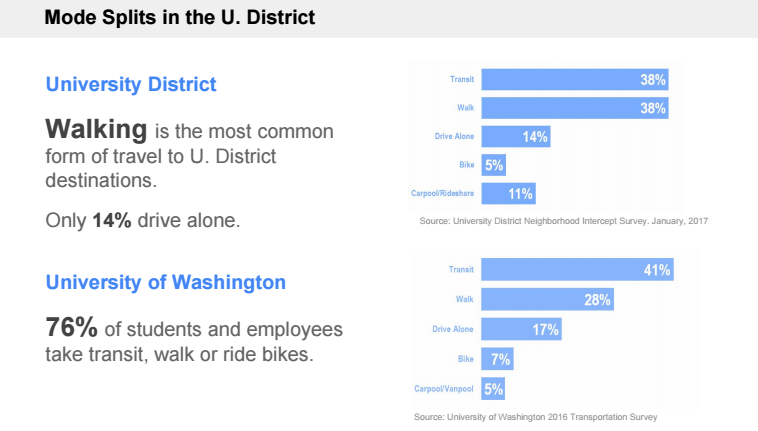 While Sound Transit has completed the station design and will no doubt deliver a world class light rail station, immediately outside the station major barriers exist to safely access U District Station by foot. According to a recent Seattle Times article looking at the last decade's collision history, U District Station is surrounded by the two most dangerous intersections for pedestrians and three of the four most dangerous intersections for bicyclists in all of North Seattle.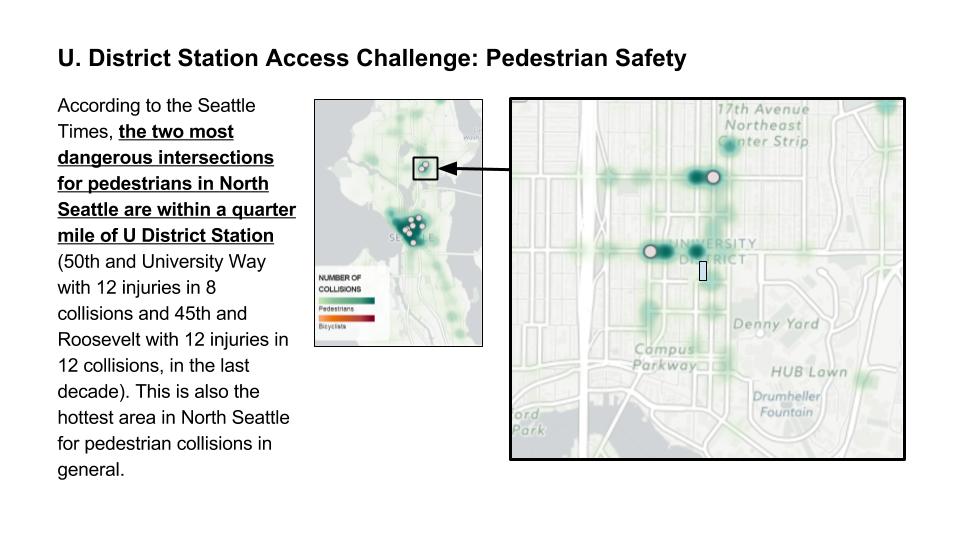 45th Street presents a host of problems including dangerous intersections, narrow sidewalks, narrow crosswalks and narrow bus waiting areas. 45th will be unavoidable for many pedestrians accessing the station, particularly if they are connecting to buses or trying to head west so it is imperative that we identify fixes that can be implemented before 2021 and determine how to develop great alternative routes such as making 43rd Street an attractive pathway for pedestrians.
Develop Great Bus-Rail Transfers

Just as pedestrian safety is a pressing priority for the U District, the connecting bus network design should be sufficiently developed before it is too late to build potential capital improvements that ensure good bus-rail transfers for future routes. For example, Sound Transit's street design for Brooklyn Avenue is not designed to be compatible with buses, despite the potential transfers this would enable at the station's front door. Relatively simple design changes to Brooklyn Avenue would allow routes to have the best bus-rail transfer experience for thousands of daily riders. It is imperative that our public agencies work together to determine answers to questions like this before it is too late to optimize bus access.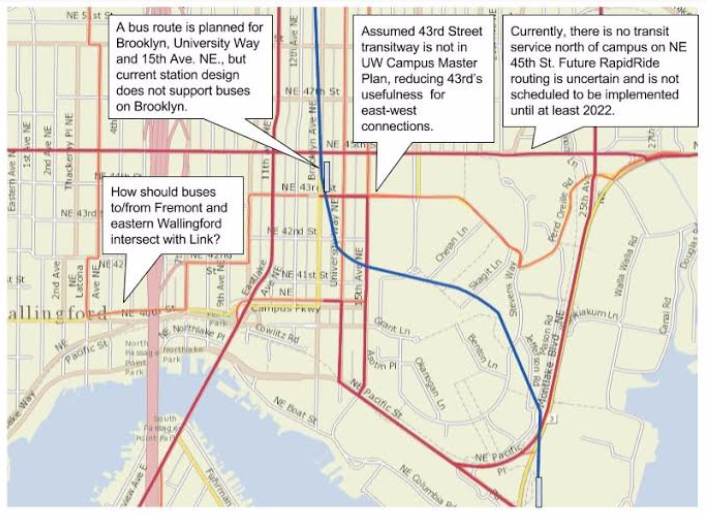 Quality bus transfers are particularly important because many people will have to make two transfers to use Link. For example, current Community Transit riders to the U District will have to transfer to Link at Northgate and then hop on a short connecting bus in the U District to get to their old bus stop. Even with Link, one seat rides that will become three seat rides need to have easy, comfortable transfers or some riders will stop using transit. We can address this issue by determining which routes will have high volumes of riders transferring to U District Station and provide these routes with great transfer locations. Routes that use stops on Campus Parkway will involve painfully long transfers. Even routes on relatively close University Way or 15th Avenue may warrant a shift to Brooklyn Avenue as it eliminates a two block walk and protects riders from the elements making a significant difference in someone's likelihood to use transit as a daily commuting option.  

Ensure People on Bikes Have Safe Routes to the Station
We also need to ensure that a basic safe bike network is in place and that there is enough bike parking near the station, particularly in light of the introduction of dockless bike share. Biking will be the fastest, most reliable way to get to the station for many, but if we do not improve routes to the station, dangerous barriers such as crossing I-5 and riding on NE 45th Street will continue contributing to collisions and instill fear in many who would otherwise be willing to ride there.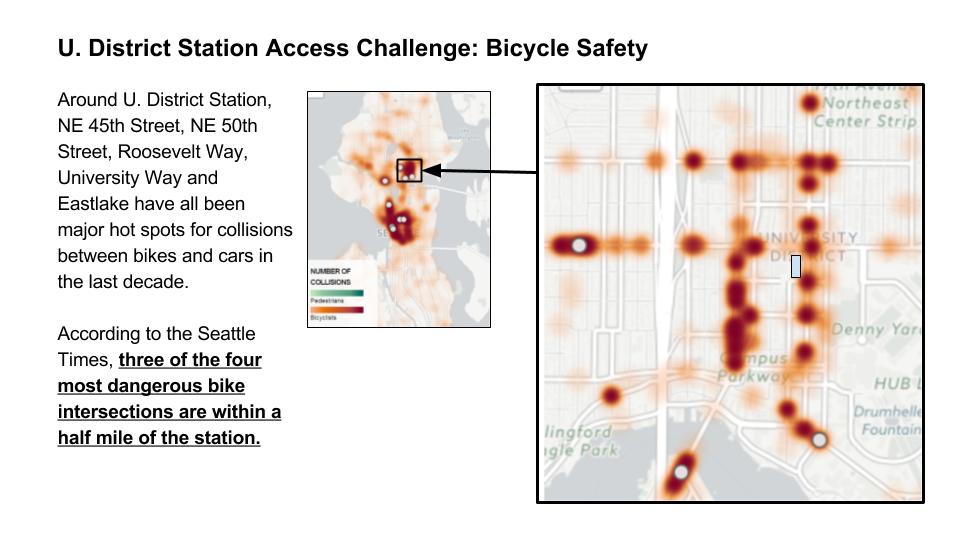 Ensure Adequate Loading Areas and Building Access for Private Vehicles

Not everyone can walk, bike or take transit to the station and there are numerous competing loading needs for surrounding buildings. Long term, the proliferation of ridesharing (and potentially, autonomous vehicle ridesharing) will continue to increase the number of vehicles that need loading space in the U District. Carefully managing curb space and helping businesses come up with loading solutions is an essential step in creating more generous pedestrian spaces and improving transit access.  
Create streets that support safe and welcoming experiences for all
As the U District's sidewalks become more crowded, it is important to consider how we keep them enjoyable and attractive. Engaging the community on what would enhance their experiences in the U District will be a critical part of this process. For some, personal safety is a barrier to walking in the U District, particularly at night, so we should identify the reasons why and places where people feel most vulnerable and address what we can through environmental design. In addition to safety, as the neighborhood continues to densify, placemaking such as outdoor seating could be part of the solution for maintaining livability amidst rapid growth. Creating open spaces, outdoor seating and other pedestrian amenities would also bolster local restaurants and other businesses by enhancing the shopping and dining experience.
Many strategies for improving the public realm were already developed during an Open Space Forum to update the U District Parks Plan in 2014. Priorities included the creation of a central town square, a north-south green spine, east-west pedestrian connections, and pocket plazas.
The Time to Act is Now

The challenge of how to get people to and from our growing network of light rail stations is emerging as a critical regional issue. Forward thinking plans have been made or are in the works for many Link stations such as the Judkins Park Station Area Plan, Accessible Mount Baker, the North Beacon Hill Town Center Transportation Plan, Move Ballard and the Northgate Station Access Study. It would be a tremendous oversight if our region does not similarly take a close look at U District Station now, while there is still time to implement improvements on the ground in advance of its 2021 opening. In addition to the walking tour this Thursday, we will be working to create more opportunities to engage the community over the next year. Please sign up on our mailing list at udistrictmobility.org to receive future invitations.
The featured image of NE 45th Street is by Anna Wittow and used with permisison.
Drew Dresman is a Transportation Planner for Seattle Children's where he helps manage award-winning employee commute programs and hospital access projects.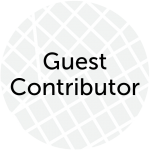 Drew Dresman (Guest Contributor)