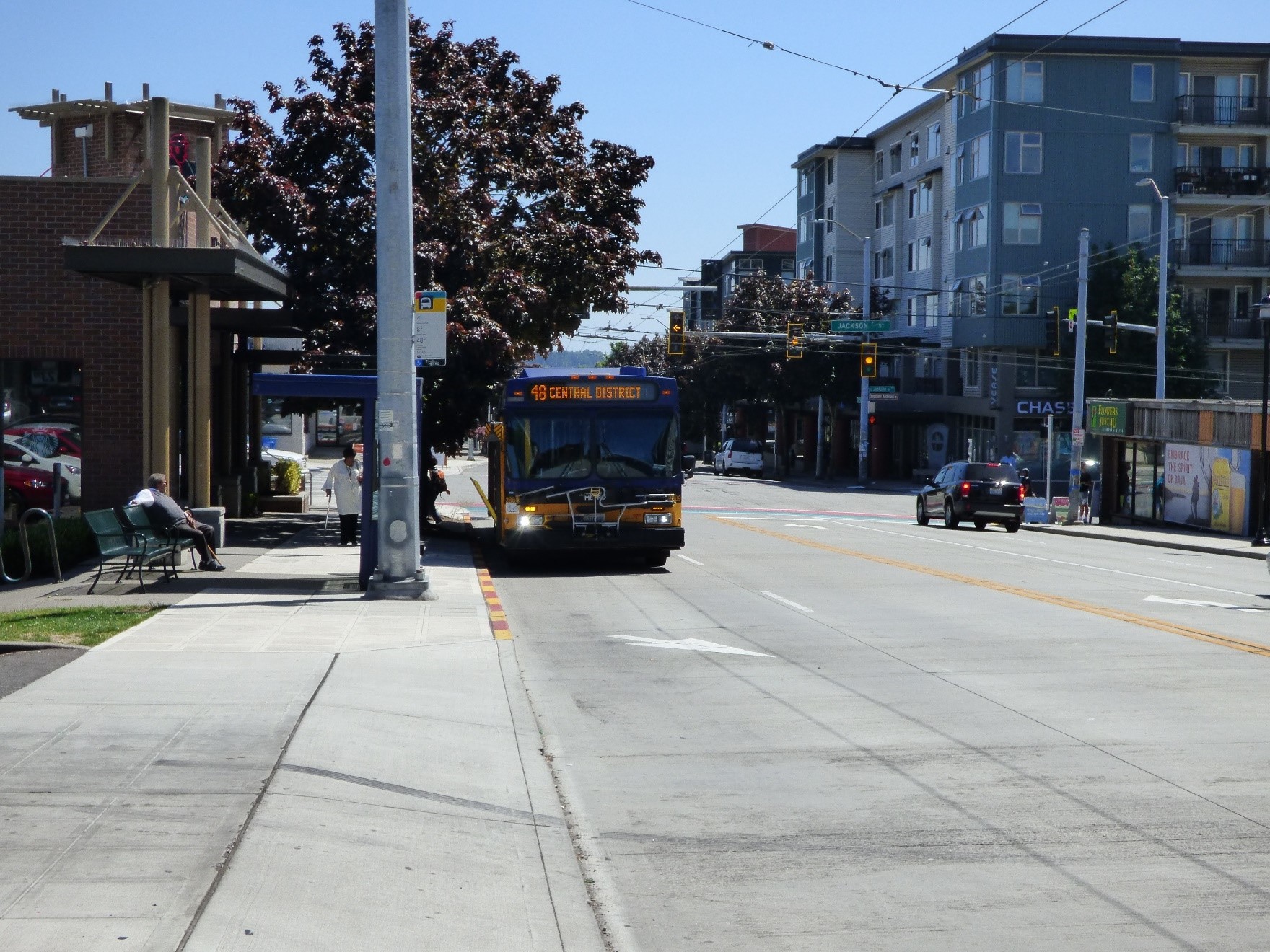 The Seattle Department of Transportation (SDOT) is in the midst of planning the second phase of corridor improvements to 23rd Avenue, a main thoroughfare linking neighborhoods from Montlake to the Rainier Valley. SDOT completed work on the first phase of the project earlier this year, which included a 1.4-mile stretch from E John St to S Jackson St. The first phase involved a variety of improvements, such as resurfacing the roadway, adding and repairing sidewalks, installing new signals, transit priority, and rechannelizing the street. The second phase will bring improvements to 23rd Avenue from S Jackson St to the intersection of S Hill St and Rainier Ave S.
SDOT plans to make major changes to 23rd Avenue in Phase 2. Improvements will be focused on providing transit priority, pedestrian mobility, green infrastructure, and improving corridor safety. Much of the segment will be reduced from four lanes to three lanes. The three lane-wide configuration will allow one travel lane in each direction and a center lane turn pocket. Key intersections may flair out with additional turn pockets. One portion of the segment will actually only be two lanes.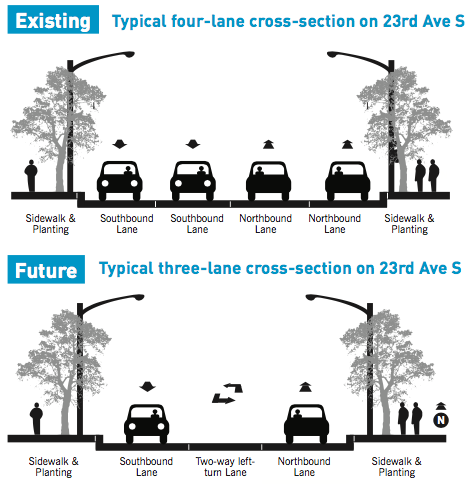 With lane reductions, sidewalks, planter strip, and curb areas can be expanded. Portions of the segment will also have on-street parking areas added. The following diagram highlights three sections of Phase 2 with specific type of improvements planned by SDOT: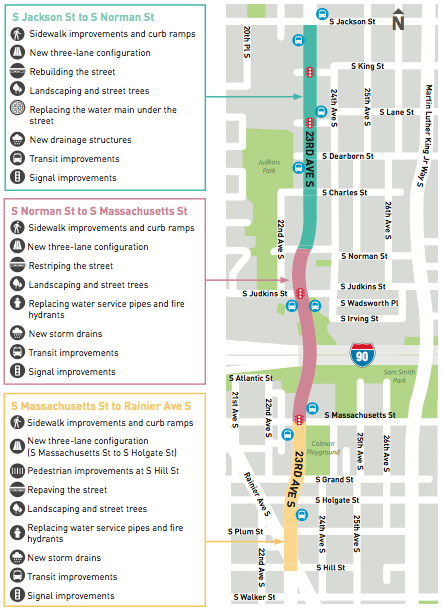 At the very south end of the corridor project an intersection with six streets creates a complicated situation for all road users. In proposed design, SDOT would modify the intersection at 23rd Ave S, S Hill St, and Rainier Ave S by changing the crosswalk configuration. The current design would require a pedestrian on the north side of Rainier Ave S (northwest of 23rd Ave S) to cross five intersections to get to the south side of Rainier Ave S (north of S Hill St). The proposed configuration would greatly simplify this and make a variety of other changes to the intersection.
This slideshow requires JavaScript.
As part of the overall corridor project, SDOT has constructed a semi-parallel greenway, known as the Central Area Neighborhood Greenway, that links all of the neighborhoods along the 23rd Avenue corridor. The designated greenway streets use a variety of street calming measures aiming to make walking and biking more pleasant and safe. Another north-south greenway is in the planning stages that would be located west of the Central Area Neighborhood Greenway, which would largely follow 18th Avenue.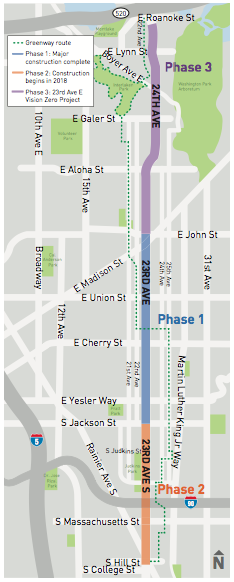 SDOT shared relatively detailed concept plans of the street improvements planned for Phase 2. The concept plans clearly show how the segment will be changed. The concept plans identify features like new sidewalks, planter strips, rechannelization, striping, and added and removed trees. The concept plans were released in July and SDOT plans to refine them further into the fall before finalizing them and beginning construction on the project.
SDOT analysis suggests that once the second phase segment is completed, travel times for motorists will go back to pre-construction levels even with a reduction in lanes while transit travel times will improve greatly. Variation in motorist travel time is anticipated to only be about plus or minus one minute between E John St and Rainier Ave S. Transit, however, will see about three minutes in travel time reduction. The faster transit speeds should help facilitate the upgrade of the Route 48 to a RapidRide route in 2024, which was approved with the passage of the Move Seattle levy.
SDOT expects construction on the second phase to last about a year with work beginning early next year. A third phase of corridor improvements are planned, which would fully remake the stretch of 23rd Avenue from E John St to Montlake. Short-term safety improvements are scheduled for installation in 2018 for the third phase, but major corridor improvements won't be made to that segment until the 2019/2020 time period. Check out SDOT's project website for more details.
Title image courtesy of the City of Seattle.

Stephen is a professional urban planner in Puget Sound with a passion for sustainable, livable, and diverse cities. He is especially interested in how policies, regulations, and programs can promote positive outcomes for communities. With stints in great cities like Bellingham and Cork, Stephen currently lives in Seattle. He primarily covers land use and transportation issues and has been with The Urbanist since 2014.