At the southwest corner of Othello and Martin Luther King Jr Way, a stone's throw away from the Othello light rail station is a large weed strewn lot that has sat idle for many years. But as this summer faded to fall, bulldozers prepared the ground for portable classrooms that are now the temporary home of Green Dot charter middle school, and a refurbished shipping container dubbed the Beet Box has arrived that will soon act as a physical base for nutrition education-related programming and activities led by Homesight and Rainier Valley Food Bank.
After many years sitting empty, the sad lot is finally showing the first signs of life for a site that will hopefully soon host the Southeast Seattle Economic Opportunity Center (SEOC). Originally envisioned by its backers as a one-stop shop for neighborhood residents to connect with educational, business development, social services, and other programs delivered by culturally competent staff in a variety of the area's prominent languages, the project has evolved to include affordable housing, childcare, health services, and a multi-cultural community center.
The project is being spearheaded by Homesight with support from On Board Othello. Homesight is  a local nonprofit Community Development Corporation focused on building strong equitable communities by working to increase capacity of community organizations, fostering development of neighborhood leaders, and helping low-income first-time homebuyers through education and financial assistance. On Board Othello was formed by area stakeholders to create, coordinate, and implement a shared vision of equitable economic development that creates opportunities for current and future residents and businesses in the Othello neighborhood.
The Southeast Economic Opportunity Center (SEOC) will be a culturally relevant and welcoming place where people in Southeast Seattle and beyond can access opportunities for higher education, good paying jobs, and support to start and keep a business. Integrating shared space for cultural organizations and workforce housing will help stabilize communities at risk of displacement and engage diverse residents. – from On Board Othello
Modeled after a similar project in North Seattle, The Opportunity Center for Employment and Education, the SEOC seeks to provides integrated educational, employment and supportive services in a partnership of multiple community-based agencies. A 2014 feasibility study by Skill Up Washington lays out the idea in greater detail.  Homesight, together with their many community partners have held a series of workshops over the last year to both inform the community of the project's status and solicit input on what neighbors want to see on the site. I attended several: they had all information available in several different languages, had translators on hand for the presentations and discussions, offered childcare, and provided a diverse array of food.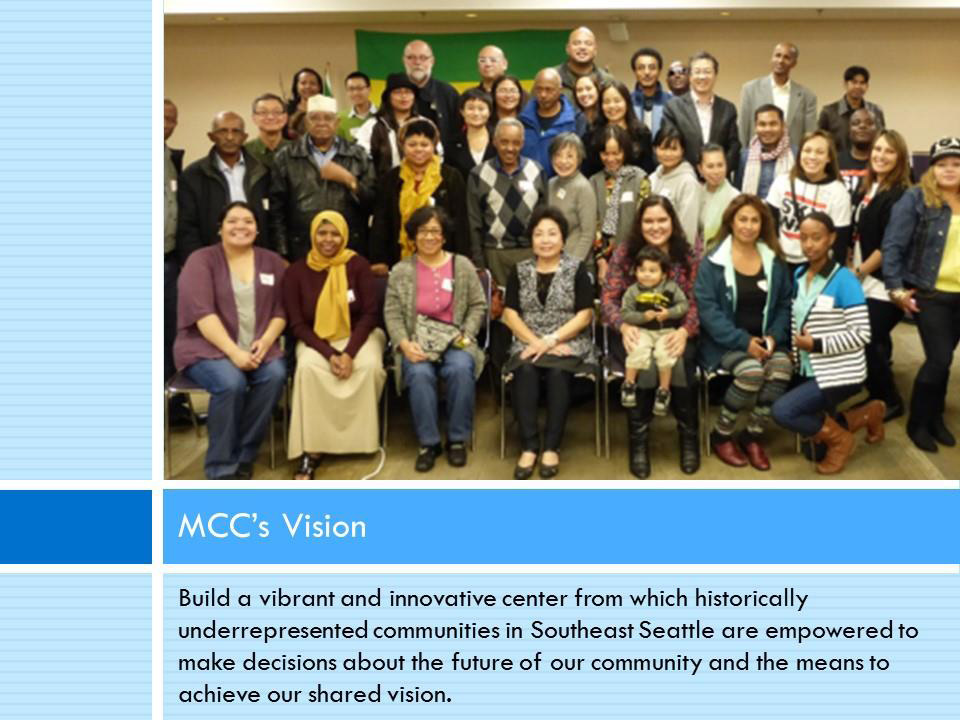 (From the Homesight SEOC Slideshow)
"By pooling strengths, Campus partners not only ensure viability of the Southeast Economic Opportunity Center, but also promote economic growth and independence for those they serve, preventing displacement as Southeast Seattle continues to grow and develop." -from On Board Othello
The SEOC is a multifaceted project with a variety of goals and project partners. The current iteration of the project has many parts including:
Economic Opportunity Center: The one-stop shop for economic development, education and supportive services. It will include a business development center to assist local small businesses and budding entrepreneurs, direct access to job training, STEM, college preparatory, and hopefully post-secondary education programs.
Charter high school: The SEOC will be the campus for the

Green Dot

charter high school. The site is currently housing the middle school until its new home in Hillman City is complete. The high school will be located in one of the new buildings and is planning on enrolling nearly 700 students between the 9 – 12 grades. It is a charter school run by an independent nonprofit, but publicly funded and free for any student to attend.

Multicultural community center: It will serve as the cultural and service center hub for the SEOC. It is formed by a partnership of culturally specific community organizations that do not currently have their own building or are renting one and at risk of displacement. This will provide a permanent home for these organizations and create centralized space for cultural gatherings and services.
Wellness center: SEOC planners envision the wellness center as an expansion of the Central District's Odessa Brown clinic. Started during the Civil Rights Era to provide healthcare to low-income inner city children who were not being served, it is

now a community clinic of Seattle Children's Hospital that provides medical, dental, mental health, and nutrition services to all families, regardless of their ability to pay. They are seeking a second location farther south because that is where their clients are moving as they are priced out of central Seattle.

Early childhood education: A dual-language early childhood education facility will focus on school readiness and cultural retention.
Affordable and market-rate housing: Housing, comprised of both 80-120% area median income rental housing, market-rate, and homeownership units (possibly in a co-op ownership model) affordable to households 80% AMI and below.
Affordable retail space.
The site is owned by the Seattle Housing Authority (SHA) and was slated to be developed as a mixed-use project by Path America, prior to legal troubles. Specifically, Path's owner Lobsang Dargey ran into problems with the Securities and Exchange Commission that recently landed him in jail. With the original proposal dead, it freed SHA to begin negotiations with Homesight for the land to be the site of the SEOC. The site was originally sold to Path for $7 million, but since then Seattle has boomed leading the property to appraise for north of $20 million—a lot of money for a coalition of nonprofits and government agencies. Word on the street is that the SHA has agreed to a substantial discount due to the public benefit of the SEOC, but negotiations are ongoing and will hopefully wrap up in the near future.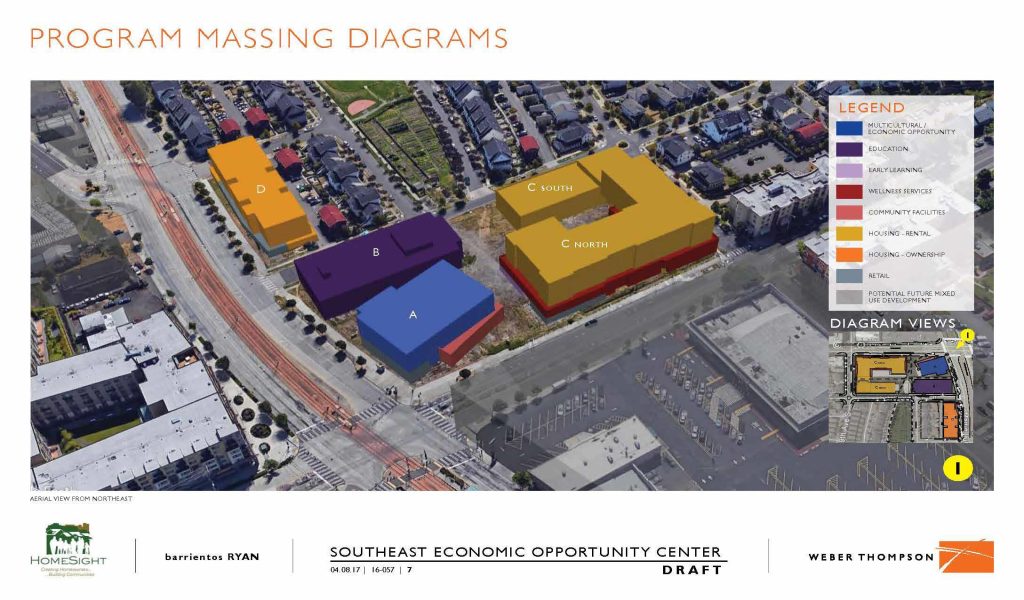 (From the Homesight SEOC slideshow)
Homesight has hired the architecture firm Weber Thompson to do early design work and site planning, but much still needs to happen before this project can break ground. In addition to negotiating the land sale, lots of money must be found. The project has an estimated cost near $200 million. As one would expect for a project of this scale and complexity, they anticipate getting money from various sources including government funds, foundations, private donors, project partners, New Market tax credits, and debt. In September of this year, the Seattle Office of Planning and Community Development granted $75,000 to the Multicultural Community Center for capacity building and to help with fundraising. If all goes as planned, the hope is to have the SEOC open and serving the community by 2021.
When the several hundred affordable and market-rate housing units of the SEOC open, they will be joining the recently opened income-restricted Mercy Housing Othello's 108 units and the soon-to-open market-rate Othello Station North's 353 units. In addition, there are several other project in the permit process that should be built by the time the SEOC is complete: an 85-unit market-rate project overlooking Othello Park, an 80-unit affordable housing project planned by the  Low Income Housing Institute targeted at veterans and those transitioning out of homelessness also near Othello Park, and a 145-unit market-rate mixed-use project just north of Othello light rail station. The Othello neighborhood may be on its way to meeting its promise as a hub for mixed-income, transit-oriented housing. With the SEOC at its heart, that hub will be anchored by a place for the community.  
More information about the Southeast Economic Opportunity Center can be found at Homesight or On Board Othello or by contacting Tony To (tony@homesightwa.org) or Uche Okezie (uche@homesightwa.org). The full slideshow from the April 8th 2017 Community meeting can be found here. Additional coverage of the SEOC can be found at The South Seattle Emerald and The C is For Crank. Special thanks to Uche Okezie from Homesight for her help with this article.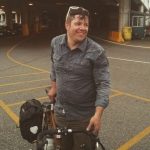 Patrick grew up across the Puget Sound from Seattle and use to skip school to come hang out in the city. He is an designer at a small architecture firm with a strong focus on urban infill housing. He is passionate about design, housing affordability, biking, and what makes cities so magical. He works to advocate for abundant and diverse housing options and for a city that is a joy for people on bikes and foot. He lives in the Othello neighborhood with his fiance and kitty.