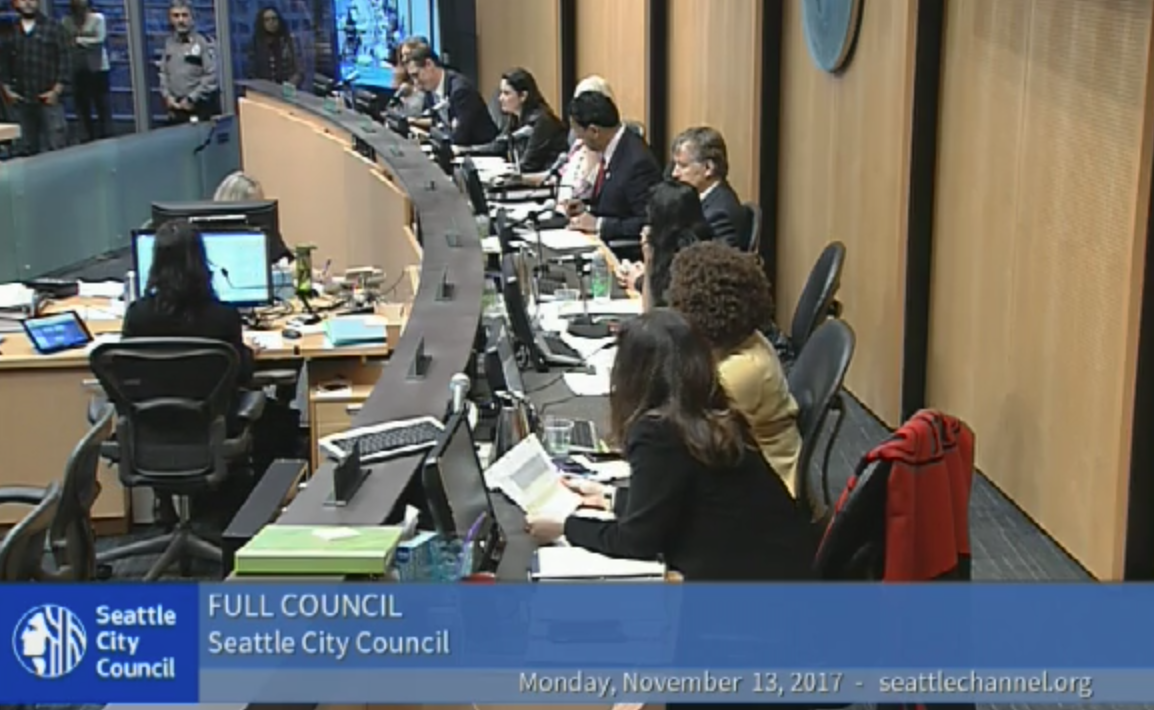 A final regulatory bill for short-term vacation rentals in Seattle may be passed by end of year ending a two-year process of policy formulation. Monday's full city council will be the next test, potentially with some additional amendments added in the eleventh hour. Earlier this week, the city council's Planning, Land Use, and Zoning Committee took up deliberations on the base regulatory bill sent back to committee last month.
The discussion centered on how best to address the growing challenges that short-term vacation rentals are creating for the local housing market. In the absence of regulations, the short-term vacation rental market has ballooned in Seattle. Current estimates indicate that there are 6,600 active listings in the city, according to AirDNA.
Puget Sound Sage released a report on Airbnb in June 2016 that described a substantial share of short-term vacation rentals–two-thirds–being rented as whole units (about 2,750 units in 2016) instead of individual rooms. The report also found that 12% of hosts listed more than one unit, which while representing a small share of the operators, those hosts claimed more than 36% of the total listings in Seattle making them in effect large-scale operators or even informal hoteliers. So while individuals may occasionally list their dwelling units, large-scale operators are removing thousands of units from the long-term housing market.
During the committee meeting, seven amendments were discussed including three key amendments either limiting or expanding the number short-term vacation rental units that individuals–or corporations–could operate in the city. Other amendments dealt with technical corrections, further delaying of regulatory implementation, and how to recoup regulatory costs from platforms like Airbnb.
Mass Grandfathering or Tighter Market Control
Three competing approaches were considered during the committee that would pull the regulatory framework in disparate directions.
On the one end, Councilmember Rob Johnson proposed a more permissive approach to short-term vacation rentals, arguing that other policies, like nightly fees on guests, would largely handle the problem since they go toward affordable housing and equitable development projects while partially compensating for impacts to the housing market by conversion of long-term residential units to short-term vacation rentals.
On the other end, Councilmembers Lisa Herbold, Mike O'Brien, and Sally Bagshaw sought to more tightly control the short-term vacation rental market while better preserving the stock of long-term residential units on the housing market.
The councilmembers had extensive debate on the merits of each amendment, which eventually led to Councilmembers Johnson and Herbold proposing alternative amendments to their legislation (Amendments 3A and 4A, respectively).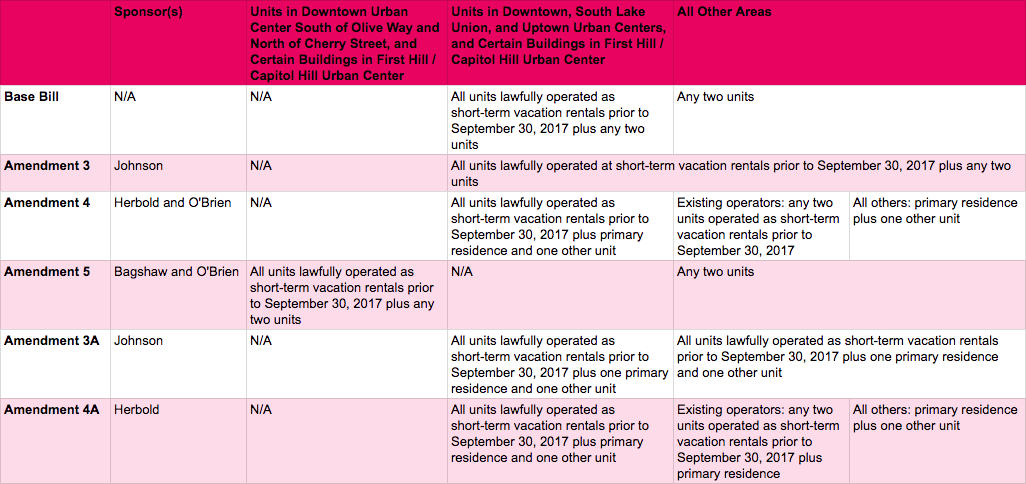 Councilmember Johnson argued that his approach would protect jobs, reduce legal risk from appeals, and raise the most amount of revenue. He also said that it would return many units to the long-term housing marking.
Councilmembers O'Brien and Herbold, however, took a very different view.
Councilmember O'Brien discussed the merits of constraining the grandfathering in of short-term vacation rentals and capping new units at length and highlighted options that operators could choose if they were forced to stop operating some of their short-term vacation rentals.
"If someone owns five condo units in Belltown and we say you can no longer do short-term rentals, we're not completely devaluating their model," he said. "They still own five units that are highly valuable both as long-term rentals or they could sell them." He further asserted that both markets were strong and that moving to them wouldn't pose a hardship on operators.
In a similar exchange, Councilmember Herbold expressed her point of view on the debate. "For me, this discussion has always been about housing affordability and the supply of long-term housing," she said. "For me, the goal has been not only to stem the tide of loss of long-term housing, but also to the extent we can, return some of these units to the long-term housing market–whether it's the long-term rental market or long-term ownership market."
Pointing to the foundational policy objective that brought short-term vacation rental regulation to the city council, Councilmember Herbold said:
Former Councilmember–former Mayor–Burgess in a policy docuement that he wrote when we started this discussion many months ago specifically says that: "Short-term rentals are not the leading cause of the severe shortage of housing but they have exacerbated an existign crisis. Any strategy that the city can pursue to put more units into the long-term market is worth examination."
Competing Amendments
Inheriting the legislation from former Councilmember Tim Burgess, Councilmember Johnson expressed a desire to shepherd the legislation through the process as agreed to by his former colleague. One aspect of this was honoring an agreement made by Councilmember Burgess with appellants on the SEPA (State Environmental Policy Act) Determination of Non-significance.
Informally, Councilmember Burgess had promised a lobbying group of large-scale short-term vacation rental operators that legislation introduced to the city council would grandfather in their units if they:
Operated in the Downtown, Uptown, or South Lake Union Urban Centers prior to September 30, 2017; or
Operated in multifamily buildings constructed after 2012 and containing no more than five dwelling units in the First Hill / Capitol Hill Urban Center prior to September 30, 2017.
Additionally, the agreement stipulated that such operators would be entitled two additional short-term vacation rental units. Nothing, however, would prevent them from setting up other Limited Liability Companies to operate additional units beyond the cap, which was a major loophole in the legislation. For new operators, the agreement set a cap at two short-term vacation rental units generally.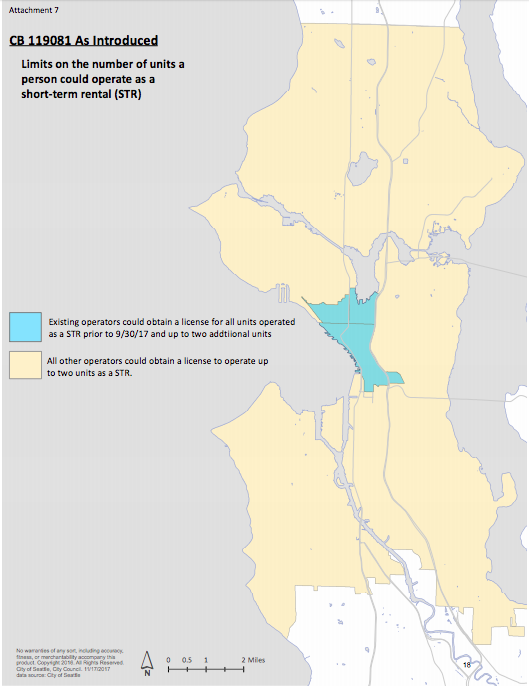 Councilmember Johnson's initial amendment sought to expand the grandfathering to all short-term vacation rental units across the city, in addition to allowing up to two new short-term vacation rentals per granfathered operator. The amendment would retain the general cap of two short-term vacation rentals for new operators.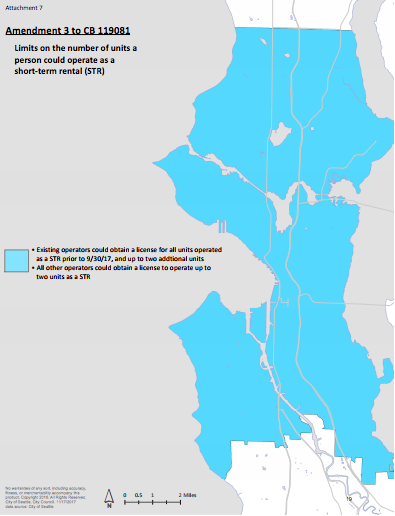 The co-sponsored amendment by Councilmembers Herbold and O'Brien, however, sought to strongly narrow the number of short-term vacation rentals that operators could have, limiting them to the primary residence of the operator and one other dwelling unit. Their amendment had two exceptions: a grandfathering in of units in certain Urban Centers and a grandfathering of up to two units generally outside of those Urban Centers.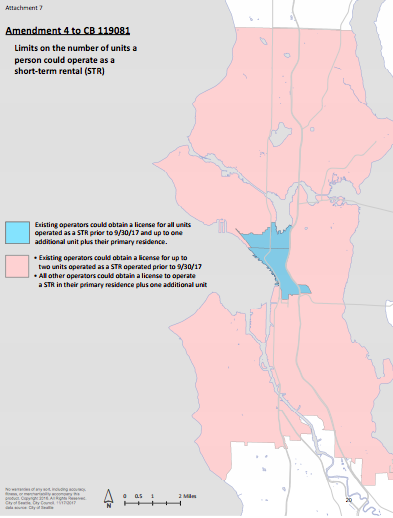 A third amendment, co-sponsored by Councilmembers Bagshaw and O'Brien, would have left the base legislation intact but limited the grandfathering of short-term vacation rentals to only the Downtown Urban Center south of Olive Way and north Cherry Street, in effect excluding Belltown, Denny Triangle, Pioneer Square, and Chinatown-Internation District.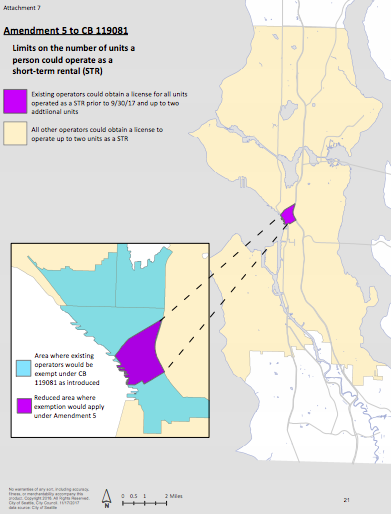 After running though how the different amendments would work, Councilmembers Johnson and Herbold proposed alternative amendments reflecting the basic framework of their original amendments.
In the case of Councilmember Johnson's alternative amendment, it would retain the premise of grandfathering citywide but limit new short-term vacation rentals that operators could have as one primary residence and another unit. It would also eliminate a $75 annual license fee for an operator's primary residence.
Councilmember Herbold's alternative amendment was largely the same as her co-sponsored amendment. The sole difference in the alternative was the allowance of operators with up to two grandfathered short-term vacation rentals outside of specified Urban Centers to also operate their primary residence as a short-term vacation rental.
In taking votes on the amendments, the committee voted down Councilmember Johnson's amendment (4-1 against) while adopting Councilmember Herbold's (3-2 in favor). Councilmember Bagshaw decided to withdraw her amendment, in part because the language did not jive with Councilmember Herbold's amendment. Her carve-out amendment for Downtown, however, could be proposed during next week's full council meeting, which Councilmember O'Brien said he would support.
Other Amendments
Two additional amendments were discussed after deciding on the scope of how many units and where a short-term vacation rental operator can have them.
The first amendment, sponsored by Councilmember O'Brien, would more forcefully require the Department of Finance and Administrative Services (FAS) to recover regulatory costs of implementation on platforms like Airbnb and set a per night booking fee at $2. The base legislation sets the initial fee at $0, but could be changed by the FAS director based upon certain factors. In other words, even without a specified fee above $0, an actual fee would eventually be imposed. After deliberations, Councilmember O'Brien decided to withdraw the amendment, but some version could return on Monday.
The second amendment, sponsored by Councilmembers Johnson and O'Brien, stipulated a reporting requirement on implementation progress of the regulatory framework by FAS no later than June 1, 2018. Specifically, FAS would need to report on:
Any resources needed to implement and administer the program;
Development of rules, procedures, and processes; and
New data on the estimated number of operators and total nightly bookings.
That amendment was adopted (3-0 in favor) followed by the amended legislation being referred to the full city council. If approved as amended, the regulatory framework would take effect on January 1, 2019.

Stephen is a professional urban planner in Puget Sound with a passion for sustainable, livable, and diverse cities. He is especially interested in how policies, regulations, and programs can promote positive outcomes for communities. With stints in great cities like Bellingham and Cork, Stephen currently lives in Seattle. He primarily covers land use and transportation issues and has been with The Urbanist since 2014.