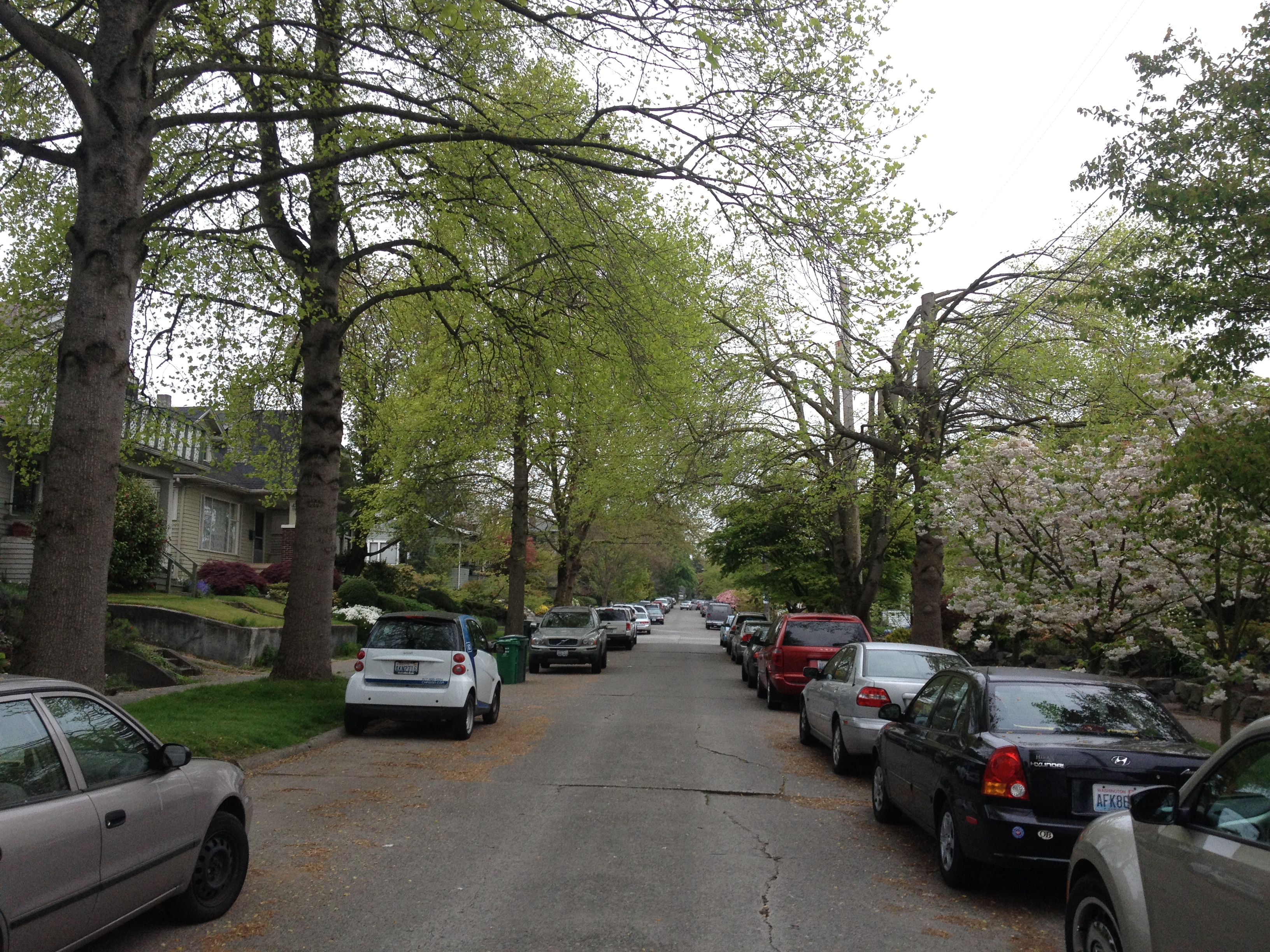 In Wallingford, several restricted parking zones (RPZs) are already in force. For the better part of a year, the Seattle Department of Transportation (SDOT) has been evaluating possible changes to how the RPZs will function in the future. Residents in certain portions of the neighborhood had requested that SDOT look into expanding RPZs to include them over growing on-parking street parking challenges.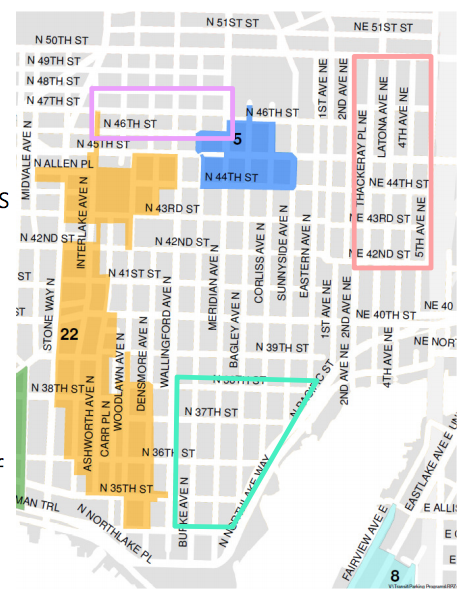 Wallingford currently has two RPZs; one primarily east of Stone Way N stretching from lower Wallingford to just north of N 45th St (Zone 22) and another centered on Bagley Ave N and N 45th St (Zone 5). Functionally, these two RPZs work differently:
RPZ 5 completely restricts non-permit holders from parking on designated blockfaces from 5pm to midnight each day. The RPZ is generally only located on one side of a street, but occasionally is located on both sides. Blockfaces located on the commercial corridor of N 45th St and some side streets have general time limits as opposed to the RPZ.
RPZ 22 has two sets of restrictions. Near Lincoln High School, parking is limited to two hours between 7am and 4pm during weekdays. Closer to the Stone Way N commercial spine, parking is limited to two hours from 8am to 5pm during weekdays, except holidays. RPZ 22 permit holders are exempt from the time limits. Blockfaces located on the commercial corridors of N 45th St and Stone Way N as well as some side streets have general time limits as opposed to the RPZ.
The early analysis in November had outlined parking utilization data for studied areas of the neighborhood. The data showed that a new RPZ requested east of Wallingford Ave N and south N 48th St wasn't eligible for creation. SDOT's analysis also suggested that the existing RPZ near the old 45th Guild cinemas (Zone 5) was no longer necessary since the cinema closed mid last year.
As a standard rule, SDOT uses the following criteria to determine if an area could qualify as a new RPZ: 20 contiguous blockfaces must be or exceed 75% parking utilization and at least 35% of parked vehicles must be of non-residents.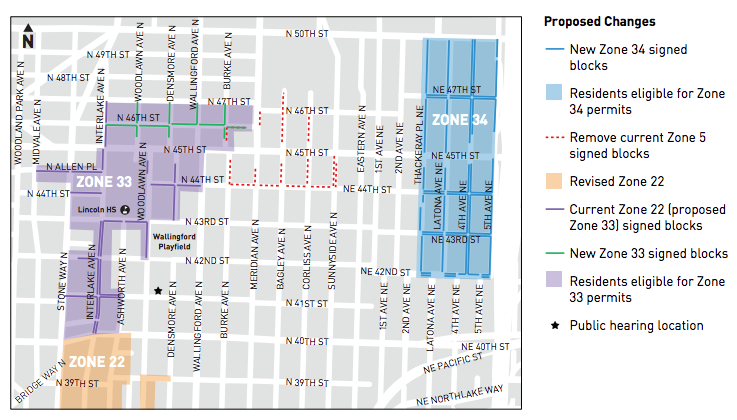 SDOT's proposal would do several things:
RPZ 22 would be revised by splitting a portion of it off into new RPZ 33. Parking restrictions would remain as they are now in RPZ 22, but SDOT would evaulate possible changes in two years. Permit holders in Zone 22 would renew like usual in July, except those in proposed Zone 33 would convert to Zone 33 permits.
RPZ 33 would be a new RPZ by carving out a portion of Zone 22 and expanding it deeper into the blocks north of N 45th St, which residents generally support. For non-permit holders, parking restrictions would be in effect on weekdays from 7am to 6pm. For many areas designated RPZ 22 but converting to RPZ 33, this would constitute an addition of two hours of parking restrictioms on weekdays. The change may be welcomed by many residents since Lincoln High School is set to reopen in 2019 and will likely generate higher on-street parking demand, particularly on weekdays.
RPZ 5 would be fully eliminated, except that two blockfaces could be subsumed into new RPZ 33. SDOT would remove signs in the fall at which point parking would become unrestricted. Permit holders will not need to renew for a summer extension.
New RPZ 34 would be created on the blocks east of Thackery Pl NE. Most blockfaces would be fully signed as RPZ since parking utilization in the area is fairly high. Expect for RPZ 34 permit holders, parking would be restricted on weekdays from 7am to 6pm to two hours.
The current cost for parking permits is $65 per vehicle and last for two years. Qualifying low-income households can purchase permits for $10.
Public comment on the proposal is open through April 15th. A presentation and public hearing on the proposal will also be held at Hamilton International Middle School on Wednesday, April 4th from 6.30pm to 8pm. A final design and implementation schedule will be available in late May 2018 according to SDOT.
Study Supports Adding Restricted Parking Zones in Wallingford

Stephen is a professional urban planner in Puget Sound with a passion for sustainable, livable, and diverse cities. He is especially interested in how policies, regulations, and programs can promote positive outcomes for communities. With stints in great cities like Bellingham and Cork, Stephen currently lives in Seattle. He primarily covers land use and transportation issues and has been with The Urbanist since 2014.