Thanks to the passage of Sound Transit 3 ballot measure, Sound Transit will extend light rail from Federal Way to the Tacoma Dome district by 2030, bringing more high-capacity transit to the southend. Sound Transit has developed a 9.7-mile representative project alignment that would primarily hug the I-5 right-of-way with elevated rail. Four stations are planned to be added to the mainline Link network through the extension at South Federal Way, Fife, East Tacoma, and Tacoma Dome Station.
While the Tacoma Link line already terminates at Tacoma Dome Station, Sound Transit isn't planning to directly connect the lines since they functionally operate as separate systems with different overhead power systems, light rail vehicles, station designs, and right-of-way exclusivity. Both systems, however, will terminate at Tacoma Dome Station allowing passenger transfers.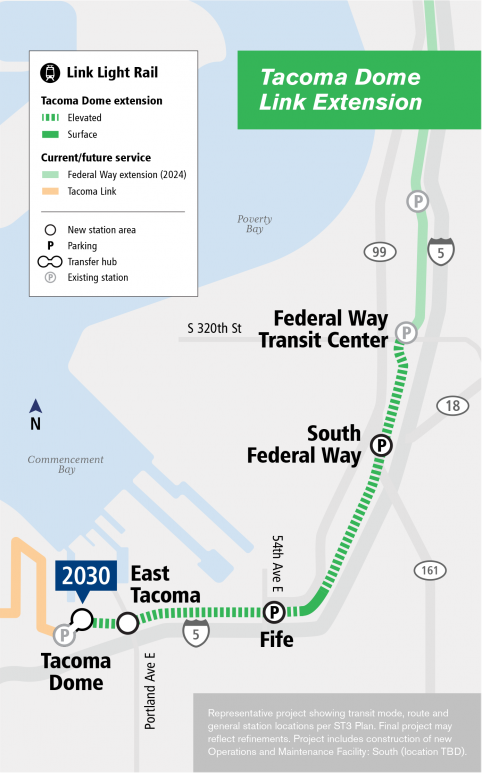 The representative project details indicate that Sound Transit would construct new parking garages at the South Federal Way and Fife Stations, build a new rail bridge across the Puyallup River to reach Tacoma, and establish a fourth operations and maintenance facility (OMF) to serve the southend. An exact location for the new OMF, however, has not yet been identified. Presumably, it will need to be situated in an industrial area of which there are several in Tacoma, Fife, and Federal Way along the proposed corridor.
Two related light rail expansion will open prior to the launch of the Tacoma Dome Link extension. The first will be Tacoma Link, which will be extended to the Hilltop neighborhood in 2022 and followed by the Green Line extension to Federal Way in 2024. Nine years after the Tacoma Dome Link extension is completed, Tacoma Link will be extended to Tacoma Community College in 2039.
In many cases, the Tacoma Dome extension will provide highly competitive travel times with existing transit services and driving. Sound Transit has provided estimated travel times from Tacoma Dome Station to several destinations: 20 minutes to South Federal Way, 35 minutes to Sea-Tac Airport, and just 6 minutes to Fife. Extrapolating these times with current schedules, it would take a full 73 minutes to reach Westlake Station from Tacoma. While that may seem like a lot, it's fairly similar to Route 590 and the Sounder South line that operate the corridor today.
Sound Transit is seeking feedback on the representative project proposals to scope issues and priorities from the public, in a similar way that the early scoping process for the Ballard and West Seattle extensions was conducted in February. Through an interactive map, dozens of comments on the proposals have already been submitted by the public. Several comments on the map suggest distinctly different ideas about where to run light rail and how to build the proposed stations.
"Please move the line along SR-99 so that the stations can better serve the actual community centers along the highway," one commenter wrote. "The stations along I-5 are terrible for pedestrians or people who want to access nearby business without driving. The worst decision [Sound Transit] made was moving the Federal Way extension along I-5 and away from the heart of the communities that could have been served by a SR-99 alignment." The commenter appealed to Sound Transit not to "make the same mistake with this extension." Federal Way has ample development capacity along SR-99, which may be better served with light rail walksheds that capture them fully instead of being heavily hampered by I-5.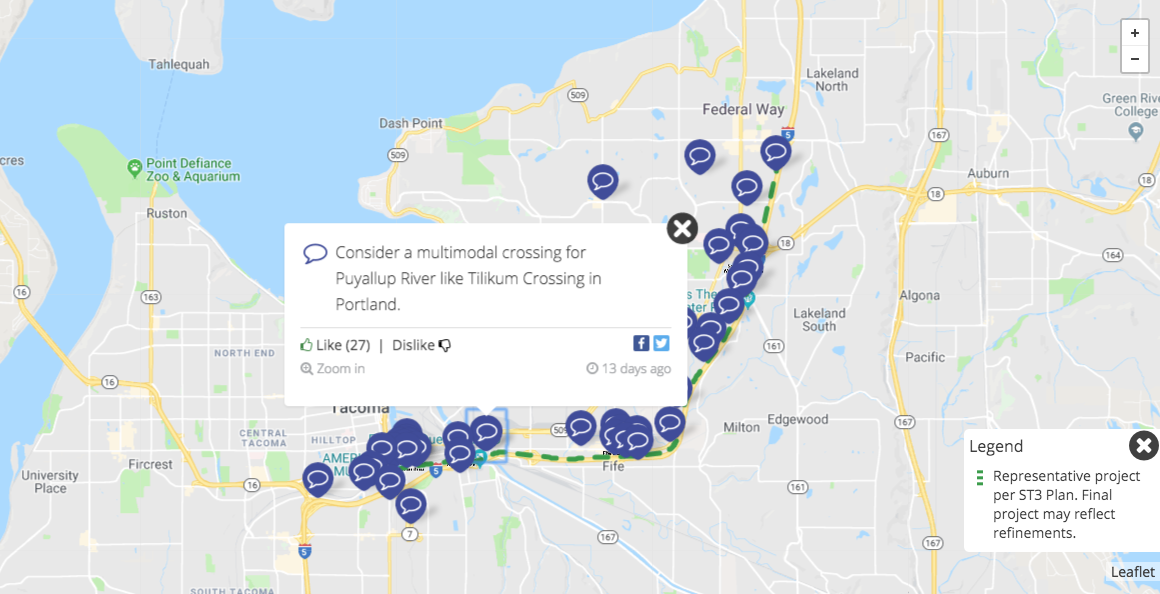 Another commenter suggested that an "[a]lignment could be run down part of [Bonneville Power Administration powerline] right-of-way through Federal Way," which could offer significant savings since "[it's] already clear, could do mostly at-grade, and could get a station back near where people live." The powerline corridor is west of SR-99 and reaches the Port of Tacoma meaning that Fife would likely need to be bypassed if the alignment were chosen.
There are varying opinions on the Fife stop. Some commenters question the location suggesting that there isn't much residential nearby and too much traffic as it. Others think that it could be a great opportunity for transit-oriented development and a transit center. The area is a hodgepodge with tribal land and a casino, strip commercial and light industrial, and suburban residential on a floodplain.
For the East Tacoma stop, commenters suggest better accessibility for pedestrian access, particularly from the south. "Consider putting the East Tacoma station on the [south] side of the highway, or at least making sure it is easy and pleasant to access from south of I-5," a commenter wrote. "There's a lot more on [the south] side of the highway, and more potential for future growth around the station." The station is planned to be located less than a mile to the east in a mostly industrial district that transitions to single-family residential and commercial south of I-5.
The Tacoma Dome Station stop has received a significant amount of feedback. Commenters stress the importance of ensuring that connections to Sounder, Tacoma Link, and buses are easy as possible, such as building the light rail extension above or below the Sounder and Tacoma Link stations, constructing cross-platform interchange with Tacoma Link, and providing pedestrian bridges. Future extensions are also on the minds of many commenters with flexibility to expand service south as far as Spanaway, west to the Brewery District, and southwest to the Tacoma Mall.
Comment through the interactive map and online open house will be open through May 3rd. Sound Transit will also hold several open house meetings over the next week. The first is tonight at the Best Western Plus Tacoma Dome Hotel from 6pm to 8pm. Another meeting will happen in Federal Way tomorrow and Fife on April 24th.
The transit agency is operating on a robust project schedule. This round of public feedback on the representative project alignment and station locations will provide key directions as Sound Transit moves through the alternatives analysis process, which is expected to wrap up in 2019. Other project phases will follow, such as environmental scoping and analysis (2019 to 2022), design (2022 to 2025), and eventually construction (2025 to 2030).
Scoping Begins: Weigh In on Ballard and West Seattle Light Rail Extensions

Stephen is a professional urban planner in Puget Sound with a passion for sustainable, livable, and diverse cities. He is especially interested in how policies, regulations, and programs can promote positive outcomes for communities. With stints in great cities like Bellingham and Cork, Stephen currently lives in Seattle. He primarily covers land use and transportation issues and has been with The Urbanist since 2014.