Saint Alphonsus Parish and School in Ballard has a tiny streetfight on its hands. It happens almost daily and hasn't attracted much attention–possibly because nobody has been injured. But the staff, the kids who go to school there, and their parents are more than aware of it.
Drivers want to get from 14th Ave NW to 15th Ave NW on NW 58th St all hours of the day but are blocked from doing so. And being told "no" is something that our car-culture cannot abide–even for the safety of schoolchildren.
Construction of the Gemenskap Park Development (formerly the 14th Ave NW Park project) has cut off traffic in both directions between NW 59th St and NW 61st St. As a result, the traffic patterns in the West Woodland part of Ballard have resembled a game of Pacman with lost drivers trying to find their way back to 15th Ave NW or head through the residential blocks east of 14th Ave NW in search of another arterial.
When drivers turn onto NW 58th St to head west and get back to 15th Ave NW, they run into clearly visible road closure and go slow, children crossing signs. The walkway is marked off by traffic cones and signs to signal drivers that they cannot pass.
So motorists have taken the gloves off and started driving on the sidewalk next to the school to get around the cones. Yes, that would be the same sidewalk where students, teachers, and parents walk during school hours–including recess. Game on.
In response, the school officials have upped the ante with something right out of the Janette Sadik-Khan School of Tactical Urbanism. They have placed three large planters between the curb and the school building. This still allows for full pedestrian access but acts as a barrier for rogue car drivers.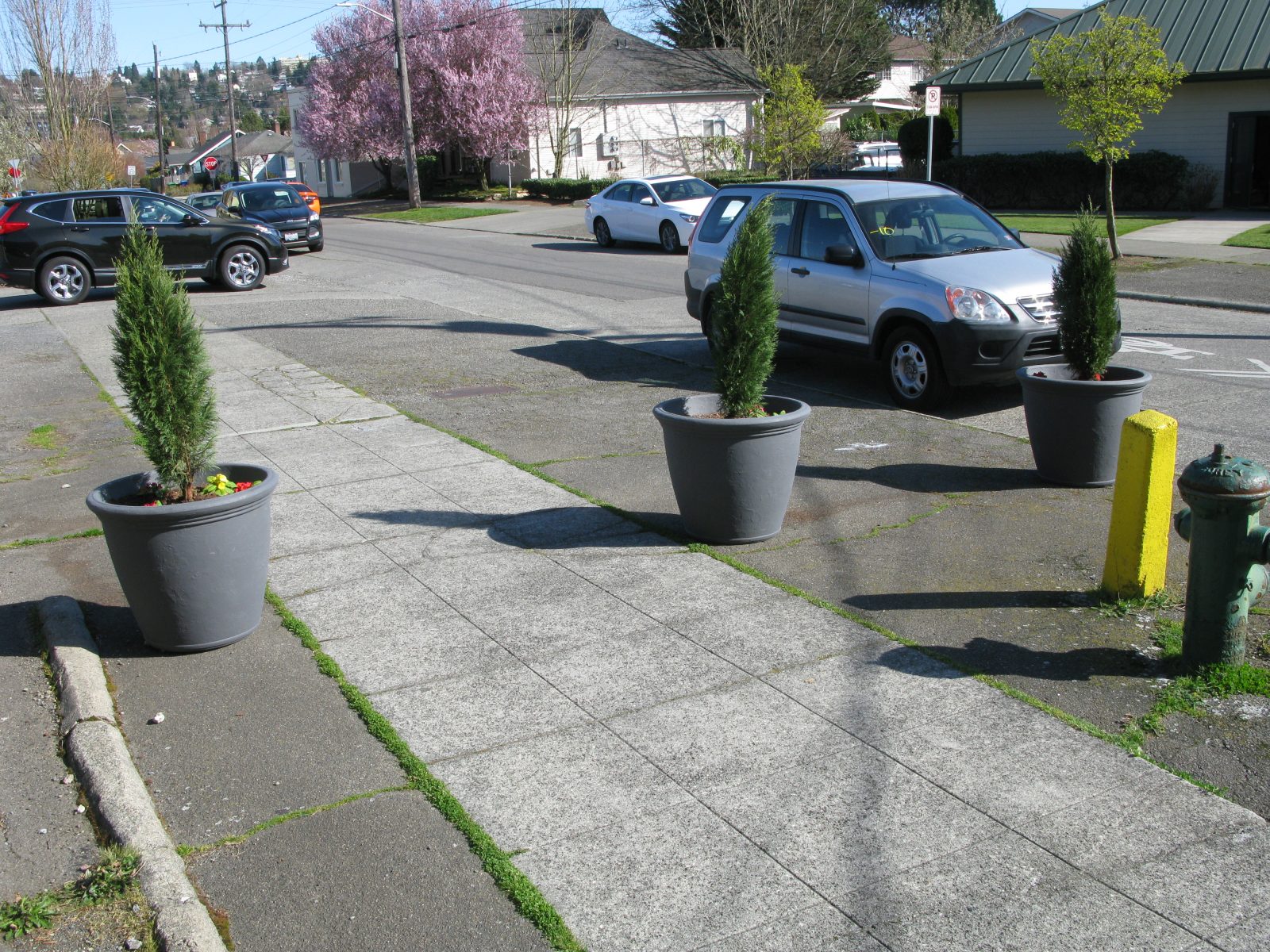 John Altenhofen, St. Al's facilities person, told me that the school has had an agreement in place with the City of Seattle for 40 years. It allows the school to close the street to car traffic so that students can walk between the school building and their play areas across the street.
What's not amusing, even if it has the stuff of the infamous comedy sketch of Almost Live's Ballard Driving Academy, is that the drivers today appear to be taking to heart the driving school instructions from the early 1990's:
Instructor: You're not using the whole road. 
Student: What? 
Instructor: You pay taxes on the whole road, don't you? 
Student: Right. 
Instructor: Well use the whole road… weave. There you go, weave. Keep it to 7 mph, just weave. Yeah. Switch lanes at random, don't let 'em see what you're doing, yeah… 
While it always warms the heart to go back to the days of Ballard's reputation as a sleepy Scandinavian retirement community, this doesn't play out today with quite the same sense of humor.
"Often, at least once a month somebody will come up to the barricade pull onto the curb and drive through during school hours when there's children crossing," said a parishioner of twenty years and school parent for twelve I spoke with. "We try to tell them [the students] over and over to be, you always have to, there's bikes they can get hurt colliding with a bike but they're really not expecting cars on the sidewalk… There are people who have done it during recess. And that's the scariest time. Because the kids will come down the ramp from the cafeteria heading for the playground."
Altenhofen confirmed that the school has security footage that showed drivers going up on the sidewalk to get around the cones and signs.
"But people get very upset. I was parked there waiting for a friend one day and people were very, they would come up and they would get angry and like whip around and leave."
The parent wasn't sure if part of the issue is that driving navigation apps like Waze were directing people to use NW 58th St to reach 15th Ave NW.
"There used to be big trees, some of the trees came out because they were breaking the pipes. And there used to be other things that would dissuade a car. But I think with the trees out… it kind of gave way to the unsafe drivers."
The work on the Gemenskap Park is scheduled to be completed in late spring, early summer. That may mean this block returns to its sleepy Ballard roots. But with the Ballard Driving Academy churning out drivers empowered by their smartphones, St. Al's might be wise to leave the pots in place for the foreseeable future.
Hugh Geenen has lived in Ballard enough to know that no matter how long it has been he will always be a newbie. His first urbanist act was to help secure a student housing cooperative permanently off of the private housing market in 1981. Sustainable urbanista. Houser (with a nod to Catherine Bauer Wurster). Sconnie. Badger. Green Bay Packer owner. Music geek. Cinephile. AmeriCorps VISTA alumnus. Need to smile and ride my bike more.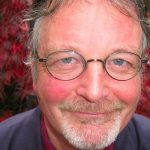 Hugh Geenen has lived in Ballard enough to know that no matter how long it has been he will always be a newcomer. His first urbanist act was to help secure a student housing cooperative permanently off of the private housing market in 1981. He also served in Americorps/VISTA from 1981-82 in low-income urban cooperative projects in the State of Wisconsin.