The nominees are in and it's time to vote for the Worst Intersection in Seattle.
Now in its 6th year, the competition has expanded from an exclusive focus on pedestrians to now include those intersections that are worst for people who are walking, biking, or busing through the intersection. And, the popularity has grown such that there are too many intersections this year to include in a single poll. So, nominees for 2018 are grouped by location, seeded based on based on the support given to the original nomination, and organized in a bracket. There will be four rounds of voting culminating in the "winner" of this esteemed prize for 2018.
Intersections are grouped into the following areas: North Seattle (anything north of Mercer), South Seattle (south of 90), South Lake Union, and Downtown (includes Capitol Hill and nominees south of Denny through the International District).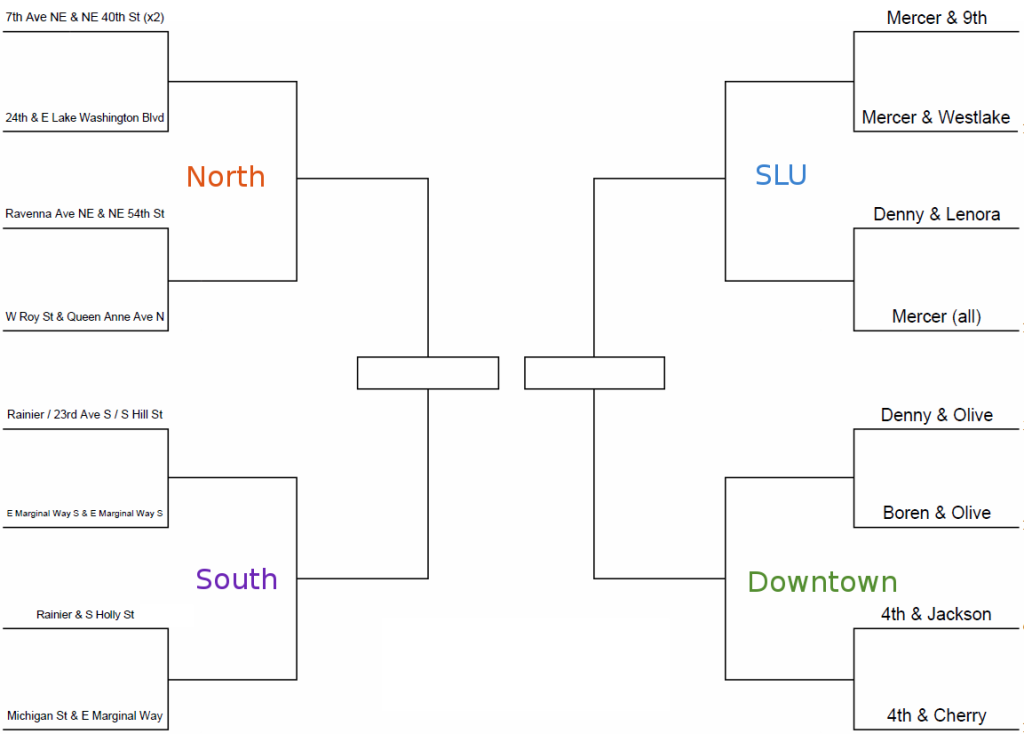 The intersections are mapped below and color-coded by area.
As you are making your decisions, please refer back to the
original nominations
for impassioned arguments on behalf of each of the awful intersections.
Voting is open through Sunday, May 27.
Troy is a pedestrian advocate who serves on the board of Seattle Neighborhood Greenways. He loves cities and walking, hiking, and biking. He wrote a book to help others looking to find the right place for them, called Move to the Place of Your Dreams: A Relocation Handbook. By day, he is a professional consultant for a technology firm.