On Monday, the Seattle City Council approved several actions related to land use and public space. These included revisions to the Seattle Building Code to allow taller wood-frame structures, reform of the right-of-way vacation process, and moving the establishment process for a new Waterfront Seattle local improvement district (LID) forward.
Seattle Building Code Changes Allow Higher Wood-frame Construction
An ordinance to modify construction methods primarily for multifamily residential development under the Seattle Building Code (SBC) was passed through the city council. The ordinance adjusts the number of floors that can be constructed with wood frame to better realize allowed building heights, particularly being implemented through the Mandatory Housing Affordability (MHA) rezones. The SBC amendments could affect approximately 15% of all land rezoned through the MHA program.
Too often developers forego additional building height, particularly in 75-foot zones since they are only allowed five stories of wood-frame construction before moving to concrete, a much more expensive material choice. A typical design is six-story structures with five floors of wood frame over a one-floor base of concrete for residential development (generally known as "five-over-one" construction). To achieve seven stories, "five-over-two" construction can also be used.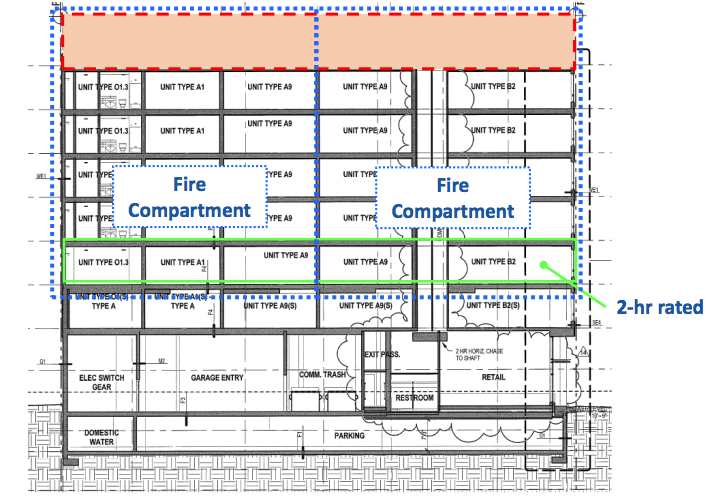 The revised SBC will allow up to 75 feet wood-frame construction, which is measured above any concrete podium below. This will allow "six-over-two" construction in zones with 85-foot height limits since the first two floors would be concrete with the next six floors as wood frame, in essence providing a new option for eight-story construction. Similarly, the revised construction methods will allow "six-over-one" developments in zones with 75-foot height limits.
The new construction methods, however, will require more stringent life safety elements for structures. The first floor of wood-frame construction will need to consist of structural protection at a two-hour fire-resistance rating. All floors will also need special fire containment areas with no more than 12,000 square feet of gross floor area per containment area. Other special requirements may also apply to construction, such as stronger exterior walls and lighter roofs to address seismic considerations.
The SBC amendment represents one of the Housing Affordability and Livability Agenda's 65 recommendations. If and when state law is changed to allow wider use of cross-laminated timber for taller construction, Seattle will take up further changes to allow more vertical wood-frame construction methods.
Right-of-Way Vacation Procedures and Seattle Design Commission
The right-of-way vacation process has been a point of concern in recent years as Seattle has handed over public roads, particularly alley rights-of-way, at breakneck speed as part of development proposals. The process involves a valuation of the right-of-way to be transferred and public benefits negotiation between the developer and city. It hasn't always worked out well in practice though. In addressing this, the city council adopted two ordinances and two resolutions to improve how the right-of-way vacation process will work going forward.
The largest changes come in the form of a resolution passed by the city council to update the city's right-of-way vacation policies. Revisions to the policy handbook are fair hefty but essentially fall into three areas:
Three new Public Trust Analysis elements were added to the policy framework, including free speech, right to assembly, and land use and urban form. The latter was technically a separate analysis but was moved into the Public Trust Analysis to better facilitate its analysis and relationship to the Public Trust Doctrine which holds that city streets are held in trust for the public as a whole. The doctrine directs the city to only give up city right-of-way when there is a compelling public interest to do so and that city will receive due public benefits in exchange. In addition to the aforementioned elements, the Public Trust Analysis considers access, circulation, utilities, open space, light and air, and views.
The policies for public benefits were revamped to include many recent and ongoing issues seen with the process, such as inclusion of race and social equity, ability to consider ideas developed by the public, allowing long-term public benefits initiatives instead of one-time actions by an applicant, and recognizing Equitable Development Agreements–which were acknowledged and outlined under a related resolution.
Process policies were overhauled with more clarity, establishing a two-step review process of the Public Trust Analysis followed by Public Benefits Analysis, creating an expectation for early community engagement, differentiating between simple and complex vacation requests, and laying out the review process by the city council, Seattle Design Commission, and other departments.
To implement the policy changes to vacation requests, the first ordinance reforms the long-term use and vacation process of rights-of-way in Seattle by requiring the Seattle Design Commission to oversee both private and public proposals in two primary ways:
The revised process will apply to any requests to vacate streets, alleys, and other public spaces as well as skybridge petitions and other large structures over city right-of-way.
When the Seattle Design Commission reviews proposals that contain a right-of-way vacation request, the Seattle Design Commission may summon a Public Benefits Subcommittee to consider public benefits proposals outside of the public realm and open space (e.g., affordable housing and monetary contributions to job training and social services). The subcommittee would be entitled to provide recommendations to the commission on elements of public benefits proposals. In terms of the subcommittee composition, it would consist of a mix of city staff, commission members, and outside experts in the fields of community planning, social welfare, and labor rights.
The second ordinance makes changes to the city's Land Use Code by clarifying the sequence of reviewing development proposals with right-of-way vacations before the Seattle Design Commission and local design review board as well as the timeframes applicable to land use review projects associated with right-of-way vacations.
For projects subject to full design review, the applicant will need to consult with the Seattle Design Commission and receive a general recommendation before submitting materials for early design guidance by the local design review board. Additionally, the Seattle Design Commission will need to provide a recommendation on the Public Trust Analysis prior to moving the project to a final recommendation by the local design review board.
For project subject to administrative design review, the process is largely the same as full design review projects, except that the Seattle Department of Construction and Inspections wears the hat of the local design review board.
Projects that would involve a right-of-way vacation will be exempt from the normally required processing timelines for land use review, which is 120 days from complete application notice unless waived by the applicant.
Waterfront LID Resolution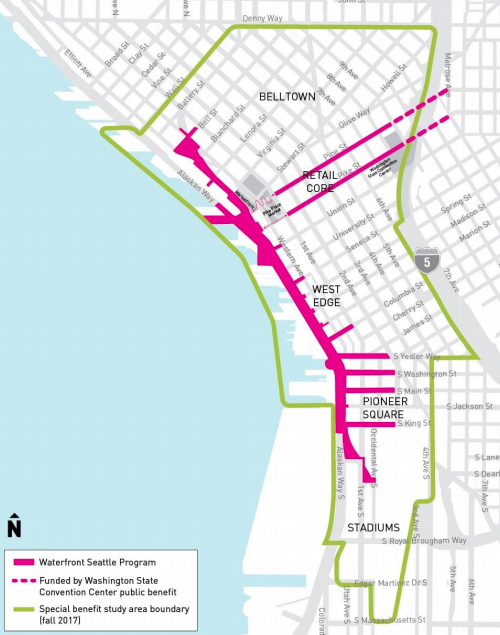 The City Council adopted a formal resolution on an 8-0 (Councilmember Sally Bagshaw abstained over a conflict of interest) vote to move the process forward for creation of a Waterfront local improvement district (LID). The LID would allow the city to impose special property tax assessments on properties throughout much of the city center to fund capital improvements associated with the Waterfront Seattle program. If approved by the city council, the LID would contribute up to $200 million of some $688 million in improvements to the Central Waterfront, some of which were recently profiled by Patrick Taylor here on The Urbanist. The improvements could result in some of the best public spaces in the city.
The LID establishment process follows quasi-judicial procedures whereby a public hearing is held before the city hearing examiner followed by recommendations of the hearing examiner to the city council. The city council would then be responsible for considering the LID proposal further and possibly vote on its establishment. The tentative timeline includes four days of public hearings in mid- to late-July followed by city council consideration in September.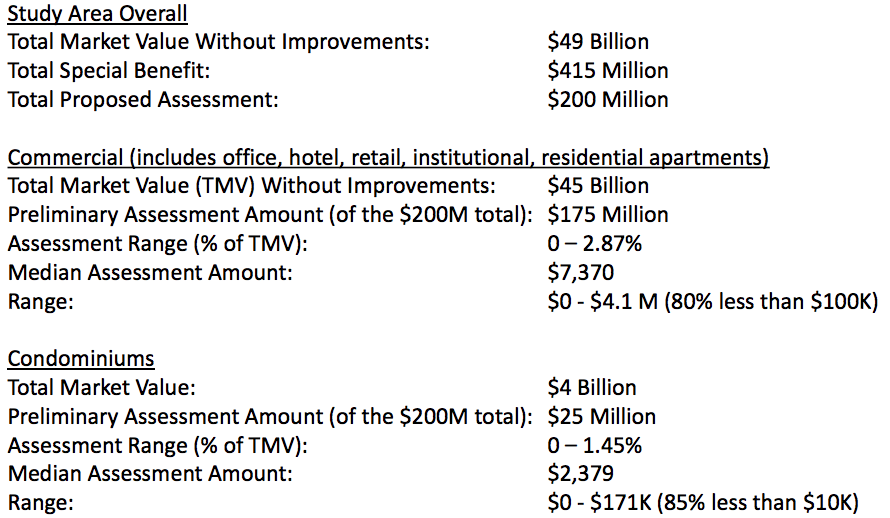 The LID would include neighborhoods along the waterfront in addition to other districts beyond such as Belltown south of Wall Street, the Denny Triangle, and all of the Downtown Seattle retail and office cores. While many waterfront and Downtown business interests are supportive of the LID, residents in surrounding areas seem less eager to help shoulder the cost of the special assessments.
Seattle Post-Viaduct: First Look at Waterfront Overlook Walk and Pavilion

Stephen is a professional urban planner in Puget Sound with a passion for sustainable, livable, and diverse cities. He is especially interested in how policies, regulations, and programs can promote positive outcomes for communities. With stints in great cities like Bellingham and Cork, Stephen currently lives in Seattle. He primarily covers land use and transportation issues and has been with The Urbanist since 2014.