The annual Point In Time Count numbers came out yesterday. 12,112 people experiencing homelessness were counted countywide, a 4 percent increase from last year.  For the first time, over half of those people were sleeping unsheltered, in vehicles, in tents, and on the street.
Experts agree on what works: housing first. Whatever other support a person may need–treatment for addiction, mental and behavioral healthcare, job training–those interventions are most effective when a person is stable and safe, with a roof over their head. 98 percent of survey respondents said they would move into safe and affordable housing if offered, but we just don't have the housing. The tech boom is driving an insane rental market, and affordable apartments for low and moderate income households are nearly impossible to come by. The bottleneck this creates in the shelter system is leaving thousands stuck in shelter beds for many months or years, and thousands more locked outside.
The McKinsey Report, reports of whose nonexistence were greatly exaggerated, confirms this picture. As explained in the Seattle Times, "Seattle and King County could make the homelessness services system run like a fined-tuned machine, but without dramatically increasing the region's supply of affordable housing options, solving the region's homelessness crisis is all but impossible." The report estimates that King County spending needs to double to $410 million annually to bring its response to the crisis to scale.
So it's a good thing we have a new progressive revenue source to begin this work, right? The Seattle Progressive Business Tax is projected to raise $47 million per year for the next five years through a tax on the 3% highest-grossing Seattle businesses. This will allow the City to begin making long-overdue investments in deeply affordable housing, expand shelter to help people off the street now, and step up services like garbage clean-up to reduce the impacts of homelessness on neighborhoods.
Oh, wait. Not so fast. Amazon and other mega corporations and developers have mounted a massive campaign to cut that funding.  Even though credit rating agencies say that the tax won't harm Seattle's economy, big business interests are intent on crushing it. Apparently they don't think homelessness is their problem. Their campaign has to gather around 18,000 valid signatures by June 14th to bump the Progressive Business Tax legislation to the ballot. You may have seen their signature gatherers around the city, spreading misinformation to get this legislation repealed.
We are countering their efforts with a voter education campaign called Bring Seattle Home. We need your help to be successful! In addition to not signing the repeal petition (and withdrawing your signature if you did), here are three things you can do in the next two weeks:
With your help, we're going fight to preserve essential funding for housing and homelessness.
King County's One Night Unsheltered Count Reaches New High of 6,320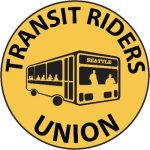 The Transit Riders Union is a democratic organization of working and poor people—including students, seniors and people with disabilities—taking control over our own lives, and building up the power we need to change society for the good of humanity and of the planet. We will fight to preserve, expand, and improve the public transportation system in Seattle and beyond, so that every human being has access to safe, affordable, and reliable public transit.